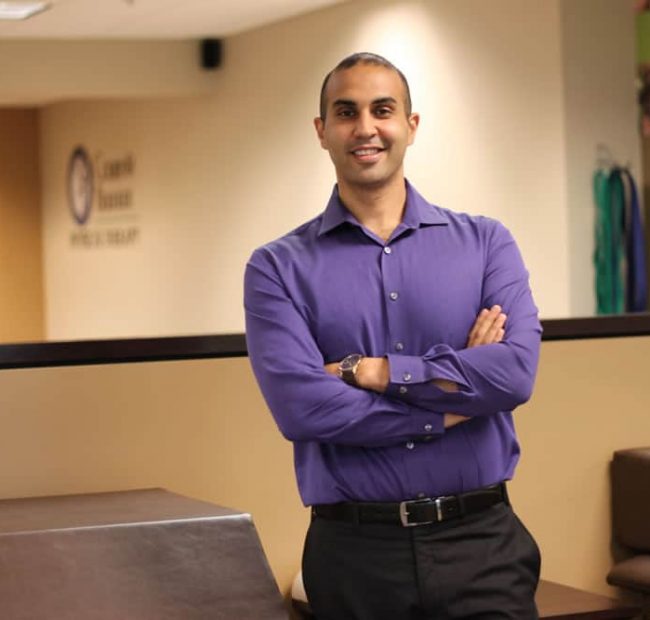 Armia Abdo
PT, DPT, OCS, Cert. SMT, SSRC
MY STORY
Armia received his BS in Kinesiology from Cal State Fullerton followed by his Doctorate in Physical Therapy from Azusa Pacific University. Part of his education at Loma Linda University Medical Center in spinal cord injury rehabilitation. His thesis work in 2008 contained two publications in the Journal of Medical Engineering and Technology and the European Journal of Applied Physiology. Armia completed his residency and graduated with his specialty in orthopedics.
Armia specializes in orthopedics, spinal manipulation therapy, sports rehabilitation, and spinal cord injuries. He authored the book "Drive Your Pain Away," designed to help prevent injuries and enhance the performance of golfers. He is committed to mentoring his co-workers and continuing his education in order to successfully treat the widest range of musculoskeletal disorders. Armia dedicates his career to providing the highest level of care to every patient in his clinic.
EDUCATION & SPECIALIZATION
EDUCATION
Doctor of Physical Therapy (Azusa Pacific University, Azusa, CA)
APTA Certified Orthopedic Specialist
Certification in Spinal Manipulative Therapy
Sports Specific Rehab Certified
NSCA Certified Strength and Conditioning Specialist
Author: Drive Your Pain Away: A Golfers Guide to Injury Prevention and Performance Enhancement
INTERESTS & HOBBIES
Armia has a big family and he loves to spend time with them; especially with his nieces. He also loves to go to the movies and dinner dates with his wife.
BLOG ARTICLES