FREQUENTLY ASKED QUESTIONS
Get answers to the most commonly asked questions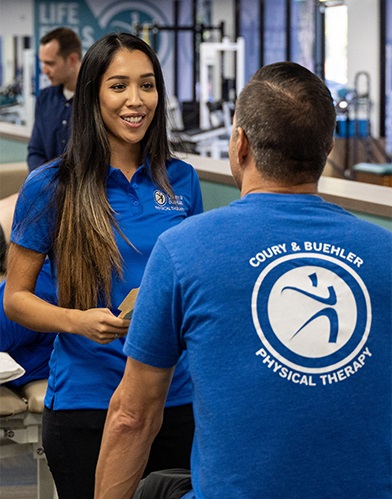 Hands on treatment during EVERY visit Personalized care for every patient Manual therapy, therapeutic exercises and modalities with high focus on patient education Highly educated professional Physical Therapists and support staff Beautiful clinics with state of the art equipment Locations near major freeways with ample parking
Manual therapy refers to hands-on techniques used to help assess, diagnose and treat certain ailments. Manual physical therapy is a highly valued component of physical therapy at CBPT and is performed during one on one time with each patient for individualized attention. There are many different types of manual therapy techniques used at CBPT including osteopathic methods, Maitland, Kaltenborne, McKenzie etc. The type of manual therapy used is dependent on the training of the physical therapist and his/her assessment of what is the most beneficial for the patient. The physical therapists will also explain the purpose of each technique and are always open to any questions.
When you first arrive at the clinic, have your insurance card and driver's license available for photocopy. You will also need to give us your prescription for physical therapy from your doctor. Please download your new patient paperwork and fill it out in the comfort of your own home. Please arrive 5-10 minutes before your appointment with your completed paperwork completed. If you choose to fill out the paperwork in our office, please arrive 20-25 minutes before your scheduled appointment. After the paperwork is complete, you will be given a tour of our facility. One of our highly skilled physical therapists will then perform an initial evaluation to help determine causes of symptoms/dysfunction and a treatment plan. The initial evaluation is comprised of the following components: Subjective: The physical therapist will discuss with you your medical history; symptoms, problems or complaints; pain intensity, aggravating or easing factors; what activities in your daily life are affected by your complaints/problems; any tests, medications or procedures performed and what your goals are for physical therapy. Objective Measurements: The physical therapist will make observations and take measurements. Postural Assessment: Positions of joints, symmetry and muscle mass are assessed. Movement Assessment: The physical therapist may examine the biomechanics of certain activities such as walking, lifting, reaching up to determine whether the movements can be performed more efficiently and with less pain. Range of Motion: Joints will be moved around to see quality and quantity of movement and if there is pain. Strength: The physical therapist will check for weakness, pain and quality of muscle contraction. Special Tests: These are used to confirm or rule out certain physical therapy diagnoses Palpation: Touch is used to determine tenderness, temperature, soft tissue integrity, swelling, sensitivity etc. Neurological Tests: Tests like reflexes, sensation and strength testing may be used to determine if the nerves are being affected or contributing to your symptoms. Assessment: The physical therapist will discuss with you the findings of the evaluation and educate you on the sources of the problem. Goals of therapy will be discussed as well has a treatment plan and rehabilitation program. Each treatment usually comprises of manual therapy treatment, one on one with the physical therapist; an exercise program for the clinic and at home and modalities as necessary. Plan: The physical therapist will discuss with you how many visits you will require and how long you should expect to be in physical therapy to reach maximal function. Together, you will create a schedule that is most convenient for you.
Loose comfortable clothing should be worn so that the areas being assessed are easily exposed for examination. Comfortable shoes are also recommended. Gowns are also available for your convenience.
Each treatment lasts roughly 60 minutes and involves one-on-one manual therapy treatment with the physical therapist, therapeutic exercise performed at the clinic to ensure proper mechanics and techniques and usually ends with modalities such as electrical stimulation, ultrasound, ice or heat pack. It is important to perform home exercises as prescribed by the physical therapist outside of the clinic.
In addition to the hands-on treatment that you will receive from your Physical Therapist, you will also be prescribed a therapeutic exercise program. You will be personally guided through this program by an exercise specialist so that you know how to perform each exercise correctly and safely. The purpose of your exercises program is to increase mobility and strength and is an important part of your treatment plan.
We prefer that each patient remains with the same therapist for each visit so that the physical therapist can follow you through the full course of treatment and be the primary contact for communication with other health care providers including your doctor. On occasion, you may see another physical therapist if there is a conflict in schedules. You may request to schedule with a female or male therapist if there is a preference.
You are welcome to schedule a free assessment without a prescription to discuss any problems you may have and how we may help you.
The number of visits is dependent on the individual, the diagnosis, the severity of symptoms, medical history, prior level of function etc and can range from a few visits to a few months. The physical therapist will discuss with you how many visits you will require and how long you should expect to be in physical therapy to reach maximal function.
The amount paid out of pocket depends on individual insurance plans and coverage. We will gladly verify your insurance and explain your benefits and financial responsibility before your first visit. For those patients without coverage options, discounted private pay plans are available.