Welcome to Coury & Buehler Physical Therapy
Imagine this: returning to what you enjoy in life, without pain or limitation!
For some, it's about being able to pick up their child again, working in their garden, or bending down to pet their dog. For others, it may be playing sports again, reconnecting with their family, or returning to work. Whether you're an athlete, a stay-at-home mom, an on-the-go businessman, or a retiree, our expert team of compassionate physical therapists is ready to help you heal!
We are
Exceptionally passionate about what we do;
Totally committed to providing the highest standard of care;
Absolutely relentless in our pursuit of excellence in everything we do.
Our Mission
Relieve pain, retrain movement, and restore function for each and every patient.
Our Goal
Help you get back to what you've been missing, because
LIFE FEELS GOOD PAIN FREE!

EXCELLENCE
Our physical therapists and staff are exceptional individuals. They are highly trained, extremely knowledgeable, and experienced at all they do. Each individual embodies the company's passion and commitment to caring. We set the bar high – our team likes to set it even higher.

RAVING FAN CUSTOMER SERVICE
We pride ourselves on our near fanatical attention to patient satisfaction. We want to turn all of our patients (and their doctors!) into raving fans by providing "second-mile" service. We go the extra mile…and then some!

TOTAL HEALING
We don't just treat your sore back or injury: we treat you. We look for the underlying causes of injury and try to identify and eliminate all the contributing factors (stress, lifestyle, etc.). We focus on educating patients and retraining their bodies so they are empowered to take control of their injury, grow stronger than ever, and prevent recurrences.

COMPASSION
We understand the severe impact that pain, injury and loss of function can have. That's why we work hard to create an empathetic, hopeful and caring environment that is totally devoted to healing. Our physical therapists listen, take the time needed, and will never rush.
OUR STORY
Our journey began by accident.
One car accident and one football injury, to be exact.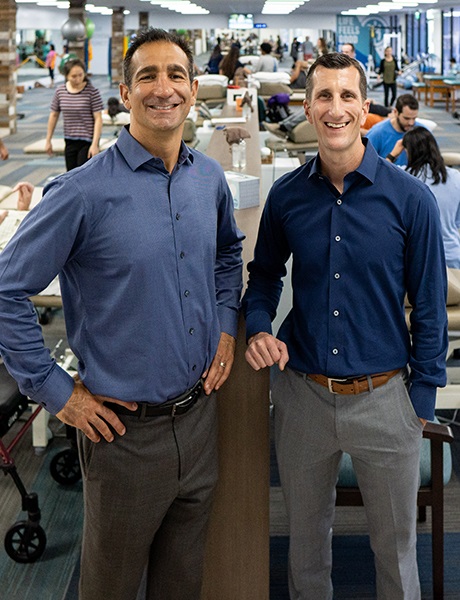 Our treatment and subsequent healing had such a profound impact on our lives that we each decided to pursue careers in physical therapy. We met in our graduate residency program and became good friends and colleagues. After completing our training, we launched our careers as physical therapists. We remained friends, and as our careers progressed, we started envisioning the ideal physical therapy company. We knew what it felt like to deal with debilitating physical injury, and all the pain and emotion that comes with it. We had an understanding of what patients needed and how the treatment process could be improved.
Our unique experience helped us develop our patient-centric philosophy and shared vision of a special place – a place where we could practice physical therapy in a whole new way. Our dream was to design the perfect environment totally devoted to healing – one where we would be free to treat the whole patient, not just localized injuries. A place that would provide the absolute highest level of care, including comprehensive one-on-one evaluations, hands-on manual therapy, the most advanced techniques, and the best, highly trained team of physical therapists – all in a state-of-the art facility. And we didn't stop there! We dreamed of a company that would be fanatically devoted to exceptional and compassionate customer service – the kind that's hard to find these days. We didn't just want patients – we wanted raving fans.
We finally saw our dream become reality in 2004 when we opened Coury & Buehler Physical Therapy in one small office. Our mission was to help those in our community enjoy their life without pain or limitations. Today, we continue this mission through multiple offices within Orange County! Our enthusiastic team of physical therapists is as committed as we are. Together, we continue to grow a culture of healing and hope. We are truly honored to have the opportunity to help you and look forward to working with you.