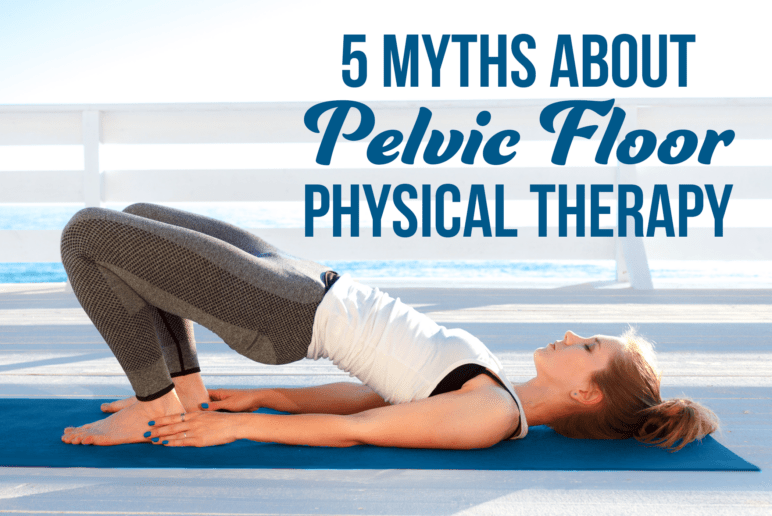 5 Myths About Pelvic Floor Physical Therapy
May 12, 2022
The pelvic floor is a group of muscles that create a "sling" at the base of your pelvis. The "sling" is home to the bladder, rectum, sex organs, and babies! It is responsible for keeping your organs in your body and even more responsible for helping to maintain trunk stability. Pelvic Floor Dysfunction is a general condition in which the body cannot fully contract, relax, or coordinate these contractions with basic daily activities such as bowel movements, urination, walking, jumping, and sexual activities.
Common symptoms of pelvic floor dysfunction are:
Urine leaking when coughing, sneezing, jumping, or running.
Fecal leaking.
Pain with sex.
Erectile dysfunction.
Waking multiple times at night to urinate.
Urinating too frequently, numbness, and pain when voiding.
If you have any of these symptoms, speak to your doctor for further assessment. There are many common misconceptions about pelvic floor therapy, here are a few:
1. It's Only For Women
While women are more likely to seek out pelvic floor physical therapy, men also suffer from pelvic floor dysfunction! This includes, but not limited to, erectile dysfunction, pain when voiding, incontinence, burning, and numbness in the groin region. All of this can be addressed by a pelvic floor physical therapist! Pelvic floor therapists are trained in the pelvic girdle anatomy examination for males and females.
2. It's Only For Post-Partum Women
Pelvic floor therapy addresses a variety of conditions that non-post partum people experience at every stage of life. This includes pain with sex, burning or numbness in the groin region, fecal incontinence, and urinary incontinence. Pelvic floor physical therapy is for everyone.
3. My Physical Therapist Will Only Teach Me How To Do Kegals
The pelvic floor is a little more complex than simply doing Kegels. With a thorough examination, your physical therapist will be able to help determine if there is excessive tightness or guarding, muscle weakness, neural components, signs of infections, presence of prolapse, and other impairments that need to be addressed in order to live a pain-free and fulfilling life. Exercises could vary from breathing techniques to squats and stretching.
4. My Physical Therapist Will Do "Internal Work" Only… I'm Not Comfortable With That
In some cases, an internal exam may be required to attain a full understanding of all impairments that are contributing to your condition. But the physical therapist will never do an internal exam without your consent. The physical therapist can also examine, externally, abdominal and pelvic girdle mobility, and breathing techniques which are major contributors to pelvic floor dysfunction.
5. Pelvic Floor Therapists Only Treat The Pelvic Floor
If you come in with pelvic floor dysfunction our goal is to help you reach your goal. This means treating every aspect of your dysfunction from breathing to bowel function to hip mobility. We may suggest a more comprehensive multi-disciplinary approach involving dieticians or psychotherapy. Sometimes the pelvic floor is not just about the pelvic floor.
Coury and Buehler now have two pelvic floor specialists in North and South Orange County. If you think you might benefit from addressing your pelvic floor concerns, give us a call to schedule an appointment!
If you are experiencing any pain or discomfort from your pelvic floor, contact us at 714-256-5074 to schedule an appointment with our pelvic floor specialist! A representative will contact you shortly.
Reader Interactions