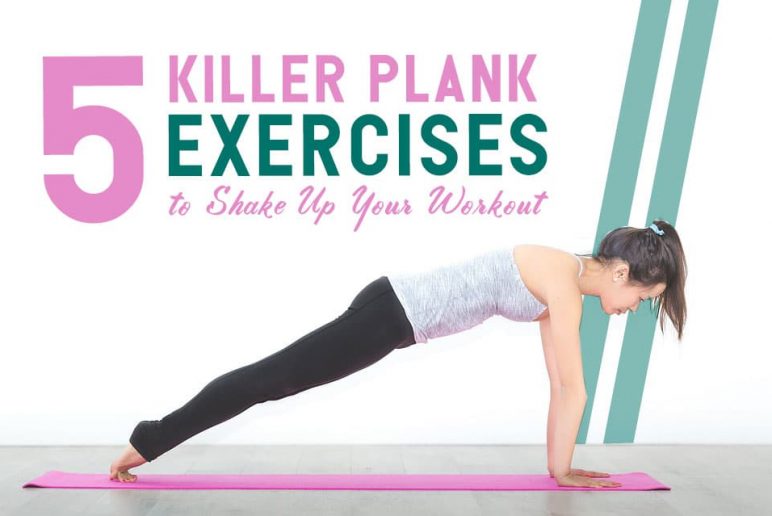 5 Killer Plank Exercises to Shake Up Your Workout
March 12, 2018
A few weeks ago we posted a blog on plank progression. Once you've mastered the basic plank, you can start to add some variety to the awesome, core-strengthening position. Scroll down for five great exercises to shake up your planks that will be sure to give you a great workout!
Hi-lo Planks
Start in a low plank position which is on your elbows.
Push up on to your hands, one arm at a time. Return to elbows. Alternate.
Be sure to stay even by switching the hands that you push up on with each rep.
Alternating Shoulder Taps
Start in high plank position, on your hands.
Lift one hand off of the ground and tap your opposite shoulder.
Alternating Hip Abduction (Front)
NOTE:
You can do this on your elbows or your hands!
Place a resistance band above your knees. Start with mild resistance.
Start with resistance, and step one foot out to the side then return to start position.
Alternate (and make sure that your hips stay leveled!).
Knee-to-Elbow Pull-In
Start in a high plank position.
Pull one arm and the opposite knee in and underneath you, and bring them together.
Side Plank with Thread the Needle
Start in a high side-plank position, your top arm reaching up toward the ceiling.
If needed, place the top foot in front of the bottom foot for more stability.
Thread your top arm underneath your waist, like you're reaching around a large ball.
Return to start position. Increase difficulty with a dumbbell or resistance band.
If you notice that you have any difficulty or pain during these exercises, you may be compensating and might not be ready for these next-level planks. If you have a previous injury that prevents you from doing any of the exercises above, come and see us-- we're always happy to help!
Wondering what kind of exercise is best suited for you? Schedule a FREE assessment with Christina today!
Want more fitness & exercise tips sent straight to your inbox?
Sign up for Life+!
Reader Interactions