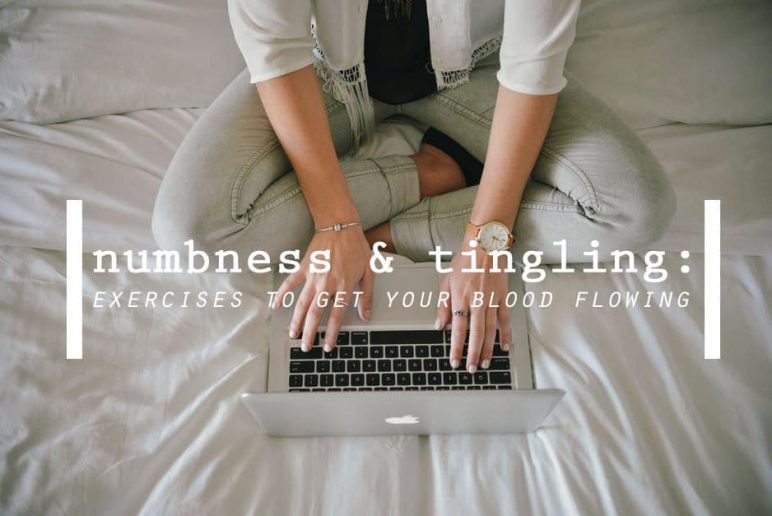 Numbness and Tingling: Exercises to Get Your Blood Flowing
January 18, 2018
Do you experience numbness or tingling in your feet or arms? If so, this is a common sign of poor circulation.
One of the best things that you is to make an effort to move every hour. When we sit for periods longer than 1 hour, our muscles become tight and add pressure onto the underlying nerves and blood vessels. The blood vessels distribute blood from the heart to the rest of the body via a high to low pressure system. The circulation in the legs and arms have the lowest pressure and are a common site of tingling due to lack of blood flow.
Here are a few exercises to focus on to loosen up common tight muscles from sitting too long!
Hamstring Stretch
The hamstrings are behind the leg and made up of four muscles that help bend your knee and pull your hip backwards. These muscles get very tight when sitting and need to be stretched.
Lay on your back and lift your leg forward until you feel a stretch from the hip down the back of your leg to the knee.
Hold for 1 minute and complete twice on each leg.
Piriformis Stretch
The piriformis is part of a group of muscle that rotate your hip. The sciatic nerve runs underneath this muscle and can create numbness and tingling down the leg when tight.
Lay on your back and bring your knee towards your opposite shoulder until you feel a stretch in the back of the hip.
Hold for 1 minute and complete 2 twice on each leg.
Pectoralis Stretch
The pectoralis muscle becomes very tight with poor sitting posture due to rounded shoulders and can compress the axillary artery and nerve bundles going to the arm.
Lay onto your back with your head at the corner of the bed.
Raise your arms up to shoulder height and then let your arms fall out to the side to feel a stretch across the chest.
Hold for 30 seconds and complete twice.
Squats
Squats are a great functional exercise to strengthen your hips and legs and allow for increased standing and walking capacity.
Stand with your feet shoulder width apart and lower your hips to the ground while keeping your lower leg straight up and down. This is going to disperse the load evenly between your hips and legs to reduce knee pain.
Waiter Tips
This is a posture exercise that uses the scapular and rotator cuff muscles together to reduce tightness in the chest and improve sitting posture.
Sit in a chair with your feet on the ground.
Squeeze your shoulder blades together and pull your arms out to the side with your palms up. Focus on pulling evenly with your shoulder blades and arms.
Complete 20 times.
It is very important to purposely stretch and exercise your muscles to reduce numbness and tingling in your extremities. Technology has really helped us be a more productive society but it has also made us more sedentary. What do you do daily to improve circulation and overall health? Let us know in the comments below!
Schedule a FREE Assessment with David today!
Reader Interactions