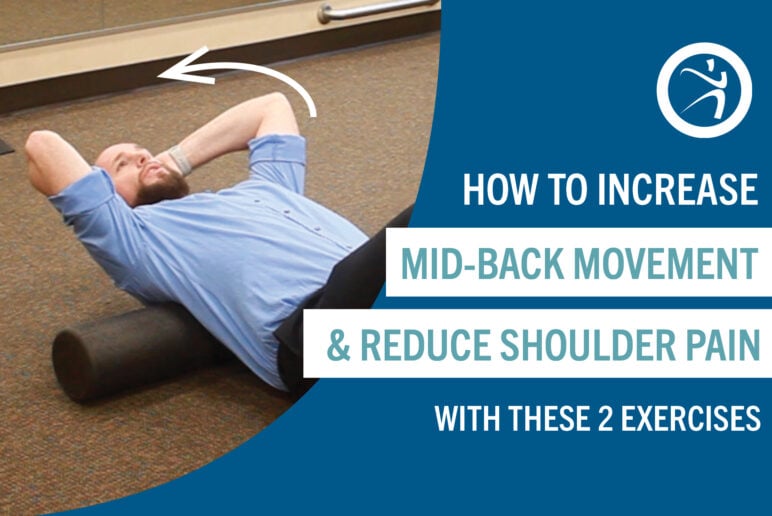 How to Increase Mid-Back Movement and Reduce Shoulder Pain with these 2 Exercises
June 14, 2023
One of the big issues with shoulder pain and lack of mobility in your mid-back or thoracic spine is your shoulder can't come all the way up overhead. You lose some of your shoulder range of motion if your back doesn't move. I want to show you two things to get your mid-spine moving better to reduce your shoulder pain.
Rotating Lunge
The first move is to rotate in a lunge with your arms reaching backwards. This is going to get your ribcage and mid-back moving along with your shoulder to get you in a position where you can throw or reach overhead with less pain.
Interested in more sport or activity-specific shoulder injuries? Check out our articles on Preventing Shoulder Injuries while doing a Chaturanga or Plank and Preventing Shoulder Impingement for Swimmers.
Foam Roll Bending
The second thing to try is lying on a foam roll and allowing your back to bend along with your shoulders and hands behind your head. You can do it supporting your neck, or if your neck is strong enough, you can do it with your arms reaching overhead. This is going to allow less shoulder pain and increased mid-back mobility.
Want more foam-roll stretches to target different areas of the body? Read our head-to-toe foam roll guide. Or looking to challenge yourself with new foam roll exercises? Check out these 11 foam roll exercise to improve your health.
If you are experiencing any mid-back or shoulder pain, physical therapy may be a great solution to relieve your pain. Our physical therapists will help you identify the sources of your pain, examine ways to help you relieve your pain while working at your desk, and prevent further injury to your mid-back or shoulder. We can treat many shoulder and mid-back conditions and are happy to help you return to life, pain-free!
Sign up below for an appointment with one of our physical therapists to get started with hands-on treatment and a personalized exercise plan for your back or shoulder pain! A representative will be in touch shortly.
WANT MORE TIPS?
Sign up for LIFE+ to receive injury prevention and pain relief tips from our experts straight to your inbox.
Reader Interactions