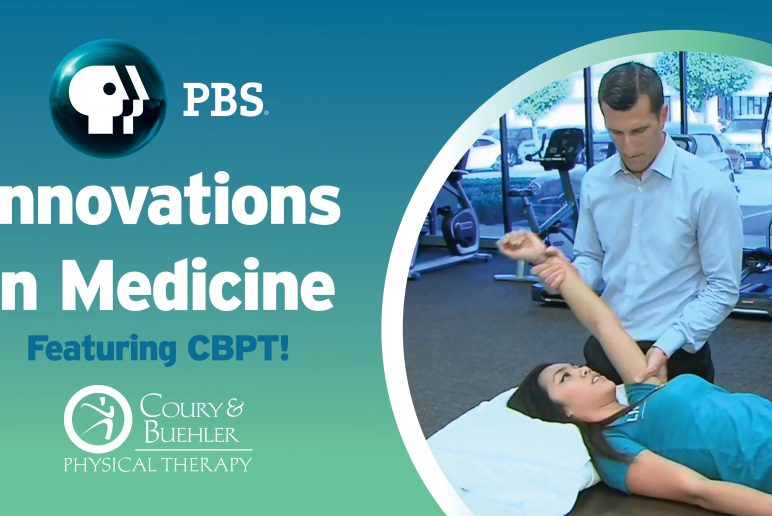 CBPT Featured on PBS Innovations in Medicine
June 06, 2019
COURY & BUEHLER PHYSICAL THERAPY WAS RECENTLY FEATURED ON THE PBS SERIES, "INNOVATIONS IN MEDICINE"!
The Orange County based physical therapy company was featured on a special segment about the causes and treatment of joint pain.
[ORANGE COUNTY, CA] – June 6, 2019 – Coury & Buehler Physical Therapy was featured on the PBS series, "Innovations in Medicine" for a special segment that discussed the causes of joint pain and how treatments like physical therapy can help to relieve symptoms. Brandon Buehler, PT, DPT, OCS, Richard Coury, PT, MPT, OCS, ATC, CSCS and Daniel DeBottis, MD were interviewed on the causes and treatment for different types of arthritis and joint pain that affect millions of Americans daily.
The segment was originally aired on May 19th, 2019 during National Arthritis Month. Watch the segment below!
About Coury & Buehler Physical Therapy:
Coury & Buehler Physical Therapy specializes in orthopedics, spine, and sports medicine. They have developed a reputation for the results they obtain for their patients and helping their patients enjoy life, pain free. They have a team of the best physical therapists in the region with experience in treating patients in all walks of life. Coury & Buehler Physical Therapy has been recognized nationally, being named 'Top Practice in the Nation' by Advance Magazine and recognized by the Inc. Magazine 5000 list for five years in a row as one of America's fastest growing companies. They have also been recognized by OC Register 'Top Places to Work' six times. They have six state-of-the-art locations throughout Orange County. The Coury & Buehler Physical Therapy team is passionate about helping people enjoy life, pain free!
For more information, visit: https://cbphysicaltherapy.com/about-cbpt/