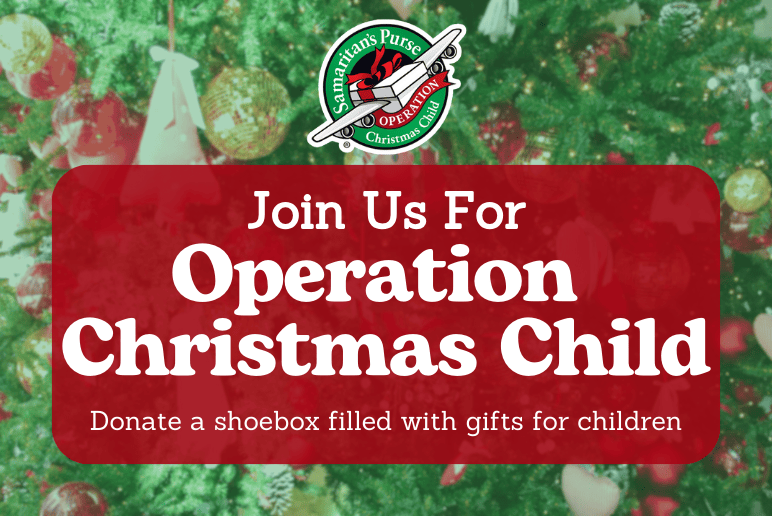 Operation Christmas Child 2023: JOIN US!
October 19, 2023
Last day to drop-off your boxes is on
Friday, November 10, 2023!
This holiday season, join Coury & Buehler Physical Therapy as we partner with Operation Christmas Child and give boxes filled with gifts to children all over the world. For some children, this will be their first-ever Christmas gift, so join us in spreading the Christmas spirit!
3 Simple Steps to Give
PICK a gender (boy or girl) & an age group (2-4, 5-9, 10-14)
FILL up a shoebox (or shoebox-size container) with small gifts or practical items - CLICK HERE FOR IDEAS!
PRINT a label HERE to follow your box. (If you're able, include a $10 donation to cover shipping!)
Get the whole family involved and put together multiple boxes if you'd like! This is an opportunity you won't want to miss this holiday season!
Gift Suggestions:
Toys: Include items that children will immediately embrace such as dolls, toy cars, stuffed animals, kazoos, harmonicas, yo-yo's, jump ropes, balls, toys that light up and make noise (with extra batteries), etc.
School Supplies: pens, pencils and sharpeners, crayons, markers, notebooks, paper, solar calculators, coloring and picture books, etc.
Non-Liquid Hygiene Items: toothbrushes, bar soap, combs, washcloths, etc.
Accessories: t-shirts, socks, hats, sunglasses, hair clips, jewelry, watches, flashlights (with extra batteries), etc.
A Personal Note: You may enclose a note to the child and a photo of yourself or your family. If you include your name and address, the child may be able to write back.
Do Not Include: Used or damaged items; war-related items such as toy guns, knives, or military figures; chocolate or food; out-of-date candy; liquids or lotions; medications or vitamins; breakable items such as snow globes or glass containers; aerosol cans.
For a list of CBPT drop-off locations, click HERE!
For more information or any questions, please email or call us. We hope you'll join us in giving!
How to Pack a Box for Operation Christmas Child
Here are some pictures of our team packing boxes last year!