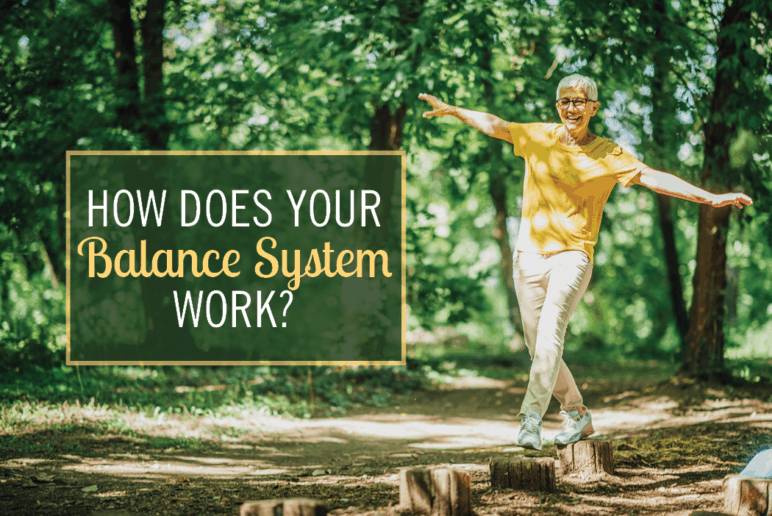 How Does Your Balance System Work?
August 19, 2021
Training one's physical balance is paramount for maintaining physical capabilities whether it be with day-to-day activities or with a particular sport. The purpose of this blog is to provide a general guideline for what balance is and how to progress your challenges.
The Base of Support (BOS)
The first consideration is your base of support. This means on what limbs and covering how large an area over which you are balancing. To put it more explicitly, most of our activities are standing; accordingly, your base of support is your feet.
Wide BOS

A wider BOS will provide greater stability than a narrower BOS. This piece should be intuitive. If you were to stand with your legs and feet further apart, you ought to feel like it'd be harder for you to be knocked over.

Narrow BOS

On the flip side, as you progressively make your stance narrower, you should feel slightly less stable in each instance. Therefore, one way to train your balance is to make it more challenging by narrowing your base:
Feet Together: The most basic of narrow BOS positions is to simply place your feet together, kissing at the heels and toes. If this position is sufficiently challenging for you, then continue to work on it before progressing.
Romberg Stance: The Romberg stance refers to still having your feet together but now staggering them so that the ball of one foot is approximately in line with the arch of the other. This displaces your weight in an additional plane to simply bringing the feet together.
Sharpened Romberg Stance: The sharpened Romberg stance refers to placing your feet in a full tandem stance, meaning one foot is directly behind/in front of the other.
Single-Leg Balance: Completely eliminating one limb from your BOS will further "narrow" your BOS. This will be the most challenging and could be progressed further by balancing on just your heel or just your toes/ball of the foot. Keep in mind that everybody has a dominant and non-dominant side, so it's likely that you'll perform better on one foot than the other. Accordingly, it may be appropriate for you to spend more time training your weak side.
Balance Systems
Another consideration is what systems in your body govern your ability to balance. Note that all the following challenges can be added to any above position, so before progressing to the next position, perhaps see how you do with the various challenges to the balance systems.
Visual System
Usually the most commonly used balance system, perhaps as a consequence of the way our society operates, vision is one way to train our body to focus and keep steady. You may notice that if you focus on a particular point on the floor or wall, you'll be better able to center your body. One way to challenge the visual system is to simply close your eyes. Alternatives include shifting your gaze, e.g., rolling your eyes in circles, up/down, side/side, as well as alternating, winking one eye shut and then the other. (As an aside, the latter may be particularly interesting as you may notice which eye is your dominant eye, and you may notice the combination of both eyes is what serves you best in your depth perception.)
Vestibular System
Another balance system we utilize is our inner ear or vestibular system. This system involves a series of canals in our head with receptors that detect angulation of the head/body; specifically, this is one way we recognize being on an incline/decline or determine being upright vs lying down. This system is also the one that is affected most by being on a boat. Those "sea legs" are actually your semicircular canals having adapted to the oscillations that the waves and tides. If you've had experience or heard about vertigo and dizziness, the vestibular system is certainly something that contributes to that as well, which is why those individuals suffering from such may be more inclined to fall. Ways to challenge your vestibular system include turning/moving your head, i.e., moving your head/neck to look down, to either side, side bending, etc.
Proprioceptive System
The third component of our balance systems is proprioception or our body's position sense as it relates to our limbs. These receptors are present throughout our appendages, through our muscles, for example, but especially in our joints and contact surfaces. Accordingly, it is possible to challenge your proprioception by altering a surface you're standing on. (A more compliant surface will be more challenging for your proprioceptive system than a hard surface.) Another way to challenge your proprioception is to change the angle and load through your joints and muscles, i.e., finding your balance with your legs locked out is going to feel different than adding a micro bend at your hips, knees, ankles, or perhaps even deepening that squat.
Static vs Dynamic
A final basic consideration for balance is the control of your "center of gravity" about your base of support. A static position challenges your ability to maintain your center of gravity over a certain point within your base of support, usually the center. By adding dynamic challenges or movements to your balance. For example, reaching with your arms or moving the opposite foot or leg if you're standing on one leg. You would challenge the edges of or past the edges of your base of support. As you progressively challenge those edges, your locus of control over your given base of support will expand.
As you can see, there are lots of ways to challenge your balance. If you have a fear of falling, are looking to improve your physical performance, or simply would like to see how well you're doing and are unsure how to check yourself by the details above.
Schedule an Appointment
Are you having balance problems or what to know why you are having trouble balancing? Our physical therapists can help you! Fill out this form and we will contact you to schedule a consultation appointment.
Reader Interactions