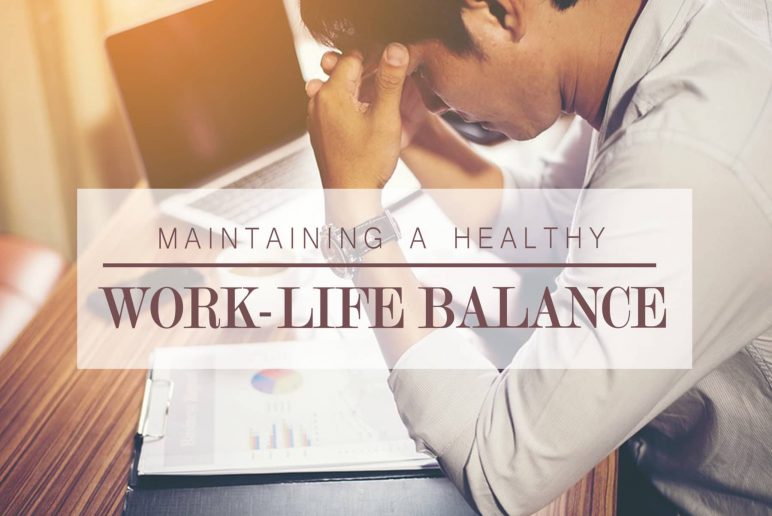 Maintaining a Healthy Work-Life Balance
November 01, 2017
Equilibrium and balance. It's a law of nature and certainly a concept that has held true throughout my life. In science and engineering, we associate the term equilibrium with energy and matter. However, I believe the concept can be applied more broadly as well. Equilibrium is a natural state of harmony, which inevitably will lead to a greater sense of comfort.
There are many aspects and considerations that play into "work-life balance"; however, one aspect we can easily work on is balancing the stresses of physically inactive (desk) work with… you guessed it – exercise! Thankfully, the great thing about exercise is that there are many ways to incorporate it into your life.
Establish a Routine
Exercises don't necessarily have to be particularly intense or make you sweat, but they should get you moving. Movement is something on which the human body feeds. If you've ever experienced physical therapy, you might understand why movement is necessary in maintaining muscle tone, which also helps metabolism, and keeps your joints lubricated.
Here are some exercises I regularly participate in that you can try:
Badminton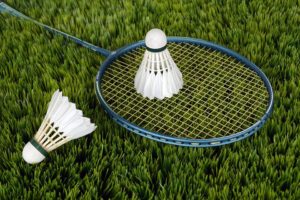 Although more commonly known as a "backyard game", badminton is actually an Olympic-level sport that is incredibly fast-paced (shuttles/birdies can travel 500+ km/hr at international competition level). There is certainly a social aspect to this type of activity, whether you play singles or doubles. The competitive aspect is also a motivator to increase intensity. Reflexes, hand-eye coordination, and fast / explosive movements are all physical components that are tested.
Whatever sport you choose, it will likely be multi-faceted.
Swimming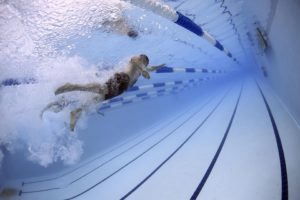 This is a full-body cardiovascular exercise that happens to be a useful life skill, too. For those who don't swim regularly (or at all), you don't have to be an athlete swimmer to get your heart pumping! As a non-competitive swimmer myself, I love being in the water and getting that total body workout. Choose a cardiovascular that works for you. I find that with the inevitable repetitive nature of "cardio", it's better to involve a destination or outdoor component to it (versus simply running on a treadmill, although that is certainly a safe place to start).
Yoga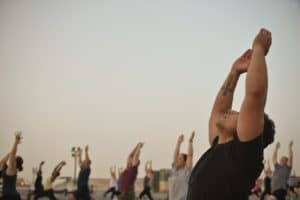 I started practicing yoga in college under a PE teacher who was very traditional in the ashtanga style. I learned a lot of fundamentals and about the different aspects of yoga including the spiritual and meditative parts. It's hard to buy into those aspects earlier on, but the more I practiced, the more I realized those benefits aside from the physical. Incorporating a meditative and emotionally/mentally therapeutic activity into your balance is of great importance, too. Physically speaking, yoga is great for range of motion and isometric strengthening in those end-ranges. Additionally, the more flowy vinyasa type classes are excellent for controlling your breathing and incorporating it into your movements.
Just do it!
Establishing a routine is the most effective manner of injecting greater physical activity into your life regardless of what physical activity you do. Regulate your exercise because as it becomes routine, it gradually becomes a (HEALTHY) habit, and habits are hard to break even if you wanted to (you don't want to break this one necessarily though!. Set aside some time, be it before work, during the work day, or after work. Reserve that time for a particular set of exercises or some form of physical activity.
Whatever, whenever, and however you choose to incorporate exercise into your day, I encourage you to schedule it into your day and reap the benefits. You may find yourself more content, sleeping better, and generally, more stress-free.
Is a work-life imbalance causing you to feel pain?
Schedule a FREE Assessment with Charles today!
Get more wellness tips sent straight to your inbox!
Sign up for Life+!
Reader Interactions