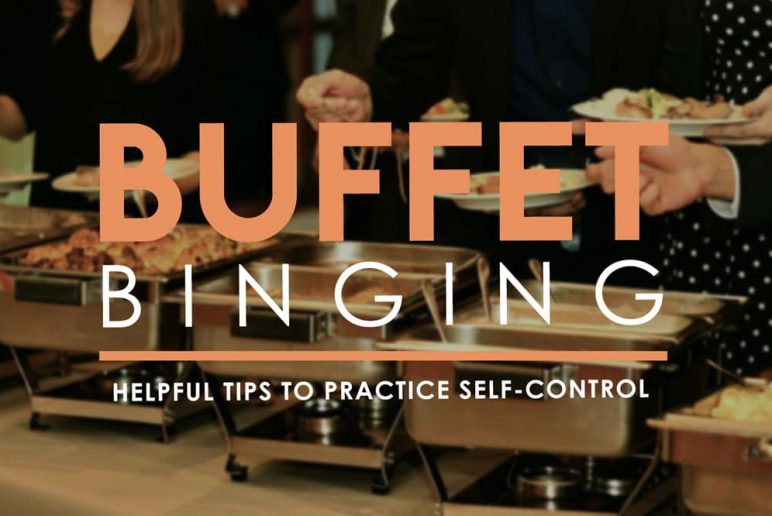 Buffet Binging: Helpful Tips to Practice Self-Control
March 23, 2018
I love food. Seriously. I live to eat, not the other way around. But, shoot, I love me a good deal, too. When put in a buffet situation, I'll be sure to indulge, however; that does not mean I need to overeat.
HOW TO TRAIN YOUR STOMACH
If you're decided on maximizing volume of intake, it is possible to train your stomach. The walls and linings of the digestive tract are composed of muscle tissues with contractile and elastic properties, so it is certainly possible to "pre-stretch" your stomach.
That prep work only requires approximately one day: the day before, at an approximately similar time frame as the anticipated all-you-can-eat experience, eat a filling meal with carbs and fluids that will expand. Start to cut the carbs thereafter, but continue with the fluids to maintain an easily digestible by higher volumetric capacity of the stomach leading up to 1-2 hours prior to the dining event.
All that said, it is not necessary to "pre-game", to still get a great value and experience.
1. Set Up A Game Plan
Survey the field, and determine a strategy. Make sure to take a look at all the foods available to you, so that you don't miss out on something you may be interested but may miss out on if you're already filled up with other things.
2. Focus on the items you don't normally get to enjoy
This is an effective strategy for your game planning. Chances are, you don't go out and buy a lobster or crab leg or prime rib cut, so make sure you prioritize getting the opportunity to try those rarer items.
3. Get the sampler
Allow yourself to try more variety of things. The variety contributes to balancing out your dietary intake, but it also assures value. I purposely try just a little bit of each dish before deciding to go back for seconds on anything I particularly enjoyed. This way, if you don't like something you've tried, you won't feel too bad about wasting either.
4. Don't Blow Up Right Off The Bat
All those items you may have pre-gamed with (carbs, fluids)? Put those off til later, perhaps dessert. They'll expand in your belly, taking away valuable space in your stomach for the more interesting things. You might still whet your appetite with some interesting lighter items, but get to the good stuff (interesting main course items) sooner than later.
5. Pace Yourself
Don't eat too quickly. Enjoy the experience and the palate. As an aside, this is a good strategy to make sure your brain doesn't get tricked into over-consumption, as you allow your brain to acknowledge how much sustenance you are taking in.
6. Move Often
Take opportunities to trigger your metabolism and digestion; this will decrease discomfort and help you burn some of those calories you are inputting to your system. A good strategy to do this is to accumulate fewer items on a given platter of food. I purposely load my plate with fewer things, as I mentioned above, which forces me to go back to the line for my next plate.
If you happen to have access to something that's messier (such as those crustaceans), strategically eat those intermittently through your meal so that you might have to go wash your hands before trying the next thing.
7. Build Your Own!
Get creative! Having a whole boatload of things available to you allows for you to try different combinations of flavors and/or textures through your meal as you see fit. Maybe make your own salad, or try this item with that sauce. If you like the savory with the sweet, mix in a little bit of dessert with your main courses.
Having fun with your food is part of the enjoyment, and if it takes time to accumulate and/or mix the items for your desired creation, it'll help you move more and slow down your eating pace.
All-Inclusive Setting? Consider the Amenities!
All of these are general tips for a single instance of eating, but it's certainly possible to apply these same principles to an all-inclusive setting, too. Consider a cruise or an all-inclusive resort. You pretty much always have food available to you, but you also have other amenities. Certainly employ the above strategies when you visit the dining commons, but don't spend all your time and effort there.
If you're taking a break from food, find another activity to do. Go for a swim, play some deck games, watch a show, visit the gym/spa, go to karaoke or trivia, walk around and enjoy the views, explore the locale, socialize within your group and perhaps branch out to others, etc. There's a lot to do, but it's up to you to enjoy it all!
Want to know more about healthy living?
Schedule a FREE Assessment with Charles today!
Get more wellness tips sent straight to your inbox!
Sign up for Life+!
Reader Interactions