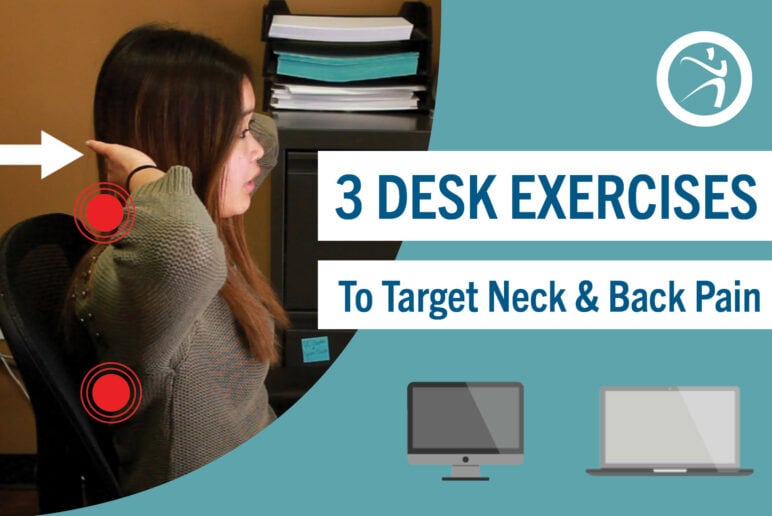 3 Desk Exercises to Target Your Neck & Back Pain
January 31, 2023
The average person spends about 5 hours and 41 minutes per day sitting at their desk.[1] Extended times of working at a desk while using a computer or other devices can lead to discomfort in the neck and upper-back areas. While there are different ways to set up your desk ergonomically, you can also help your body by stretching. Today, we will talk about 3 exercises that you can perform at your desk to help relieve neck and back pain.
Upper Trapezius Stretch – For Neck Pain
The first exercise is an upper trapezius stretch. This is to help stretch all the muscles in your neck.
Bend your neck to one side. You should feel the stretch on this side
Hold it for a minute.
Once that minute is over, return to the starting position and perform the same motion the other side.
Scapular Squeezes – Improve Posture
This exercise is good to help maintain a nice upright posture when you are sitting at your desk.
Stand up nice and tall
Squeeze your shoulder blades together, holding it for a couple of seconds and then returning to the starting position.
Thoracic Extension – Improve Back Mobility and Improve Posture
This exercise helps to improve the mobility of our mid-back and improves posture.
While sitting in a chair, sit up tall.
Put your hands behind your neck, and bend backwards making sure you're not getting any bend from your neck, only from your mid-back
Hold it there for a couple seconds and then return to the starting position.
I hope you found these exercises helpful. If you need more stretches for your desk, check out these fun "deskercises" to try at your next break. If you'd like to specifically target your lower body to help with low back and hip pain while sitting in the office, check out these 5 additional lower-body stretches you can do at your desk.
If you are experiencing any neck, shoulder, or back pain while working at your desk or working from home, physical therapy may be a great solution to relieve your pain. Our physical therapists will help you identify the sources of your pain, examine ways to help you relieve your pain while working at your desk, and prevent further injury to your neck and back.
[1] https://www.sciencedaily.com/releases/2012/01/120113210203.htm
Sign up below for an appointment with one of our physical therapists to get started with hands-on treatment and a personalized exercise plan to get you back to working pain free! A representative will be in touch shortly.
WANT MORE TIPS?
Sign up for LIFE+ to receive injury prevention and pain relief tips from our experts straight to your inbox.
Reader Interactions