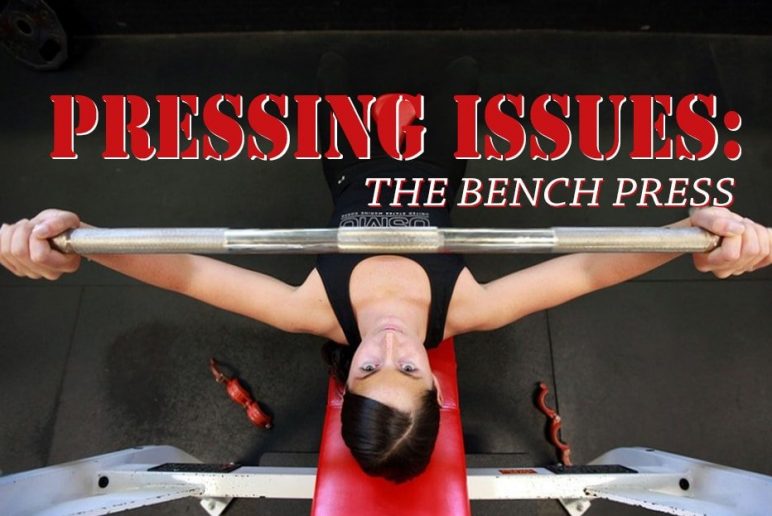 Pressing Issues: The Bench Press
December 26, 2017
Ah, the bench press. A classic exercise that is a staple in many lifting routines. The bench press can be a great full-body workout, but can also be a source of pain and injury for many. The thing about the bench press is it needs to be performed safely, based on the individual!
You may see many different techniques of this exercise performed at the gym – some good, some not so good. Here are some tips to keep in mind to make this exercise appropriate for YOU!
How to make the most out of your bench press:
Have a spotter! Especially if you are new to this exercise or increasing weight. Spotter should stand at the top of the bench overhead with hands close to the bar to help the lifter as needed.
Keep 3-point contact on the bench: your head, butt, and upper back should be in contact with the bench throughout the lift. Avoid over-extending your neck.
Grip the bar: a neutral grip with hands approximately shoulder width apart works for most. Make sure you are gripping behind, not under the bar – this will avoid over-extending your wrists. Your shoulders should remain at ~45 degree angle (not flaring away from your body)
Plant your feet firmly on the ground with ~80 degree bend in the knees
Keep tight! Squeeze your shoulder blades down and back, and engage your core and glutes. As you press up, use your legs to help you drive the bar back to starting position. This makes the bench a full-body exercise!
Breathe! Inhale before lowering the bar, exhale as you press up
Special considerations to keep in mind
The tips listed above are the basics for the bench. If you are like me, you may have some special considerations to keep in mind.
For example, I have mobile shoulder joints. In this case, you may be better off performing a dumbbell chest press with your shoulder supported by the bench, to avoid extreme ranges of motion in your shoulder. If you do try the barbell bench, avoid lowering the bar too far – do not let your elbows drop below the level of your body.
You may see some power lifters benching with an arch in their back. This form may not be appropriate for everyone, especially beginners! The important thing to remember with this is to always keep your butt in contact with the bench, and emphasize the arch in your thoracic (mid/upper back) by engaging your shoulder blade muscles. This technique may increase pectoral involvement and stabilize your shoulder joint.
Wondering about how a PT can help with your bench press? Come in to CBPT whether you are looking for injury prevention, or if you are experiencing specific pain with your bench to see how we can help!
Schedule a FREE Assessment with Danielle today!
Reader Interactions