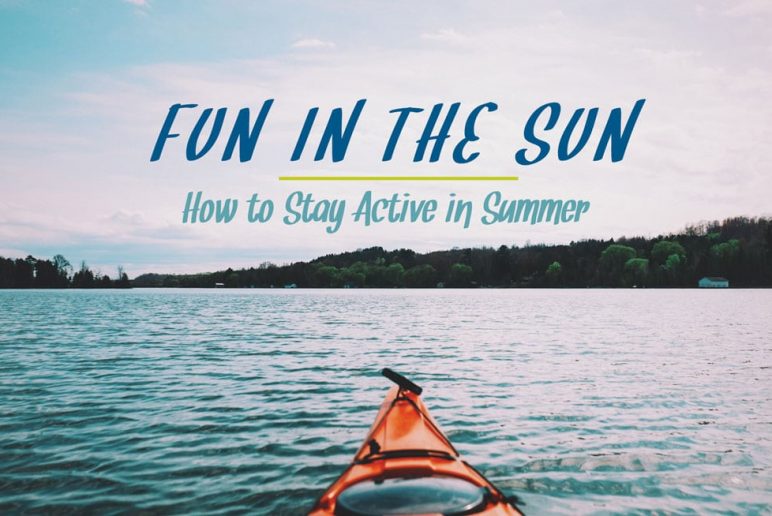 Fun in the Sun: How to Stay Active in Summer
June 30, 2015
With summer right around the corner, you might be wondering what you could be doing to continue an active and fit lifestyle. Now that the sun is out longer, there is more time to enjoy the outdoors. No need to resort to the same gym routines. Get out and try something new to break out of the monotony!
Here is a list of fitness activities to enjoy this summer!
Swimming
On a hot day, it might be nice to dip into the pool, ocean, or lake to cool off. Whether it is freestyle, breaststroke, butterfly, or back stroke, this is a full body workout to burn those calories while getting a nice tan.
Kayaking
For those who do not actually like to get into the water, this is a great way to get close without getting your hair wet. Kayaking provides a good core and upper body workout to propel you across a body of water. You can rent out kayaks in singles or in tandem to enjoy this experience with friends.
Bike Riding
Grab your bike and head out to a local trail, the park, or around your neighborhood. Pedal as hard as your heart desires. This is a great cardio workout and can help to tone your calves and quads.
Beach Volleyball
Whether you know how to play or not, beach volleyball is a fun activity to enjoy with your friends and family. Maneuvering in the sand adds a new component of difficulty to run, pivot, and jump in. Bump, set, and spiking may be more challenging, but you'll see yourself getting much more fatigued and burn more calories after a couple of rallies.
Hiking
Hiking is great because anyone can do and it can be done anywhere. There are no requirements regarding your level of fitness, skill level, age group, or region. You do not need mountains to hike, since there are numerous great hiking trails by the beach, regional parks, or local neighborhoods.
Horseback Riding
If you are not afraid of a barn yard animal, horseback riding is an amazing way to enjoy a sunny day. Traveling through mountainous or beach trails on horseback is exhilarating and a fun experience. It also allows you to work out muscles you do not normally work out during other activities.
Gardening
Typically, gardening is done in the springtime to enjoy a good harvest in fall. However, living in southern California affords us with the ability to enjoy moderate weather all year round. The energy required for digging and harvesting will give you an incredibly rewarding workout.

Remember to keep hydrated this summer by drinking lots of water, protect your skin from the sun by wearing sunscreen, and prevent injuries by stretching before and after activities. Find out what activity suits you best, and go enjoy it this summer!
Want More Tips?
What are some of your favorite summer time activities? Let us know below! Sign up for LIFE+ to receive tips on how to stay active all year round!
Reader Interactions