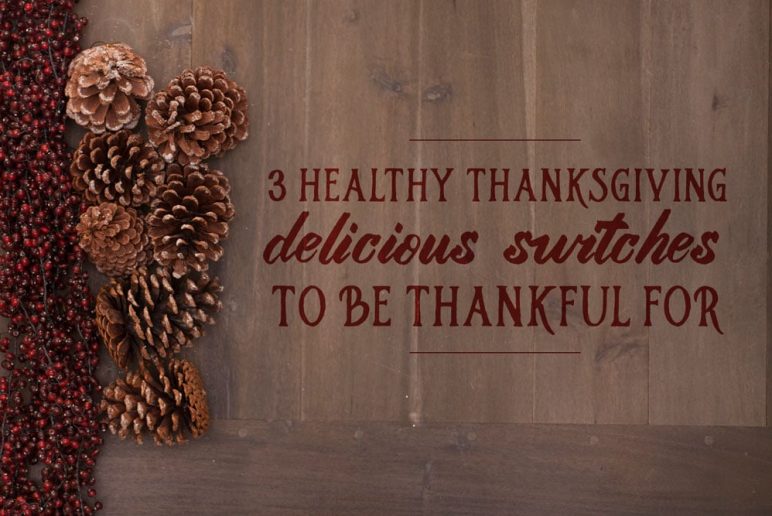 3 Healthy Thanksgiving Delicious Switches to be Thankful For
October 07, 2015
Thanksgiving has always been one of my favorite holidays, mainly because of the FOOD! Spending time with friends and family is always great, but an amazing meal brings everyone together. However, to avoid the post-holiday dinner guilt this year, try a healthier, yet tasty, recipe. The following are list of Thanksgiving delicious switches for healthier alternatives with less calories, total fat, and total carbohydrates to serve you and your loved ones.
Instead of bread stuffing, try wild rice stuffing
If you're looking for a stuffing with less carbohydrates and more protein & fiber, try substituting the bread for wild rice (or quinoa). For this recipe, you'll need wild rice or quinoa, as well as, onion, mushrooms, apple, cranberries, & celery for flavor. Once the rice and veggies are cooked through, combine this with the broth of your choice & bake. If you want an added crunch, garnish with toasted almonds!
Nutrition (per ½ cup): Calories: 78; Total Fat: 2 g; Saturated Fat: trace; Monounsaturated Fat: 1.5 g; Sodium: 136 mg; Carbohydrate: 13 g; Dietary Fiber: 2 g; Protein: 2 g
Instead of green bean casserole, try green beans with red pepper and garlic
If you want a lighter option, substitute the green bean casserole into a simple green bean dish. This dish is full of nutrients & flavor. There are two parts to this recipe: first, cook the green beans & emerge in ice water to stop the cooking process. Afterwards, sauté the bell peppers & green beans together. Once those are thoroughly cooked add the garlic and chili paste for that burst of flavor. Before serving, drizzle with sesame oil.
Nutrition (per 3/4 cup): Calories: 54; Total Fat: 2 g; Saturated Fat: < 1 g; Monounsaturated Fat: 1 g; Cholesterol: 0 mg; Sodium: 202 mg; Carbohydrate: 7 g; Dietary Fiber: 2g; Sugar: 0 g; Protein: 2 g
Instead of mashed potatoes, try cauliflower mashed 'potatoes'
Mashed potatoes are the ultimate comfort food, but they often leave you feeling sluggish, especially when accompanied with all the other dishes you have during Thanksgiving! Mashed cauliflower is a non-starchy, lower in calories & carbohydrates alternative. This recipe calls for steaming some cauliflower, leaks, and garlic for about 30 minutes. Using small portions at a time, throw the steamed veggies into a food processor until it reaches the texture you desire. If you like your mashed potatoes ultra-smooth, try using a blender instead of a food processor!
Nutrition (per 1 cup): Calories: 67; Total Fat: 2 g; Saturated Fat: 1g; Monounsaturated Fat: 1 g; Cholesterol: 8mg; Sodium: 60mg; Carbohydrate: 9g; Dietary Fiber: 2.5g; Sugar: 3g; Protein: 2g
Take the Next Step
Need more diet & nutrition tips? Sign up for Life+!
Reader Interactions