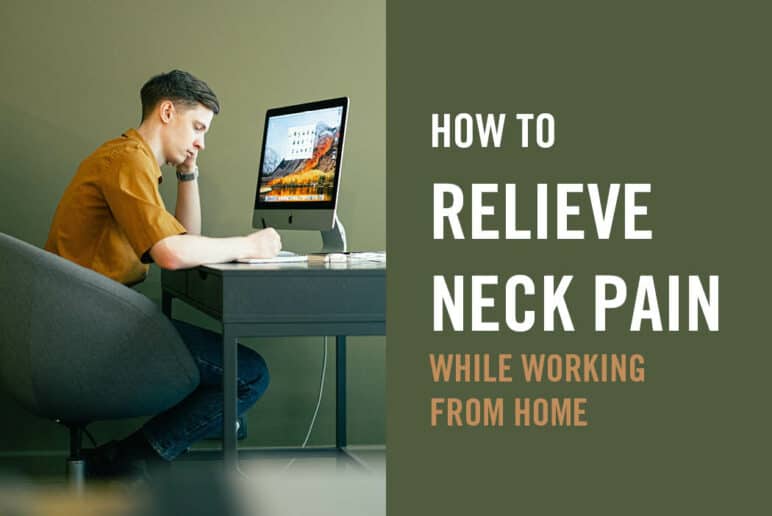 How to Relieve Neck Pain while Working From Home
December 17, 2020
Working from home has come with many unexpected challenges, but one thing that many weren't prepared for was neck pain! Most people aren't set up to work from home and have had to set up make shift work stations which has led to some unwanted pain. A lot of this pain can be due to poor posture throughout the day. Here are some tips for modifying your workstation followed by some exercises to make sure you are keeping strong and flexible.
Workstation Set Up Audit
Monitor: Use one monitor at about arm's length, it should be slightly below eye level (~10⁰) so that the top 1/3 of your screen is directly at eye level
Sitting:

Back should be upright and fully supported by back rest
Your hips and knees should be at 90⁰ or slightly less so that your hips are just above your knees
Feet should be fully supported on the ground

Arms:

At least 2/3 of your forearms should be supported on the desk with elbows at about 90⁰
Your wrists should remain in a relatively neutral position and when you're using your mouse try and move with your whole forearm, not just the wrist
Additional Recommendations:
At a bare minimum, try and take at least a 1-minute break every hour and just stand, walk, lay down, or stretch; it will give your eyes a break too. If you have time, it's best to take a 10-minute break after every 50 minutes of work/prolonged sitting
Another consideration is possibly investing in blue light glasses if you have a lot of screen time and suffer from eye strain or difficulty sleeping. These help block out blue light from your screen that can be a contributing factor to the above problems that some people have reported being helpful against any negative symptoms from excessive screen time.
See "How to Personalize Your Ergonomic Work or School Set Up at Home" for more tips to personalize your set up!
Exercise to Combat Neck Pain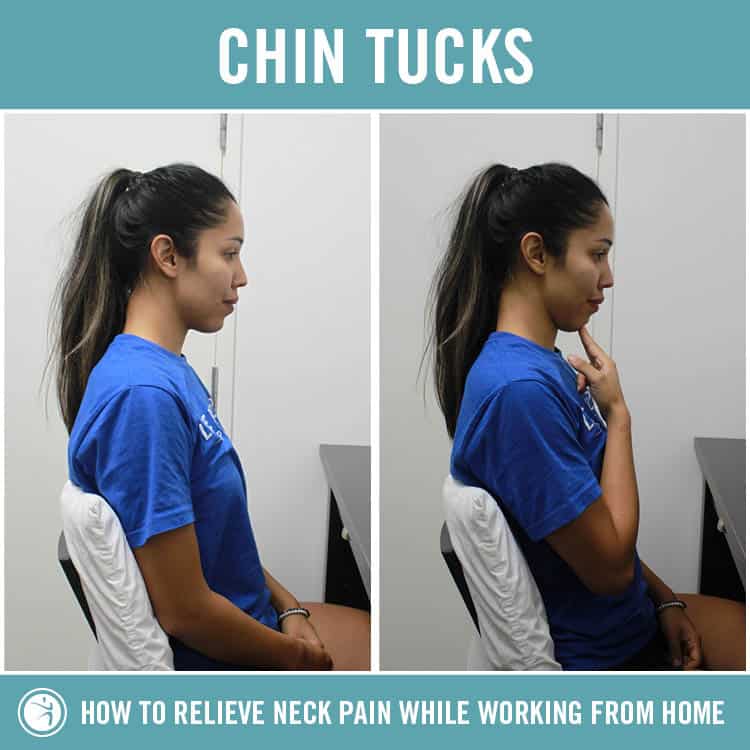 Chin Tucks
Lay on your back without any pillows behind your head or sit at your desk.
Tuck your chin as if you're trying to create a double chin and press the back of your head into the surface or toward the back of your chair. You should feel the muscles in the front of your neck working and a stretch at the base of your skull.
Hold this position for 3-5 seconds.
Relax and repeat for 2 sets of 10 reps holding 3-5 seconds each time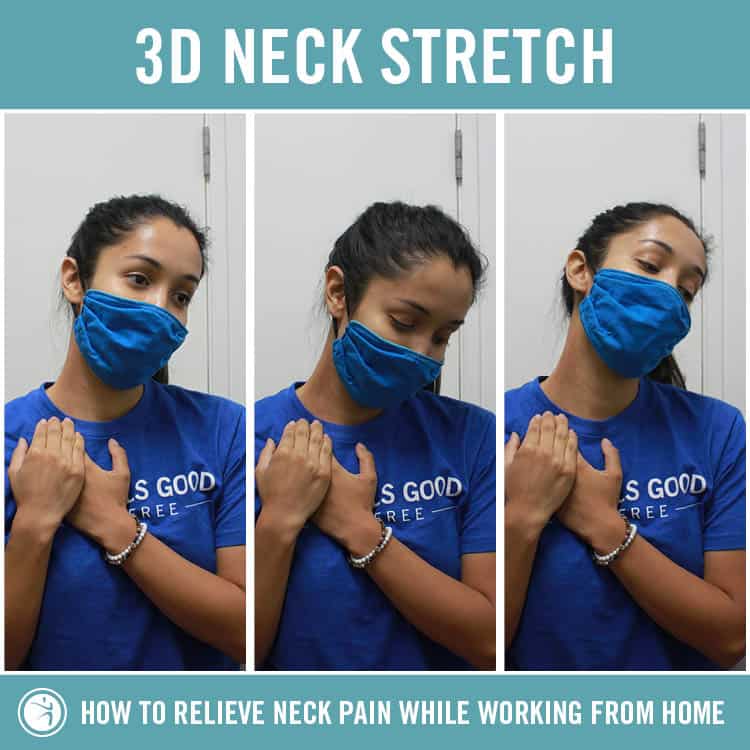 3D Neck Stretch
While seated or standing place both hands overlaying one another on the collarbone of the side of the neck you will be stretching.
Gently bend your head away from your hands like you are trying to bring your opposite ear to the shoulder.
While maintaining that bend, slowly roll your neck forward towards your chest as if you're looking towards the ground and then slowly roll your neck backwards as if you're looking towards the ceiling.
Continue rolling your neck forward and back for 30 seconds.
Switch to opposite side and repeat so that each side is stretched 2 times for 30 seconds.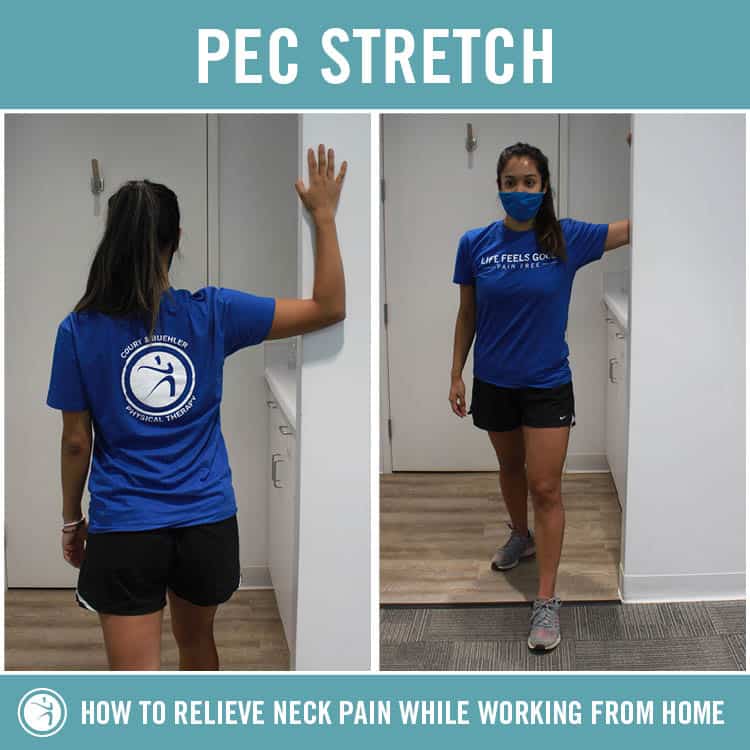 Pec Stretch
Find a doorway or wall and with a 90⁰ bend in your elbow place your forearm perpendicular to the ground (Your arm should be lifted to about the level of your shoulder).
While maintaining this position, gently turn your body away from the arm being stretched until you feel a stretch in the front of your shoulder.
Maintain this position for 30 seconds and then switch arms.
Repeat so that both sides are stretched 2 times for 30 seconds.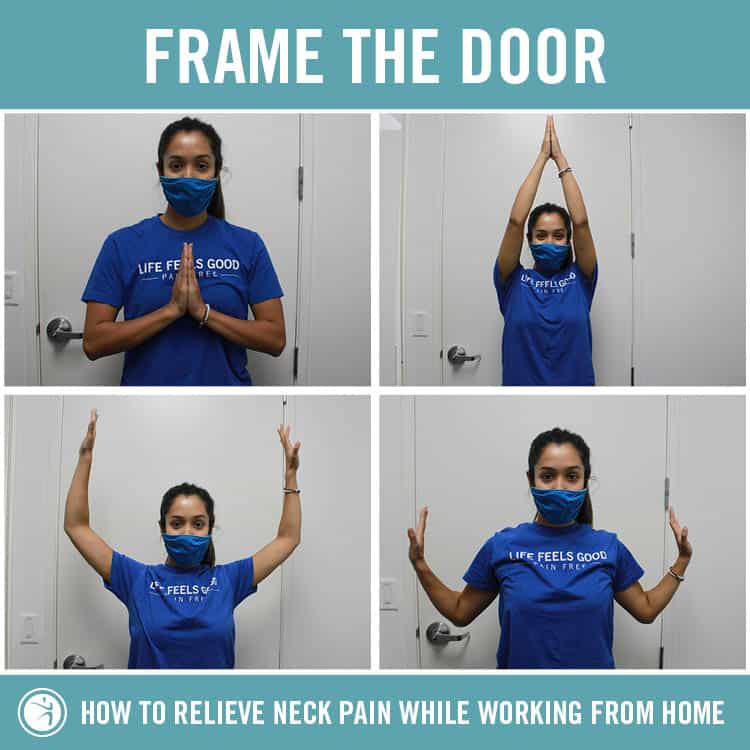 Frame the Door
Start in a standing position with your hands in a prayer position just in front of your chest.
While keeping your hands together, lift your arms up directly overhead.
Then, bring your hands and shoulders apart so that you end up with your elbows and shoulders at 90⁰. Focus on squeezing your shoulder blades down and back during this movement.
From there, keep squeezing your shoulder blades down and back while drawing both your elbows into your sides.
Return to start position and repeat. Perform 2 sets of 10 repetitions.
Try the above suggestions to modify your at home work station and the exercises to combat any pains you may be feeling. If these aren't quite doing the trick, then schedule a Free Assessment at your local Coury & Buehler Physical Therapy Clinic where you will be personally assessed by a Physical Therapist who will help get you back to living your life pain-free!
If you're experiencing any pain or discomfort while working from home, contact us at 714-256-5074 for a free consultation or fill out the form below! A representative will contact you shortly.
Reader Interactions