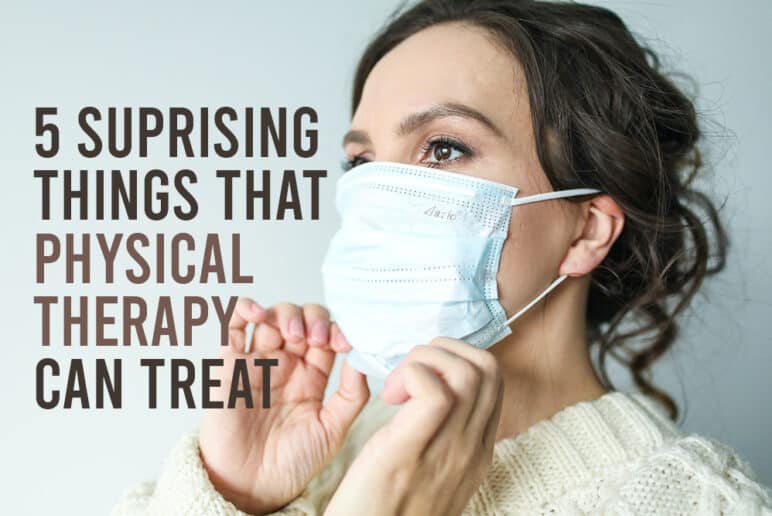 5 Surprising Things Physical Therapy Can Help Treat
November 12, 2020
While talking to patients, on more than one occasion, I have heard the question, "Can physical therapy help with...?" We discussed certain diagnoses/impairments that they were shocked to learn could be helped by physical therapy. It had never occurred to me before that not everyone knew PT could help with so many things! So here is a list of 5 things PT can help with that may come as a surprise!
Can Physical Therapy Help with Vertigo?
Vertigo is a sensation of spinning and can make one feel disoriented and nauseous. One of the most common causes of vertigo is something called benign paroxysmal positional vertigo or BPPV. This condition is caused by small crystals in the ear being misplaced. This can be extremely debilitating for people, but the good news is that in a majority of cases this can be treated very simply with Physical Therapy. Often on the first visit a diagnostic test can be performed and turned in to a treatment to provide immediate reduction in symptoms. All this requires is a sequence of changing head positions achieved by rolling certain ways on a bed or table!
Can Physical Therapy Help with Torticollis?
Torticollis is a condition that can occur in newborns which involves the muscles of the neck pulling the baby's head into a side bent and rotated position. This can occur for a variety of reasons including sleeping in a poor position, positioning when being held, or genetics, among others. Physical therapy is used to address this problem by providing education on how to change how the baby is being held, finding ways to position the baby to stretch their neck, and other things to address their muscular restrictions.
Can Physical Therapy Help with Pre-Op?
When surgery becomes an imminent event in someone's life, little do most know that physical therapy can be used for "prehab". Most people think of PT as something to be performed after an injury, but it can also be used for prevention or preparation for surgery. For most orthopedic surgeries, the greater strength and mobility that one has before the procedure, the better their outcomes will be afterwards. PT can be used before surgery via stretching, strengthening, and education to help patients be as prepared as possible!
Can Physical Therapy Help with Balance?
For a variety of reasons, as we age, maintaining our balance during normal activities seems to become more and more difficult. So, if you find yourself tripping easily, losing balance while walking and multitasking, or just lacking in general balance, physical therapy might help you! For those that struggle with their balance simply due to muscular weakness, incoordination, or lack of training, PT can work on those impairments to help improve your balance. Treatment commonly includes strengthening of the core and lower extremity stabilizers, balance training on a variety of surfaces and environments, and balance training while dual-tasking.
Can Physical Therapy Help with Post Covid-19 Impairments?
Covid-19 has obviously been the topic of the year, and although our knowledge of the disease is still growing, one thing we do know for sure is that it affects the respiratory system. Because of this some who have suffered from the disease and are in recovery may be struggling with general deconditioning and lack of endurance. This could be due to the disease as well as a decrease in fitness from being bedridden. In order to help remedy this, PT can be used for strengthening with a focus on endurance, cardiovascular training, and many other things to help aide in recovery! Additionally, if patients are still having difficulty with breathing mechanics/efficiency, manual therapy techniques can be used to decrease soft tissue restrictions about the rib cage as well as mobilize the ribs and thoracic spine which are vital for full chest expansion during breathing.
Were you surprised about anything on the list? Is there something you are having a problem with that you're not sure can be treated with physical therapy? If so, please reach out to your local Coury & Buehler Physical Therapy Clinic for a Free Assessment where you will be personally evaluated by a Physical Therapist who will help inform you about whether or not physical therapy is right for you.
If you're experiencing one of these conditions, contact us at 714-256-5074 to take advantage of our free consultations or fill out the form below! A representative will contact you shortly.
Reader Interactions