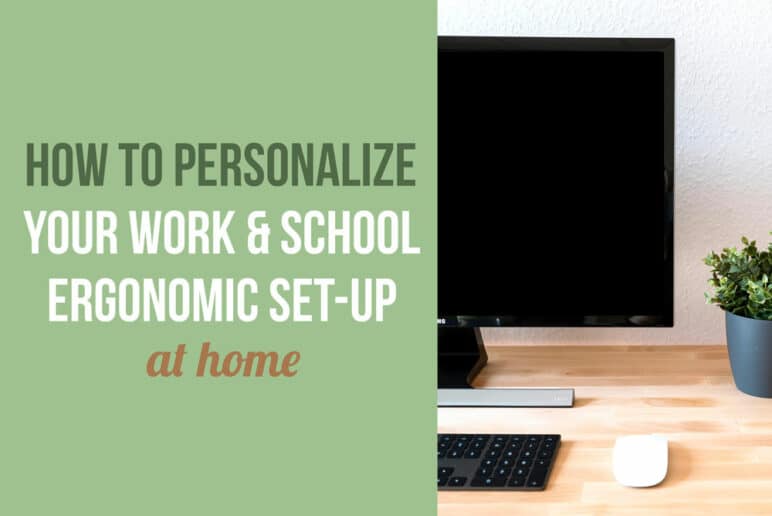 How to Personalize Your Ergonomic Work or School Set Up at Home
October 08, 2020
During this time when most of you are at home for work or school, it's crucial that you have a functional and ergonomic set-up. Although this situation and quarantine may seem temporary, it is essential to optimize your work or school environment to minimize any potential long-term complications or resultant pain. Here are my recommendations!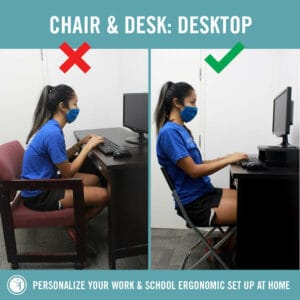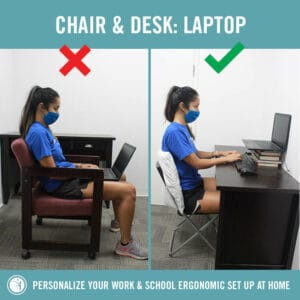 Equipment
Chair: Make sure that you sit on a firm surface with back support, rather than your couch or bed. This will provide better stability and alignment for your posture. You can use a firm dining room chair or a sturdy folding chair if you don't have an office chair. We'll detail appropriate positioning while sitting below!
Desk: Work on a sturdy desk if possible. If not, you can use a folding table or the dining room table with appropriate modifications (see below!)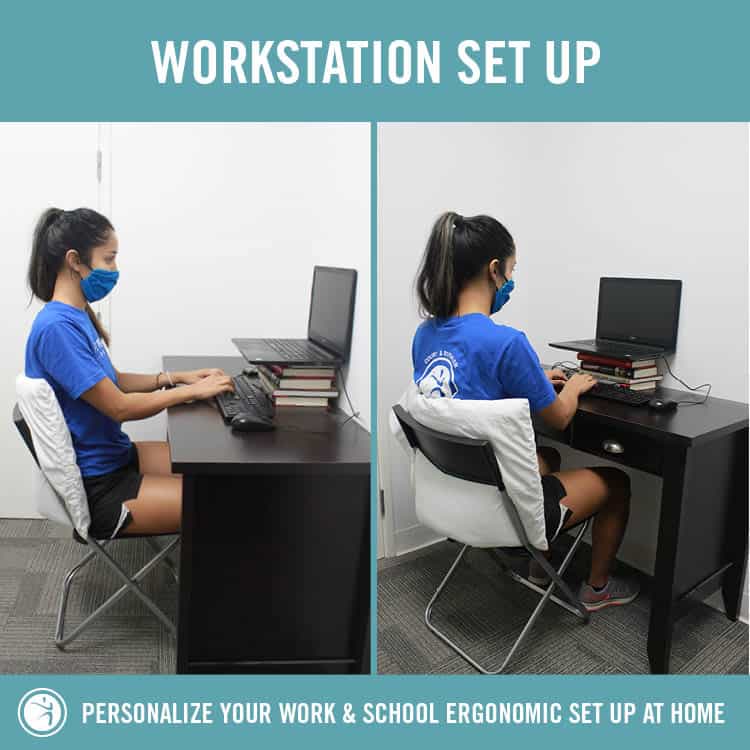 Workstation Set Up
Screen Positioning: Set up your computer so that the screen is eye level to you and your neck can stay in a neutral position. If it is difficult to see the screen and you have to lean your head forward, then consider bringing the screen slightly closer.

Laptops: If you have a laptop, you can elevate it with a few textbooks so that it's at eye-level. You will need to have a separate keyboard after elevating it.

Keyboard Positioning: Avoid leaning onto your desk while rounding your shoulders forward. Make sure that you can reach the keyboard with your shoulders relaxed back.
Chair: You should be able to sit with your back supported on the chair to help maintain the normal curve of your spine. You can consider placing a pillow horizontally along your low back for external support.
Feet: Your feet should rest comfortably on the floor. Your knees should not be higher than your hips when sitting.
Arms: Forearms should be comfortably supported by the desk or the arms of the chair. Make sure that your shoulders are relaxed while you rest on these surfaces instead of shrugging up.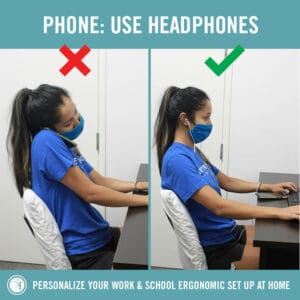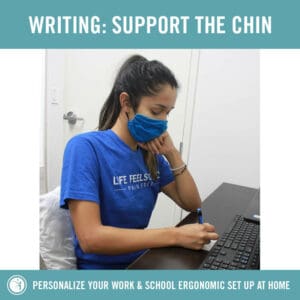 While Working or Doing School Work
Phone Calls: Avoid holding your phone between your neck and shoulder and instead use headphones/headset or put it on speakerphone.
Writing: Support your chin in a tucked position with one hand while writing.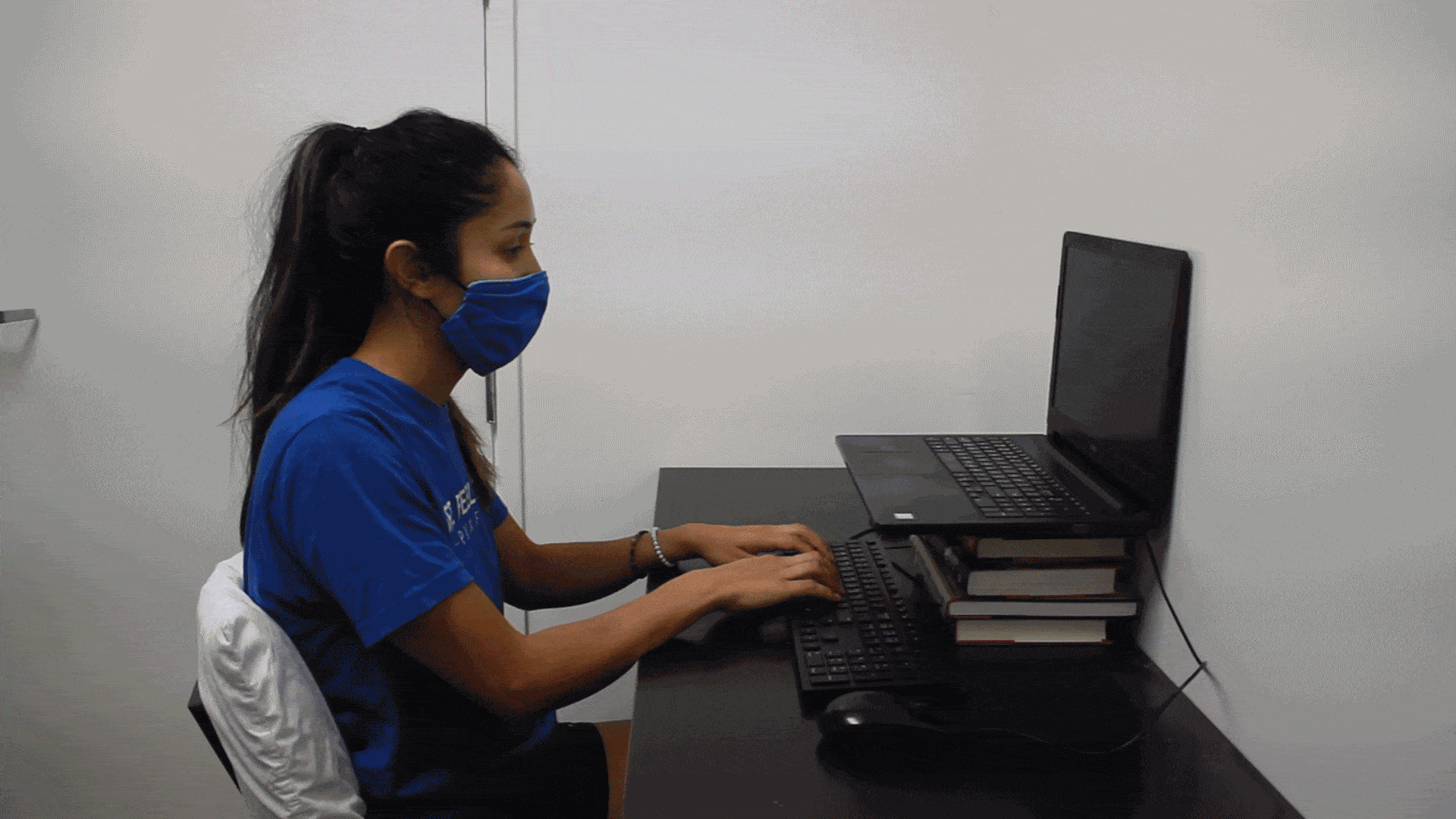 Avoid holding your head turned to one side for long periods of time.
Take standing and stretching breaks every 30 min to 1 hour if possible. Try to walk around your house a few laps before sitting back down.
Correct your posture periodically by slightly tipping your chest up and tucking your chin in.
If you have started noticing any neck, shoulder, back or wrist pain (or any other body regions) while working or studying at home, physical therapy may be able to help address these issues. Call us today to schedule a free consultation and find out what physical therapy can do for you!
If you're experiencing any pain or discomfort while working or during distance learning, contact us at 714-256-5074 for a free consultation or fill out the form below! A representative will contact you shortly.
Reader Interactions