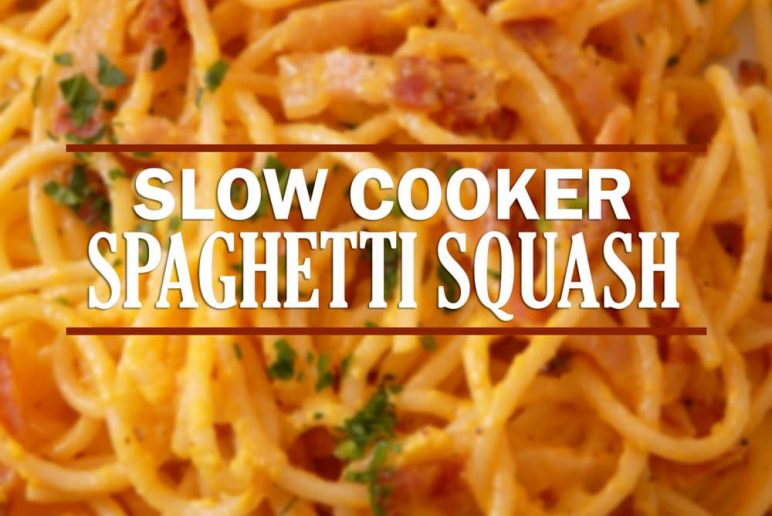 Slow Cooker Spaghetti Squash
December 23, 2015
Those who know me, know I am quite the planner. I like to plan out my workouts, weekend activities, Skype time with my niece…pretty much everything.
Not surprisingly, I also like to plan out my meals for the week and do as much prep ahead of time as possible so that when my husband and I get home from work, we can enjoy a relaxing evening with dinner already prepared.
One of our favorite "prepare ahead" meals is Crock Pot spaghetti squash. I found a recipe for it about 2 years ago and have evolved this recipe to our likings, which often includes whatever veggies we have left in the refrigerator at the end of the week.
Crock Pot spaghetti squash is very quick and easy to make (which is a double bonus in my eyes). The best part about this recipe is you can add and subtract veggies to include your family's favorites. It's a great way to sneak veggies in without them even knowing it. The base ingredients are a must, but you can pick and choose from the list of option ingredients to create your own version of Crock Pot spaghetti squash.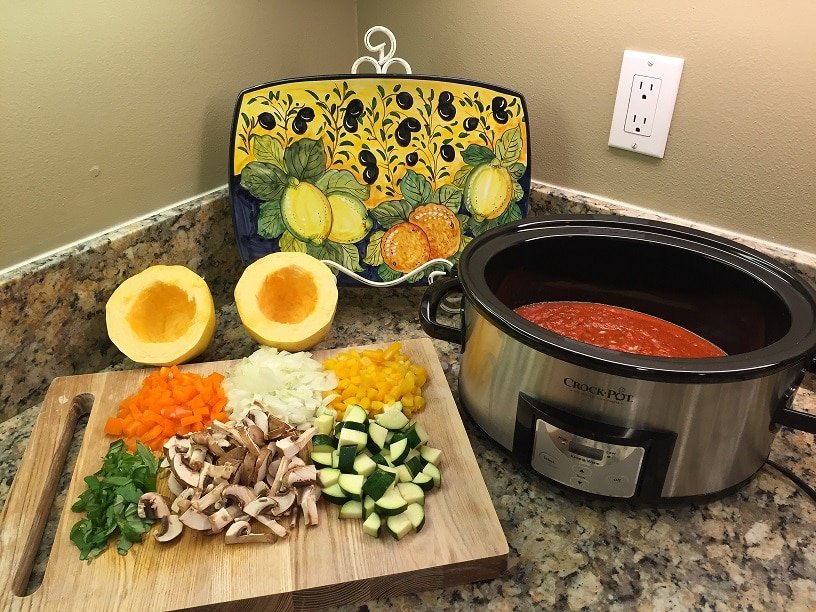 Base Ingredients:
1 Spaghetti Squash
1 Jar Pasta Sauce
2 Cloves Garlic, Minced
1 tsp Oregano
10 leaves Fresh Basil, Chopped
Optional Ingredients:
1 Small White Onion
1 Bell Pepper (any color or variety)
Mushrooms
1 Zucchini
1 Squash
1 cup Kale
1 lb Ground Chicken, Turkey, or Chicken Sausage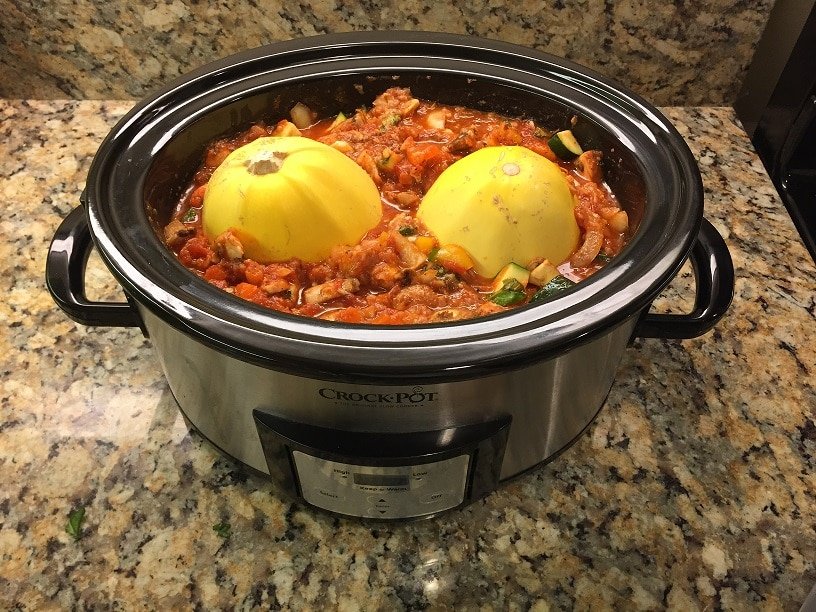 Steps:
Pour pasta sauce in crock pot. Add minced garlic, oregano, and chopped basil.
Add meat to the crockpot and mix in well with the pasta sauce.
Prep all veggies. Any combination will do. Dump all veggies into the crockpot and stir around. The mixture may be thick, do not worry, the moisture from all of the veggies will add juice to the mixture when cooked.
Cut the spaghetti squash in half and clean out the insides. I use a large spoon for this to scrape the seeds out. Once completed, place both halves of the spaghetti squash open side down into the mixture. Push down in the crockpot.
Cook on low for 4 hours.
Once cooked, take each half of the spaghetti squash out of the mixture and place on a plate. Carefully scrap the squash out using a large metal spoon. I recommend using a hot pad or towel to hold the spaghetti squash while doing this due to it being so hot. Add the squash back to the crockpot and mix.
Serve up the spaghetti squash.
You can top it with a little grated parmesan cheese to taste.
Serve up and enjoy!
This recipe is very quick and easy to make and is a crowd pleaser. It is packed full of veggies to promote healthy eating habits. I hope you enjoy this as much as we do. Let me know your variations on vegetables you use in the comments below!
Take the Next Step!
Hungry for this recipe? Sign up for below to receive a copy!
Reader Interactions