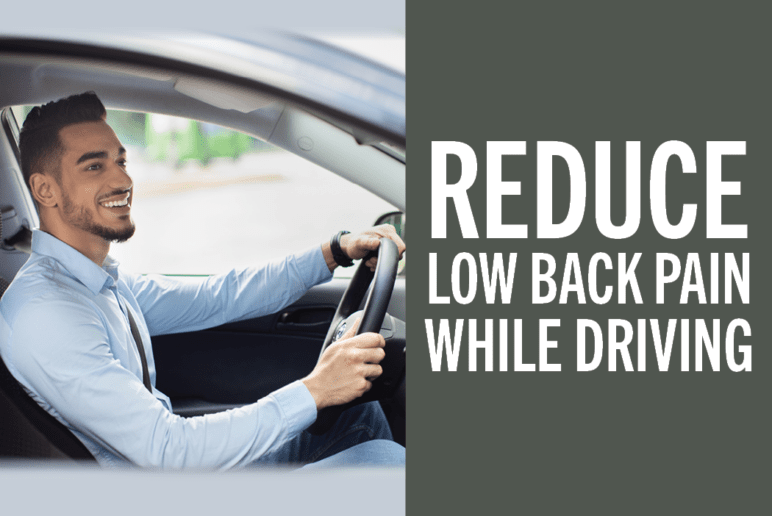 Reduce Low Back Pain While Driving
October 17, 2022
Driving is the primary mode of transportation for most California residents. We drive for work, to run errands, and for pleasure. Surveys have shown that Californians drive an average of 34 to 44 miles daily.
Why Does Driving Cause Low Back Pain?
Although vehicles have come a long way in design and comfort, studies have shown that driving more miles correlates with an increased prevalence of low back pain regardless of age, sex, and height. When sitting in a standard chair at a desk, your body stays still for the majority of the time which allows your lower back to have more stability & support. While driving, your body must constantly adapt to the constant changes and different forces. Your lower back loses its support and stability when you switch back and forth between pushing the gas and brake pedal. When accelerating and decelerating, your body is moving from side to side and up and down. After a long period of time of moving around and not having proper back support, your lower back will begin to hurt.
How Can I Reduce My Back Pain While I Drive?
Sitting properly in your seat while you drive is a good way to reduce & prevent back pain. If you are sitting wrong in your seat, you can cause your back and spine to experience even more pain than before. Here are the correct and incorrect ways to sit in your seat while you drive: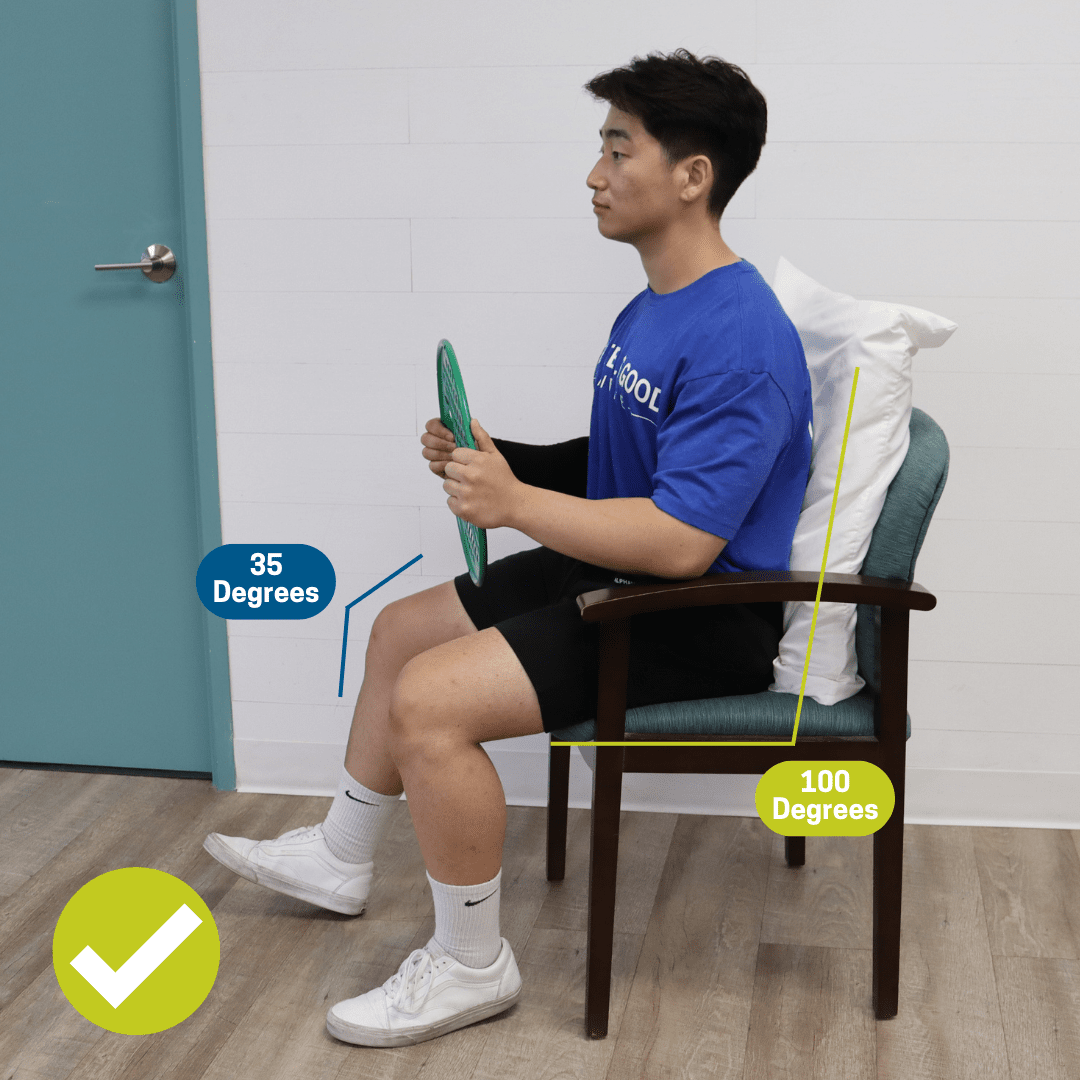 Correct Form While Driving
The seat should be inclined at 100 degrees from the horizontal.

For increased support & to ensure you are sitting up straight, try putting a pillow behind your back during your next drive.

Your back should be straight, try not to round out your upper back.
Your knees should be bent about 35 degrees.
Your arms should be relaxed and slightly bent.
Keep weight evenly disbursed throughout your trunk and avoid leaning to one side such as the car door or center console.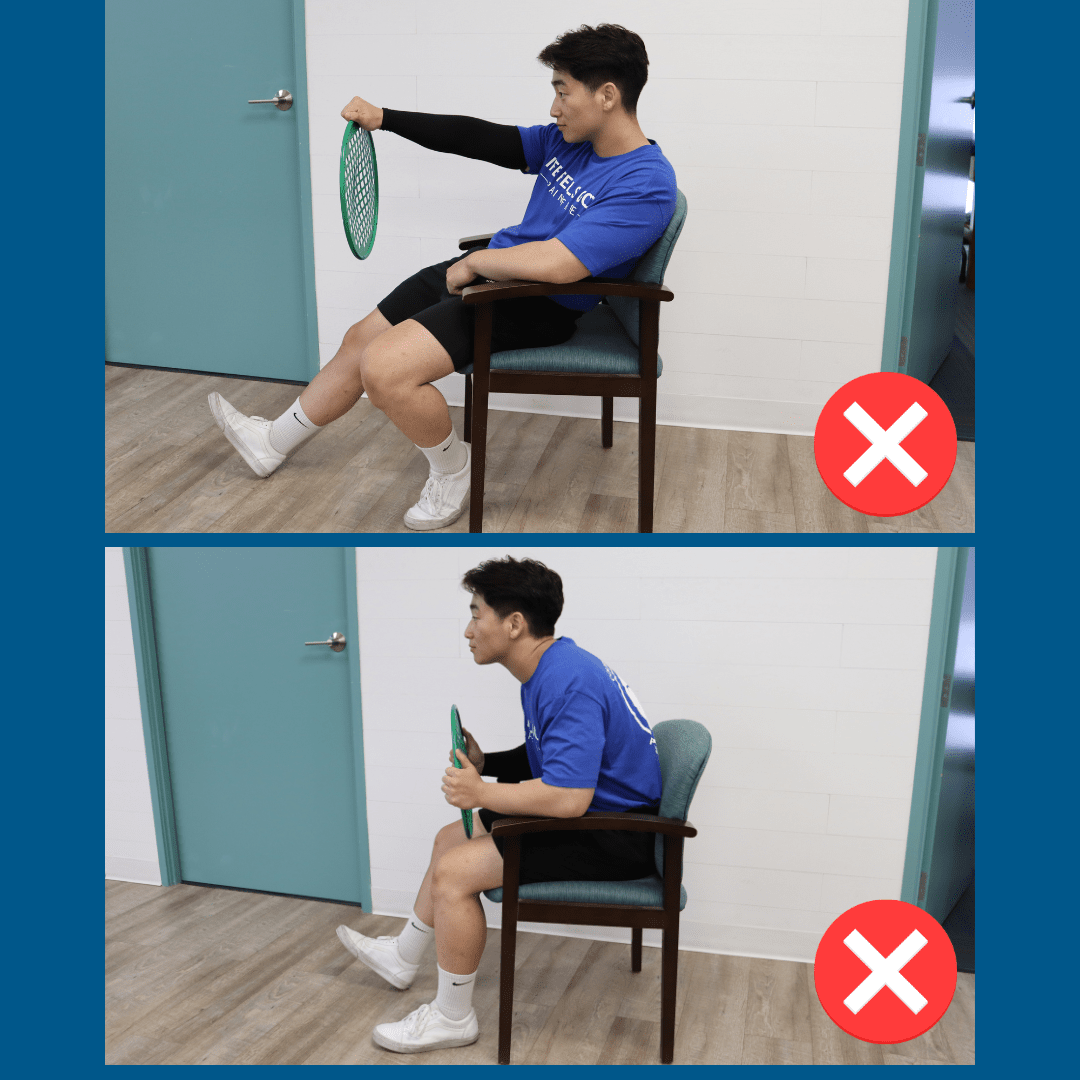 Incorrect Form While Driving
The Top Image
Shifting their body weight to one side of their body.
Leaning back too far & not keeping their back straight.
Bending their legs improperly - one leg is fully extended, and the other leg is bent too much.
The Bottom Image
Slouching their back while sitting & not keeping their back straight.
Bending their arms too much.
What Are Some Other Ways to Alleviate Low Back Pain While Driving?
Perform Butt Squeezes
While sitting in your seat, clench your glutes.
Hold for 5 seconds.
Repeat 10 times.
Wiggle In Your Seat
To alleviate postural fatigue, move your body by wiggling around from time to time.
After you are done wiggling around, continue to sit in the correct form.
Do not shift your body weight from side to side for a long period of time. For instance, do not sit on your right side for 10 minutes, then sit on your left side for an additional 10 minutes. This will cause increased back pain.
Take Breaks
Every 1-2 hours, take a break and stretch out your legs.
If you have low back pain with driving, schedule an appointment with one of our physical therapists to get you back to being pain-free!
References · https://academic.oup.com/occmed/article/56/7/494/1374426 · https://www.spineuniverse.com/wellness/ergonomics/driving-back-care
If you are experiencing an increased amount of pain in your lower back after driving, make an appointment! Contact us at 714-256-5074 or fill out the form below! A representative will contact you shortly.
WANT MORE TIPS? SIGN UP FOR LIFE+!
Reader Interactions