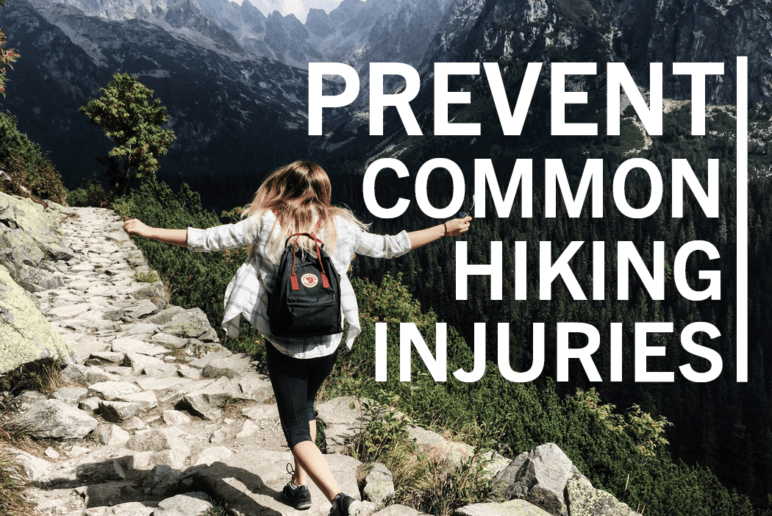 Prevent Common Hiking Injuries
September 15, 2022
Throughout the year, California offers many exciting hiking trails to explore. While on the trail, common hiking injuries are often caused by improper hiking attire or insufficient strength.
Below are ways to prevent pain before you go on your next hike:
Combating Ankle & Foot Pain
Ankle sprains, blisters, and pain at the bottom of your foot are common symptoms of improper shoe and sock wear.
Wearing Proper Shoes
You will want to wear a hiking shoe that provides enough arch support and ankle stability. Your shoe should fit snug but not too tight where you cannot wiggle your toes. A good tip is to try on shoes at the end of the day. Your feet are normally more swollen at the end of the day compared to the morning. For more tips on wearing the correct hiking shoes, click here.
Wearing Proper Socks
When hiking, you want to wear synthetic socks rather than cotton. Synthetic socks are more sweat-resistant. Depending on the weather, a thicker sock can provide warmth and a cushion. However, keep in mind the thicker the sock the more likely it can cause you to sweat and put your feet at a greater risk of getting a blister. The height of the sock should be higher than your shoe to prevent abrasions on your skin.
Combating Knee Pain
Achy knees are a common symptom felt when walking down a hill. Your knees absorb a lot of force with each step. The key to reducing knee pain is to strengthen the muscles surrounding the knee. It is also important to stretch your legs before your hike to loosen your muscles and prevent injury. You will also want to stretch after your hike to loosen your muscles and prevent muscle soreness. Below are exercises that you can perform before and after your hike to combat knee pain: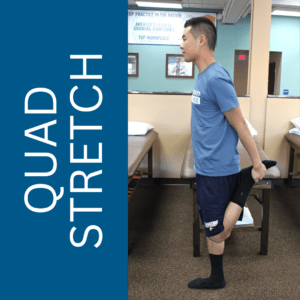 Quad Stretch
Hold your hand against a wall, tree, or chair for balance support.
Grab your right ankle with your right hand and then tuck your tailbone in.
Hold for 30 seconds and repeat twice.
Repeat with your left arm and left leg.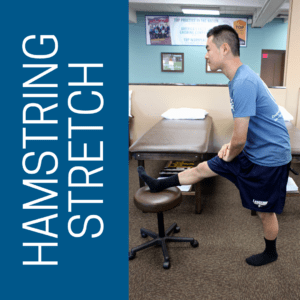 Hamstring Stretch
Place your foot on a chair.
Bend forward and reach your fingers towards your toes.
Hold for 30 seconds and repeat this twice.
Switch to your other leg and repeat.
Trekking Poles
If you need more stability and support, investing in trekking poles may be beneficial. Trekking poles will help reduce the force on your knees while you are hiking or backpacking. A properly fitted pole should suit your height. Put the trekking pole to the ground and grab the handle. If your elbows reach a 90-degree bend, that means you have a perfectly suited trekking pole for your height.
Combating Low Back Pain
To prevent low back pain while wearing a backpack, you must wear your backpack properly. A properly fitted backpack is one that matches your torso height.
When you bend your neck forward a bony prominence protrudes out where your neck meets your shoulders. This is the top of your torso and is known as the C7 vertebrae. Now, find to the top of your hip bones (iliac crest) by placing your hands with the index fingers facing forward and the thumbs facing down and behind you. This is the bottom of your torso. Have a friend measure from the top to the bottom of your torso.
Backpacks that offer sternum straps and hip belts are most beneficial at securing and dispersing the load evenly.
Staying Hydrated
While you are on your next hike, remember to rehydrate and eat at least a 100-calorie carb (Kind bars or gels) every hour to prevent dehydration and altitude sickness.
Also, don't forget to stretch your calves after hiking! Stretching your legs before and after a hike can prevent tightness and cramping.
If you have any pain after a hike, please contact Coury & Buehler Physical Therapy to schedule an appointment with one of our physical therapists to get you back to being pain-free! HAPPY TRAILS!!
References: https://www.rei.com/learn/expert-advice/hiking-boots.html, https://www.rei.com/learn/expert-advice/backpacking-socks.html, https://www.rei.com/learn/expert-advice/trekking-poles-hiking-staffs.html, https://www.rei.com/learn/expert-advice/backpacks-adjusting-fit.html
If you have foot, knee, or low back pain contact us! Our Physical Therapists are here to help you. Fill out this form and we will contact you to schedule an appointment.
Reader Interactions