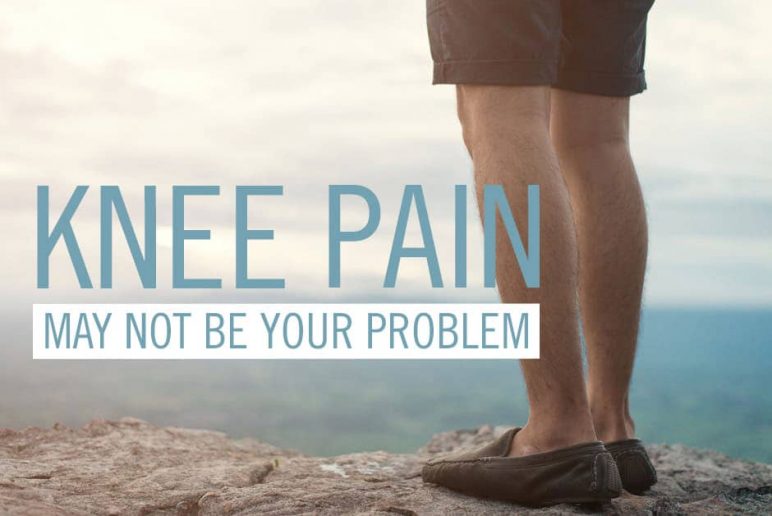 Knee Pain May Not Be Your Problem
January 22, 2018
In my experience as a physical therapist, I have found knee pain may not be the knee's fault! Many times my patients will come to the clinic with knee pain stating they have a "bad knee" when in reality their knee is simply where they feel pain.
It is important to know that our knees are impacted by a combination of surrounding joints both above and below the knee. In this article, I will discuss the importance of improving flexibility and strength of the lower back/abdominals, hip, and foot in order to decrease knee pain and restore your function!
The Knee's Relationship To The Body
The majority of patients with a gradual onset of knee pain have weakness or flexibility issues in other parts of the body that causes their pain. For example, if you have weakness in your foot musculature, the foot will collapse inwards (pronation) when walking and cause a twisting force that will translate into the knee joint. Over time the twisting force through the knee can break down the knee joint and cause irritation of the nerves, which causes pain. Likewise, weakness of the hip muscles will cause a rotation of your leg with walking that will translate into the knee. Control of the abdominals/ lower back, hip, and foot are essential for proper knee mechanics.
A Knee Analogy
The knee joint is similar to a hinge joint on a door, and its function is simple – to bend and straighten. If you were to open and close a door but shake the door up and down each time, eventually that hinge joint would break down. This same concept can apply to our knees. We must have strength and flexibility in our hips, lower back, abdominals and ankle joints to provide stability for the knee.
Knee Pain Exercises
A proper assessment of muscle flexibility and strength is needed to determine the root cause of knee pain. However, these simple exercises may help:
Hip Abduction
While lying on your side, slowly raise up your top leg to the side.
Keep your knee straight and maintain your toes pointed forward the entire time.
Keep your leg in-line with your body. The bottom leg can be bent to stabilize your body.
Reverse Crunches
Lying on your back with both knees bent, bring both knees up to your chest so that your hips are flexed to 90 degrees (thighs are perpendicular to the ground).
From this resting position, curl your hips toward your chest (as shown above) then lower your hips back down so that your thighs are again perpendicular to the ground. It might be easier to hold onto the back of the table and criss-cross your ankles while doing this movement.
Smooth Criminals
Bring your nose to the wall by hinging at the ankle joint. You should feel the calf muscles supporting your weight.
It's also important to remember that the entire body is connected! If your abdominals are weak you can't control the hips, and if your hips or foot is weak you can't control the knee.
Likewise, if your legs or hips are tight, it changes the pressure that your knees absorb. Improving your strength and flexibility for reducing knee pain can successfully be treated with physical therapy.
Are you experiencing pain and want to learn more about pain relief?
Schedule a FREE Assessment with Chase today and receive your own personal treatment plan!
Want more free pain relief tips sent straight to your inbox?
Sign up for Life+!
Reader Interactions