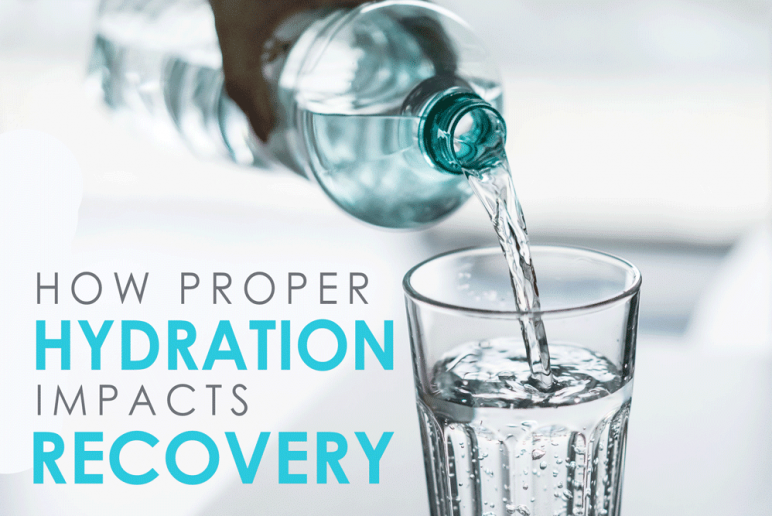 How Proper Hydration Impacts Recovery
October 21, 2017
When dealing with an injury, hydration is an essential part of the healing process. In a dehydrated state, our body will pull water from our skin and muscles to protect our organs.
Therefore, keeping your body in a hydrated state is necessary for effective healing. Without proper hydration, your skin and muscles will not receive the proper oxygen and nutrients it needs in order to heal. Proper hydration and stretching are needed to keep our muscles in an optimal state. If we make an effort to keep proper hydration, our bodies will have a better chance at healing properly.
Here are some common questions you may have about staying hydrated:
How much water should I drink during my rehabilitation process?
There are many different opinions on the amount of water one should drink, but in general, it is recommended we consume 8- eight-ounce glasses of water per day. That is equivalent to about half of a gallon per day.
What are the signs of dehydration?
Increased thirst
Dry mouth
Decreased urination
Food cravings
Bad breath
Headache
Dry skin
Dizziness
How can I increase my fluid intakes?
Besides the obvious of drinking more water, here are a few tips for developing habits to consume more water:
Carry a water bottle with you
Set a timer to drink water every few hours
Add flavor to your water
Consume more water rich foods
For more ideas, check out this blog on how to make sure you're getting more water in your diet!
Bottom Line
Keep yourself hydrated for optimal recovery from your injury! If you have more questions about staying hydrated during an injury, email us at info@cbphysicaltherapy.com today!
Want more free health tips sent straight to your inbox?
Sign up for Life+!
Reader Interactions