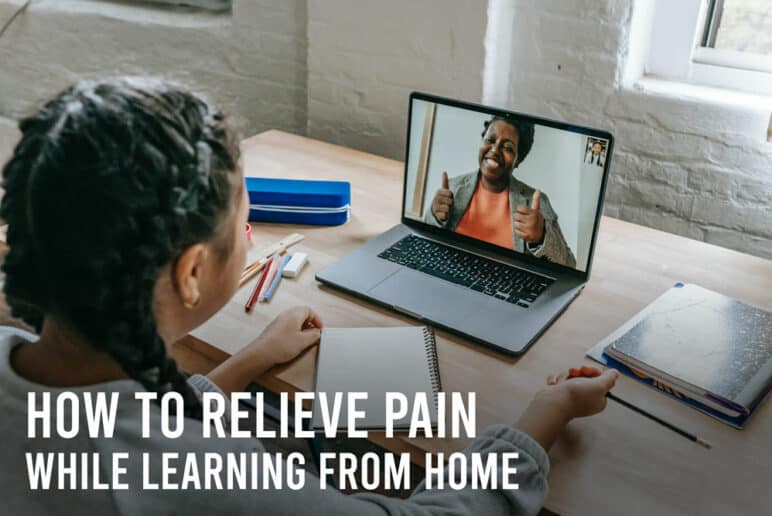 How to Relieve Pain while Learning from Home
March 08, 2021
Even before the pandemic, the younger generation was already spending WAY too much time on their phones and other devices. And now, they have no option but to be on their computers for several hours a day. We are seeing a greater increase in young children coming in for neck, mid and low back pain due to the use of devices and the lack of physical activity. This is leading them down a path to more serious ailments when all of this is very treatable and easy to retrain at a young age!
First and foremost, I want to express that these are simply suggestions to try with your kids, however it is encouraged to have them come into the clinic and get evaluated for their specific needs.
Self-massage with use of tennis, lacrosse or foam roller
This technique allows your child to control the massage and get into the areas that may be tight or causing them some pain or discomfort. Some common areas to massage are near the neck, in between the shoulder blades, the front of the shoulder and even into the gluts!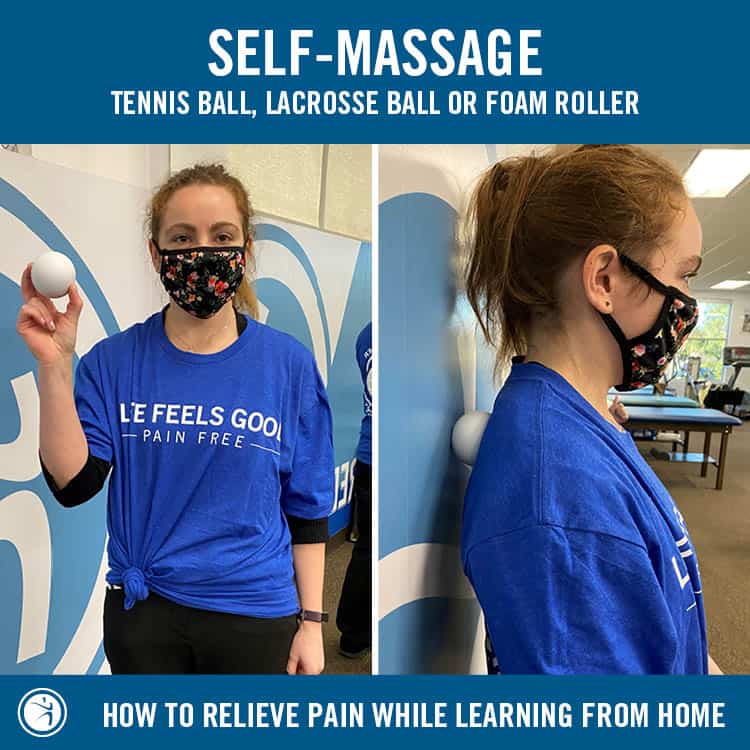 To perform this activity, simply utilize a wall at home and place the ball in between yourself (in the area you want to massage) and then move around the ball.
You can perform this for 30-60 seconds in each area and perform several times a day.

This can feel really good (and sometimes uncomfortable) so it is easy to get carried away with it which is why it is encouraged to perform throughout the day versus for 5 straight minutes.
Cat/Camel
This exercise is a gentle spinal mobility exercise that can achieve a lot of relief throughout the whole spine.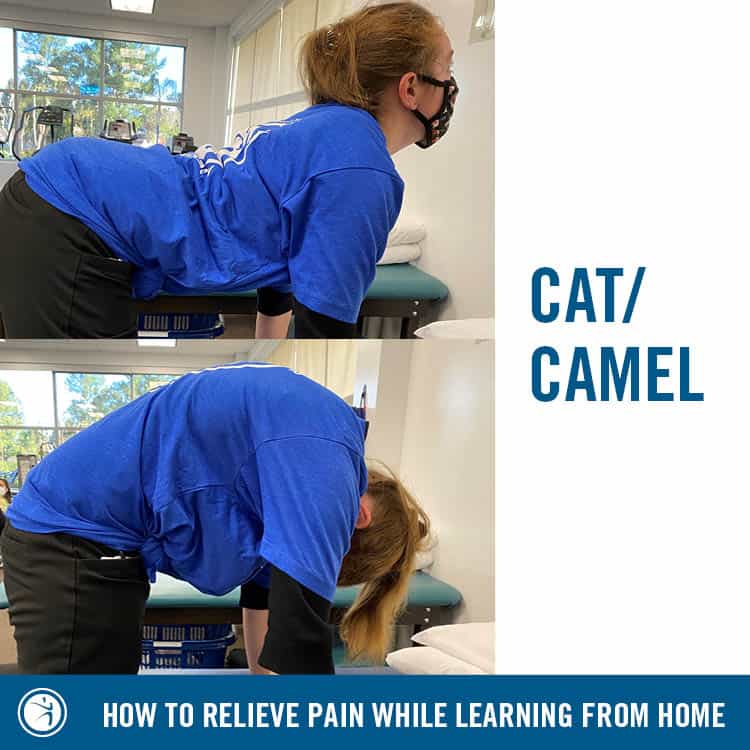 Your child will be on the ground and be on all fours with the hands underneath the shoulders
Lift the head and chest simultaneously while letting the stomach sink and the lower back arch to perform the cat
Round the back and let the head and neck drop while trying to get the head and pelvis as close as possible.
Do not force the end range of motion as this is not a stretch. Repeat 10 times.
Open Books
This exercise again focuses on spinal mobility but in a different plane. Our spine moves in multiple directions so it is important to try and stretch into all of them.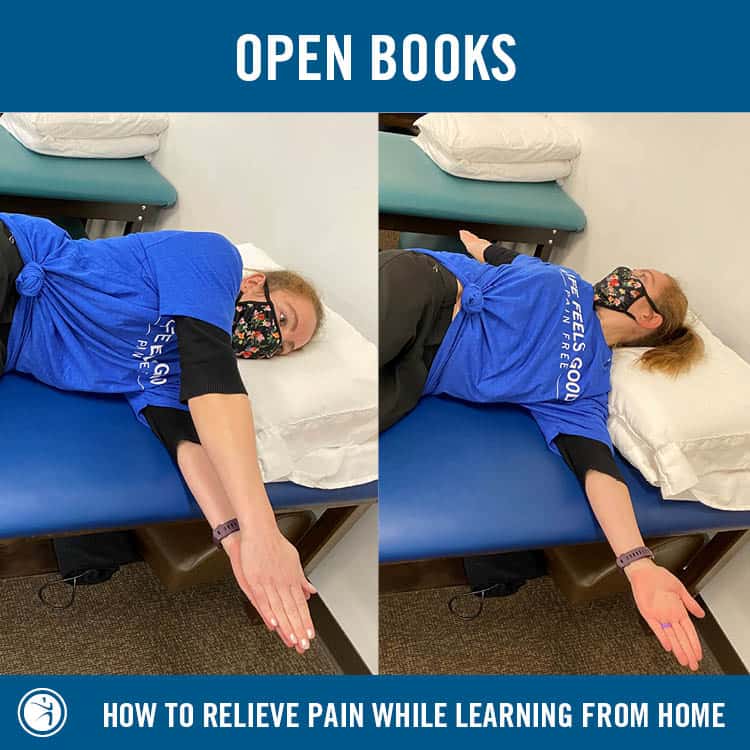 Start in side-lying with your knees stacked at hip height and arms straight and aligned with your shoulders (Can use a pillow underneath your head to prevent neck tension)
Slowly move your top arm up overhead, working the fingertips towards the ground (may not be touching)--> When you get overhead rotate through the shoulder and mid back
Next slowly reverse the movement back overhead to a starting position. Move nice and slow here—stop when you find a particular stretchy spot—take a few nice deep breaths, then keep moving.
Repeat 10 times and then switch to the other side.
Bear Plank
This exercise is a challenging core activity, but what I like (especially with kids) is you can turn it into a game/friendly competition among siblings or friends!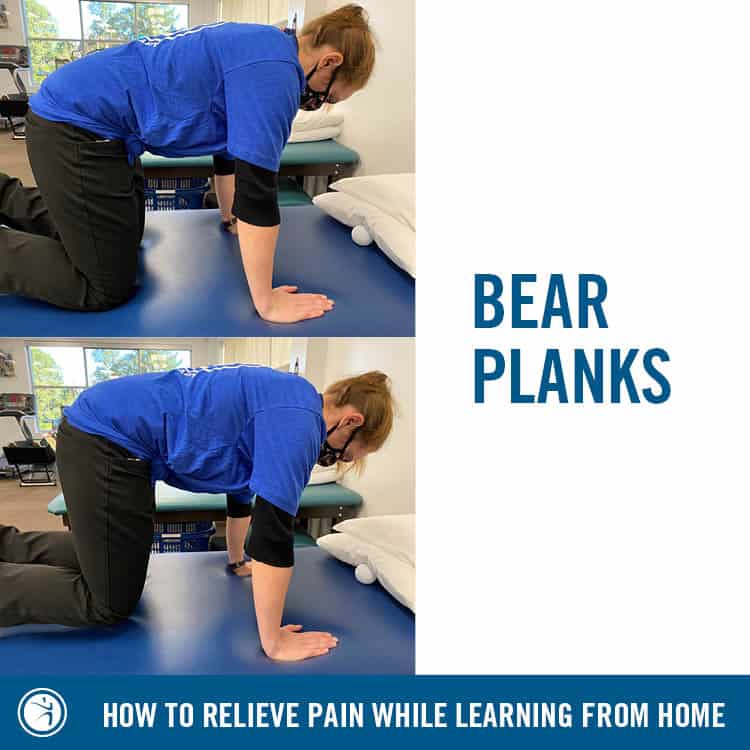 To start, you will get onto your hands and knees with your hands underneath your shoulders
From this position you flip your toes underneath so that your knees hover in the air
At the same time you will essentially press your hands into the ground putting you into a table top position
Try and hold this position for 30 seconds without the bottom going high up into the air or having the low back sink down. If you can hold it longer with proper form, then go for it!
These are just a few ways to get started and address small pains/discomforts your child may be having. I think the largest take away from these exercises is that spinal health is extremely important at any age! Also, it is vital that we reinforce an active lifestyle! Make sure they get up and move every hour to prevent these types of issues from arising. At no point should these exercises give you pain! If they are then I recommend stopping! It is important to monitor symptoms and if nothing is changing then it is encouraged to visit your primary care physician and come in for a full assessment to decide what your child needs! Hope this was helpful and happy stretching!
If your child is experiencing any pain while distance learning, contact us at 714-256-5074 for a free consultation or fill out the form below! A representative will contact you shortly.
WANT MORE TIPS? SIGN UP FOR LIFE+!
Reader Interactions