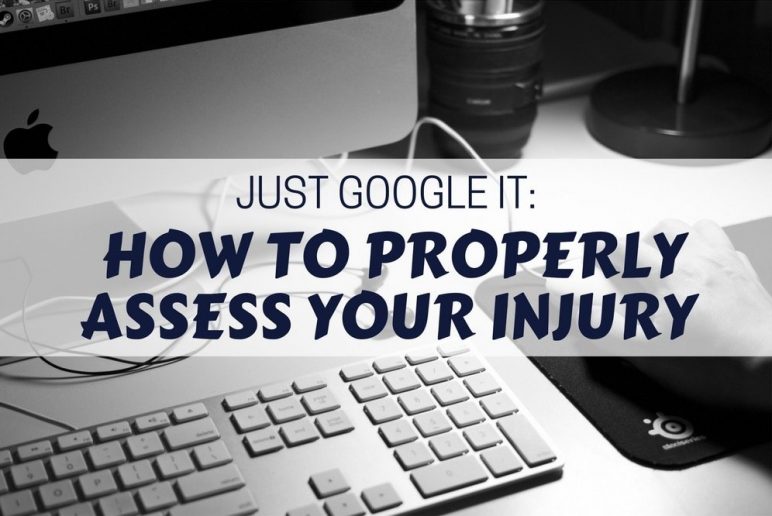 Just Google It: How to Properly Assess Your Injury
August 16, 2016
Imagine this: you are moving into your new house or apartment and you are carrying a large box from the car to the house. You suddenly feel a sharp "twinge" in your right shoulder.
You are able to complete the move-in, but the arm is sore for the next week and you begin to notice that it is difficult to lift your arm without pain. You schedule an appointment with your doctor, but before your visit you are curious to know what may be going on with your shoulder, so you decide to "Google it".
When you "Google" your symptoms, it is easy to get lost in the enormous amounts of information the search delivers. Terms such as "Rotator cuff tear" or "Labrum" start to pop-up on your screen and you begin to dive deeper down the rabbit hole of self-diagnosing your injury.
Websites such as WebMd and healthline.com that tend to present on the first page of your Google search can be a great source of information before your first visit, but only if you know what you are looking for.
The following are recommendations in preparation for your initial visit with your doctor or physical therapist and how to appropriately use the internet to get the information you need:
1. Educate Yourself on the Anatomy of the Affected Region:
If you do decide to search the internet for answers, the very first thing you should do is educate yourself on the anatomy of the affected region.
A great way to quickly find a summarized review of your area of concern is through Youtube.com. Yes, Youtube can be used for something other than funny cat videos. There are many Youtube channels available such as "AnatomyZone" and "AnatomyTutorials" that provide quick audio and visual reviews of the human anatomy which can facilitate understanding of your pain. It is worth knowing that many of these channels are not validated for their accuracy. For websites or research whose accuracy is considered reliable and valid consider .gov and .edu sites such as the National Institute of Health.
2. Self-Assess, Don't Self- Diagnose
Your internet search will give you many conditions that fit your symptoms, therefore, it will be very easy to come to a single conclusion about your injury.
It is important to realize that everybody responds to injury differently and many of the general signs and symptoms described online do not always present in every individual. That is why it is important to visit your physician and physical therapist to rule in and rule out specific conditions and not rely solely on the information provided online.
Look at the internet as an educational resource instead of as a surrogate doctor. One of the most constructive things you can do is perform a self-assessment in preparation for your first visit.
3. Be Prepared to Specifically Describe Your Pain/Symptoms:
How would you describe your pain?
Is it dull, aching, throbbing, sharp, stabbing, tingling, radiating? Being able to accurately describe the quality of pain can help determine if the symptoms are muscular, nervous, or even systemic in nature.
How severe and irritable is your pain?
This helps determine how acute your symptoms are and can help guide where to begin treatment. An example may be: "my right shoulder pain is a 6 out of 10 and occurs immediately with raising my arm and last for no more than one minute".
Where is your pain?
"My right shoulder" is not specific enough. Is it the front, back, side, or top of the shoulder? Is it deep or superficial?
What activities or motions are limited or most painful?
This can help your provider determine what anatomical structures are affected as well as provide information on the most limiting activities.
Bonus Tip! Consider using Google Scholar
Scholar.google.com provides a simple way to search for scholarly literature related to your injury. Most of these articles are published articles that go through demanding edits and are intensely reviewed for their significance to their related discipline.
Caution: Many of the links do not provide free downloads to the documents requested and may even require payment. Your Physician or PT may have access to a variety of online literature databases, so don't hesitate to ask for their assistance.
Want an Expert Opinion on Your Injury?
Sign up for a FREE Assessment with CBPT!
Reader Interactions