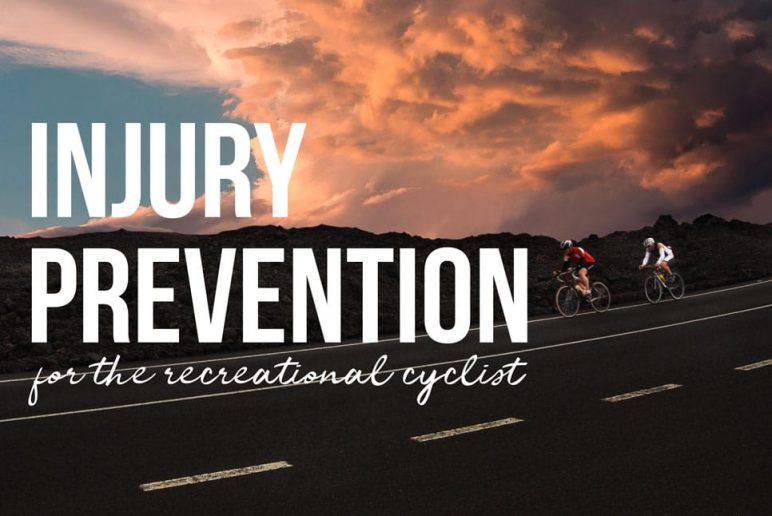 Break the Cycle: Injury Prevention for the Recreational Cyclist
July 19, 2018
Many of the injuries cyclists will experience throughout their lives are sustained due to the repetitive cyclic loading on the body's joints resulting in significant strain on the supporting structures. Some of the more common regions to by affected include the neck, low back, knees, ankles, and wrists. These common problems can be prevented with consistent adherence to a preventative exercise program targeted at these high-risk areas. Below we will discuss some of the more common overuse injuries and ways we can prevent them with exercise.
UPPER SPINE
The time spent curled over the handle bars can put a great deal of strain and tension on the neck and upper back. If the handle bars are positioned too low and/or seat too high, it can result in excessive neck extension with looking forward. This results in muscle strain and can potentially result in nerve irritation. Try adding this exercises to your current routine in order to address these potential issues:
Isometric Cervical Extensions
While lying prone on your stomach, arms at your side, and head off the edge of your bed or table, begin by raising your head toward the ceiling.
Keep your chin slightly tucked to maintain good alignment.
To progress this exercise, also squeeze your shoulder blades together and raise both arms off the surface.
Hold this position for 30 sec or until proper positioning is lost due to fatigue.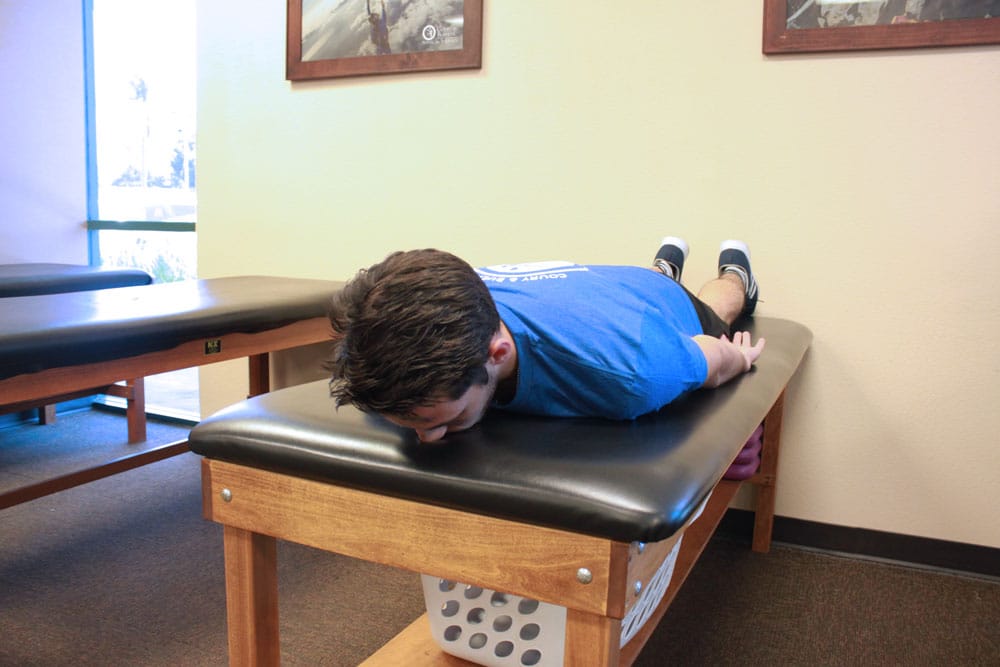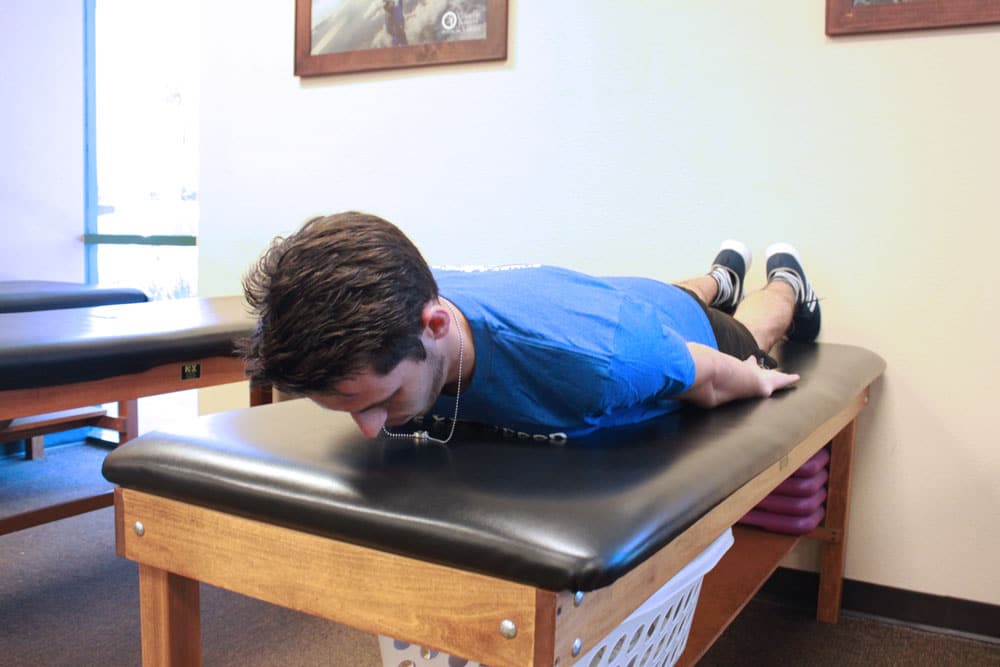 Upper Trapezius Stretch
With one arm anchored at your side, reach up and over your head with the other arm and slowly pull your head down to the shoulder.
Hold for a 30 sec count and repeat to the other side.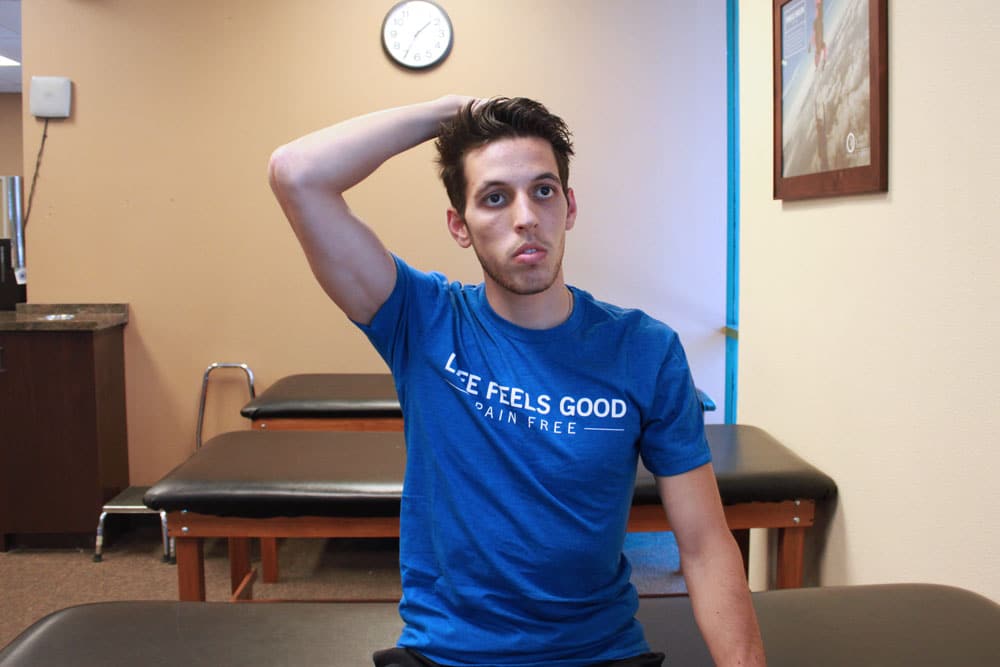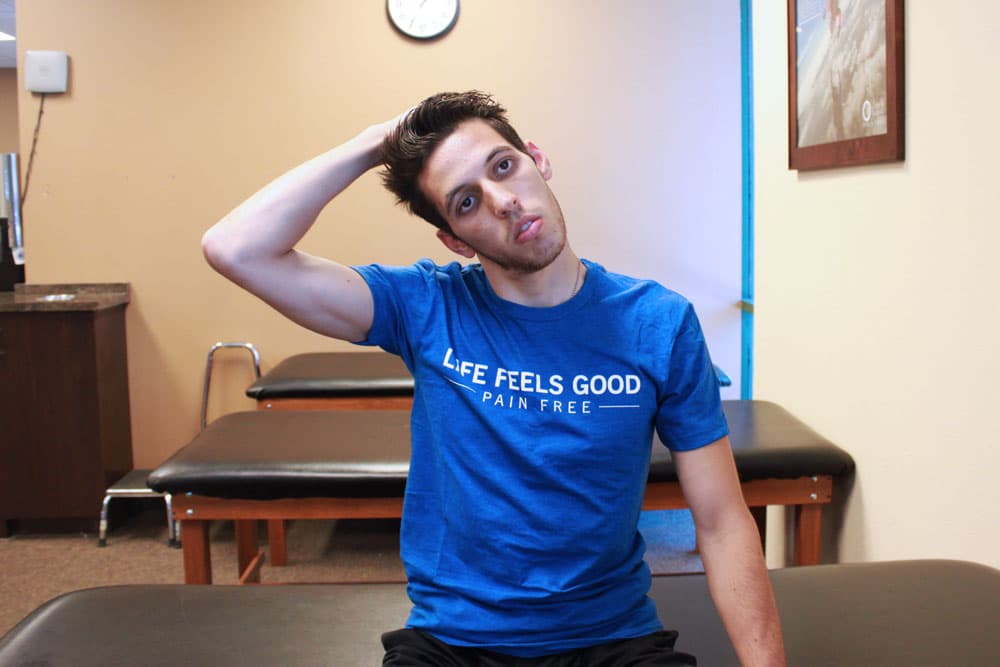 Reverse Flies (Prone T's)
While lying on your stomach and arms hanging over the edge of the bed or table, begin exercise by first squeezing the muscles between your shoulder blades and slowly raise your arms against gravity with elbows extended.
When end of range has been met, slowly and control your arms back to the starting hanging position.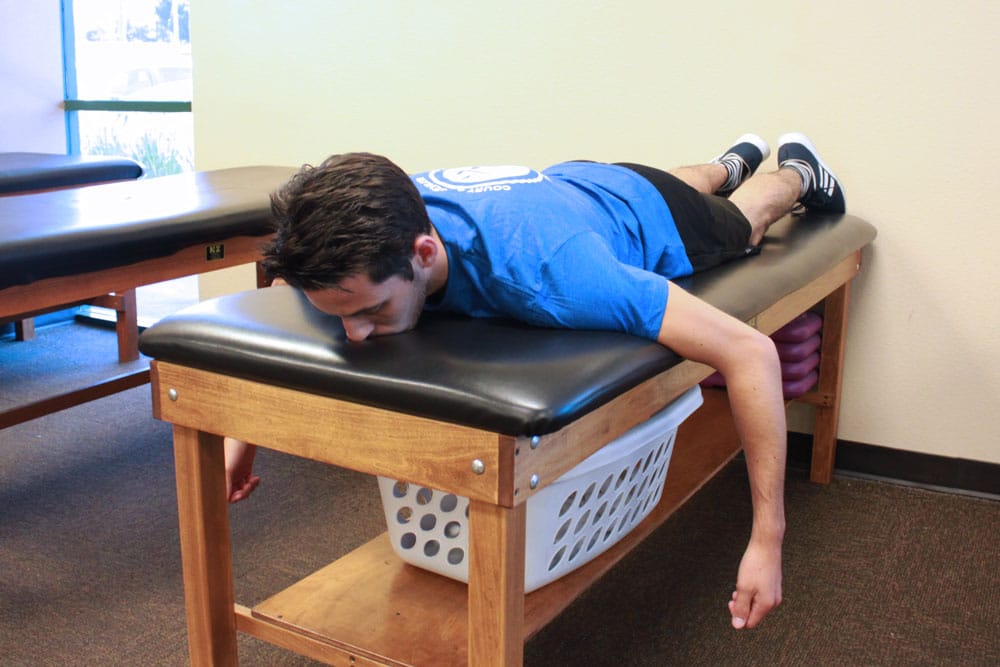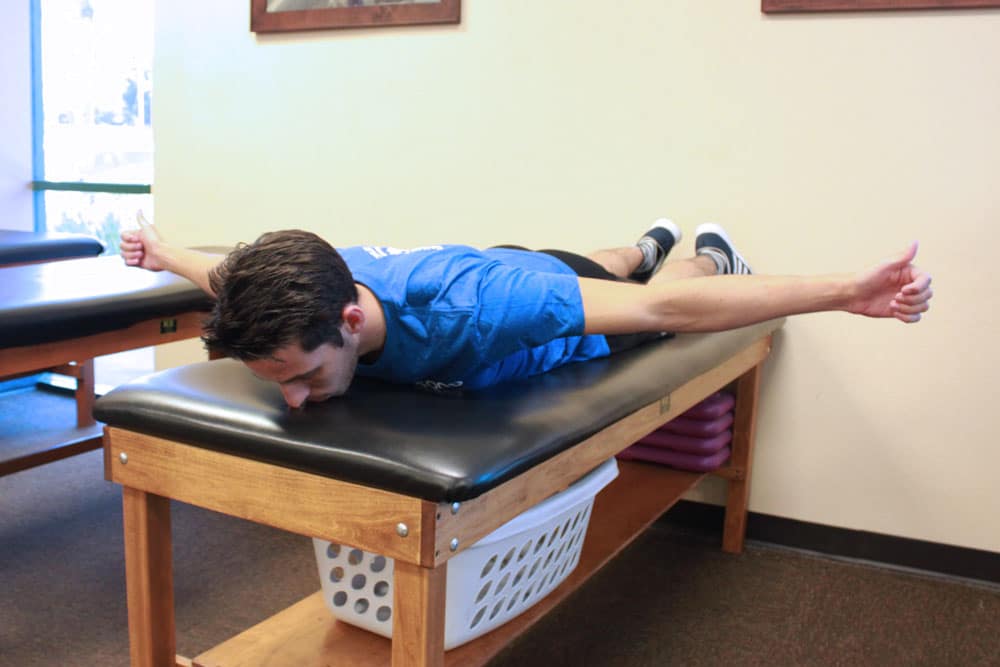 LOWER SPINE
As we mentioned above, the prolonged flexed posture of cycling can increase strain on the spine. At the low back we can strengthen are lumbar stabilizers and abdominal in order to better endure such a position. It is also important that we continue to promote good spine and pelvic mobility to address the rigid position of the back while riding.
Pelvic Tilts
Lie down on your back with both knees flexed and hands placed on the boney prominence of the front of the pelvis, begin exercise by rounding or pushing the small of the low back into the surface as you engage the abdominal musculature.
Hold this position for 2 seconds before releasing and tilting your pelvis back into its neutral position.
Avoid excessive forward tilting and extension of the low back.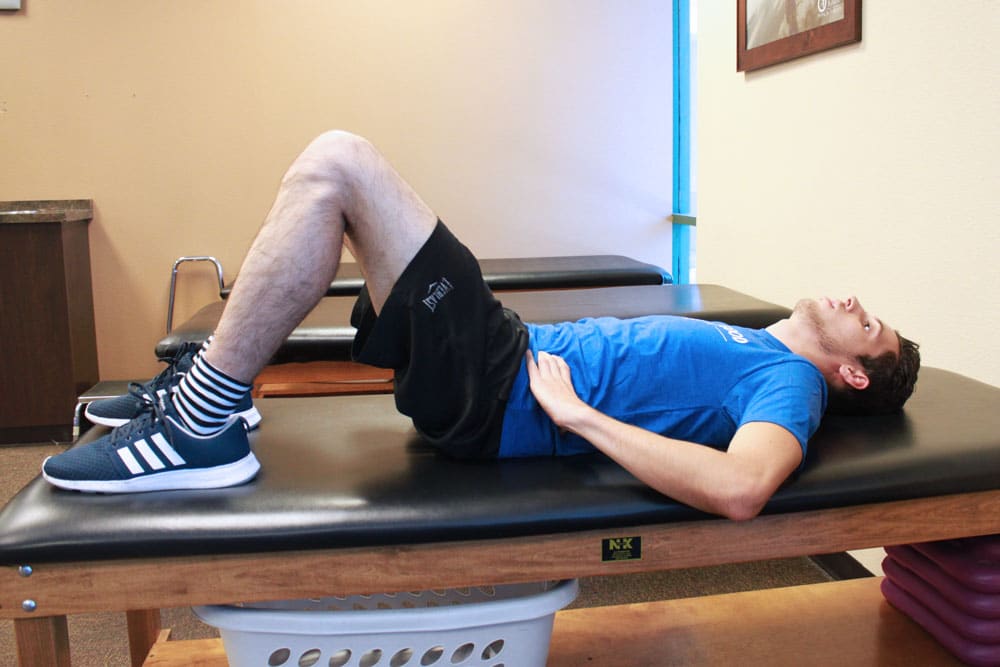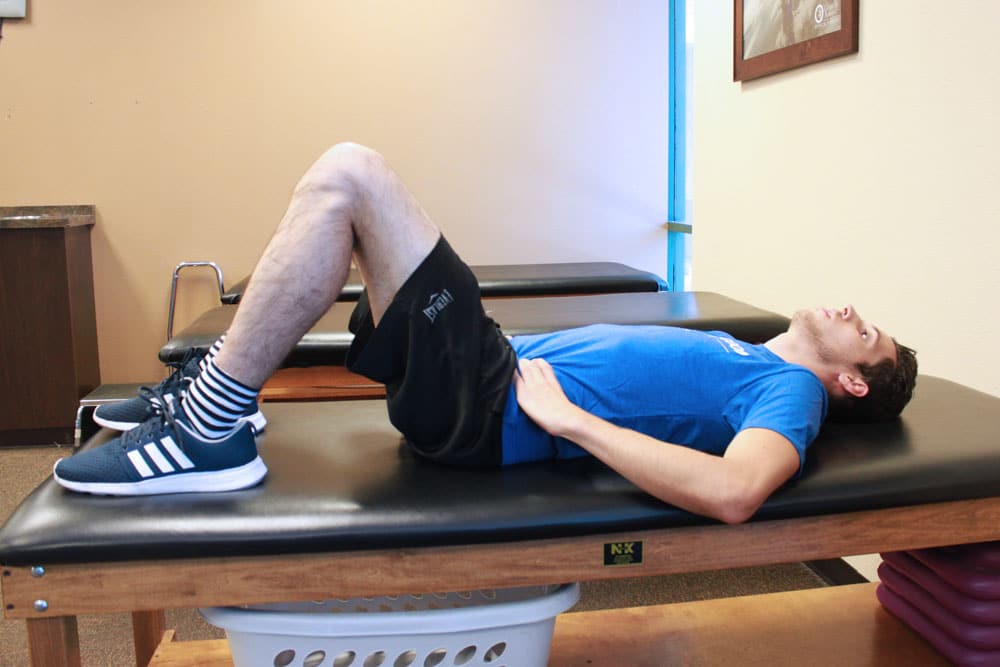 Bird Dogs
While maintaining a neutral spine position on all-fours, begin exercise by simultaneously moving your arm forward and extending your opposite leg and preventing excessive extension at the low back.
Also avoid excessive tilting of the pelvis.
Hold extended position at end range for 5 sec and return to all fours position.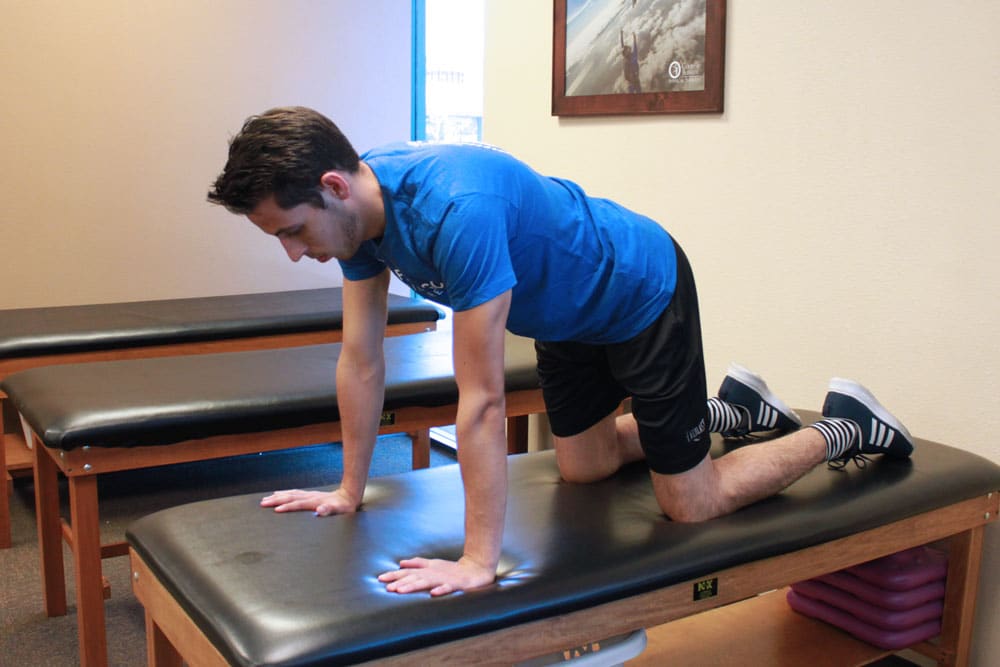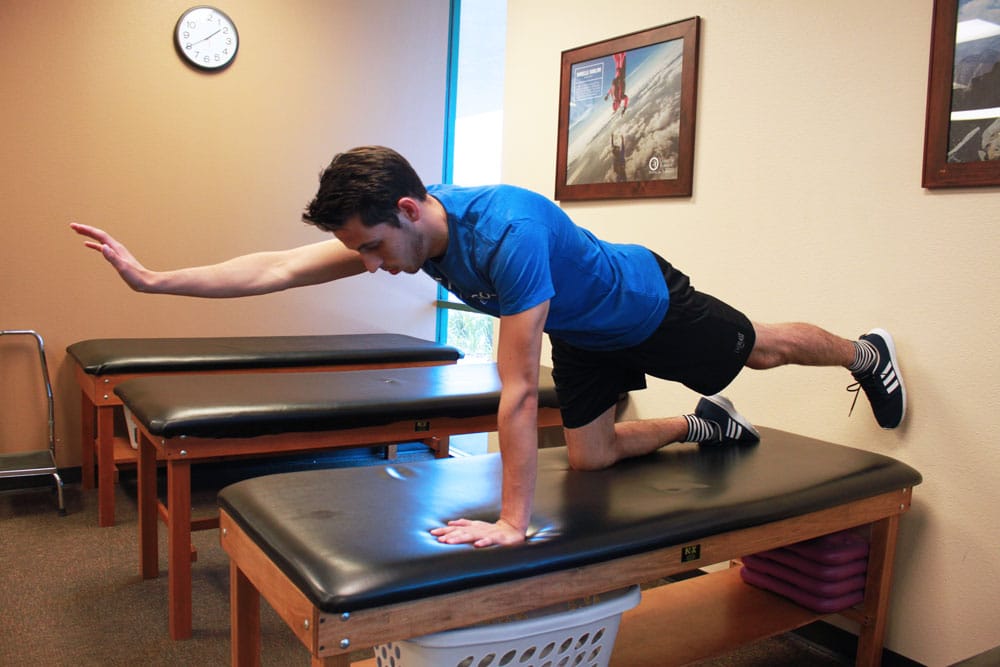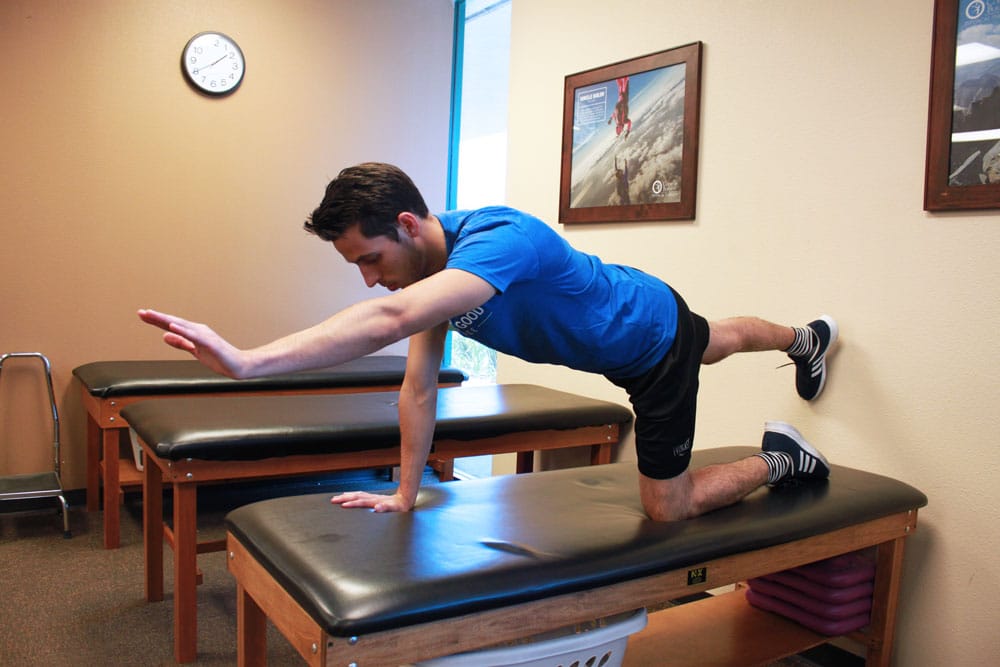 Planks
While stabilizing your weight onto your toes and forearms find your neutral spine alignment and prevent excessive tilting of pelvis.
Exercise is performed by holding this position.
Start with 30 sec intervals.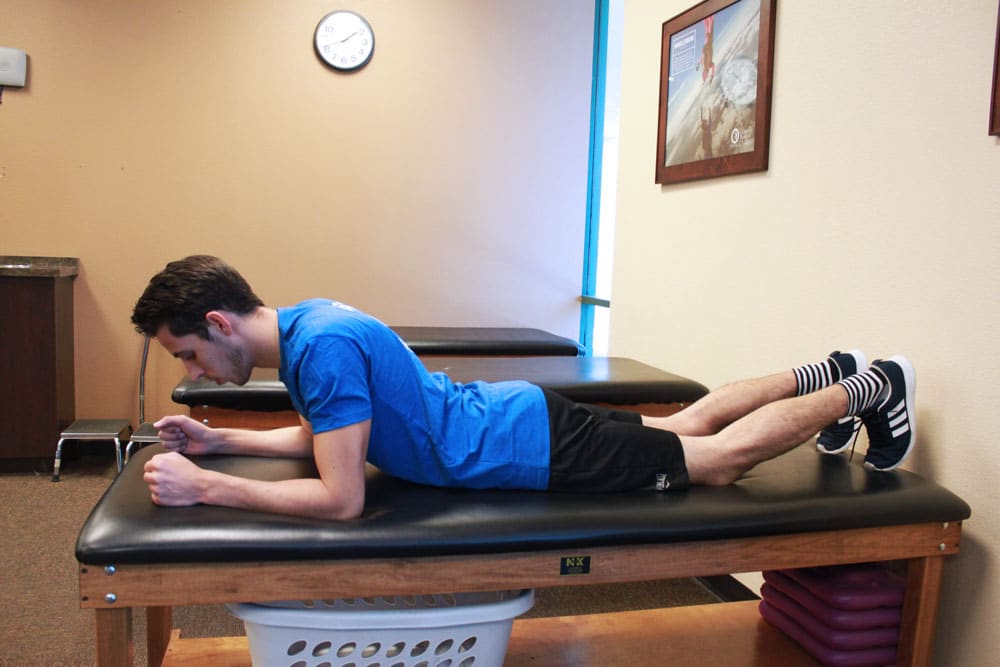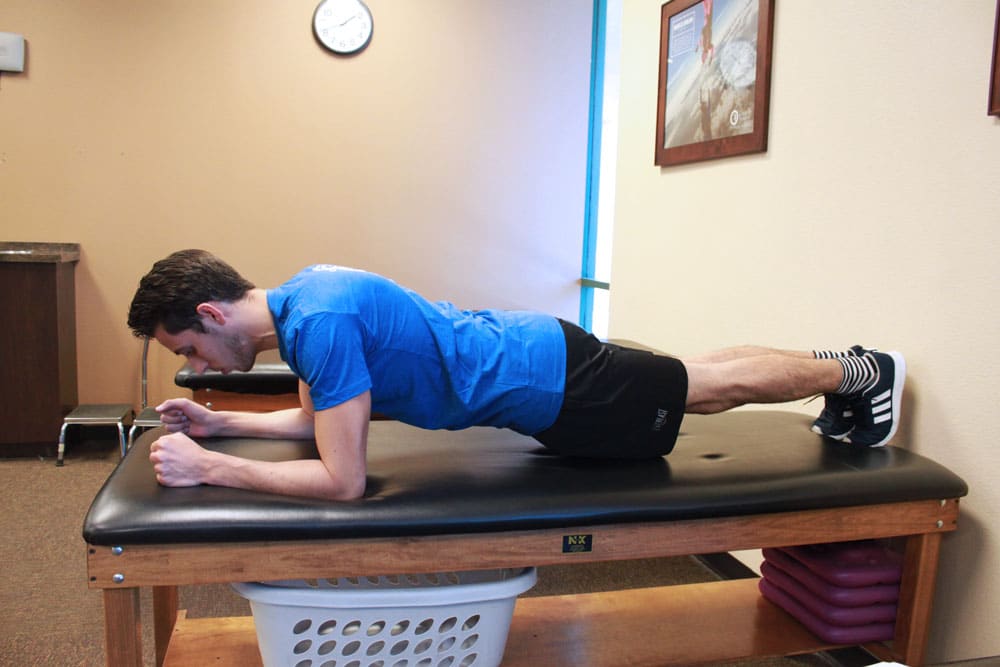 Piriformis Stretch
While lying on your back, place your foot over the opposite thigh and with both hands reach for the inside your non-rotated leg ad pull the knee gently toward your chest to feel tension in the gluteal region. Hold for 30 sec and repeat for the opposite leg.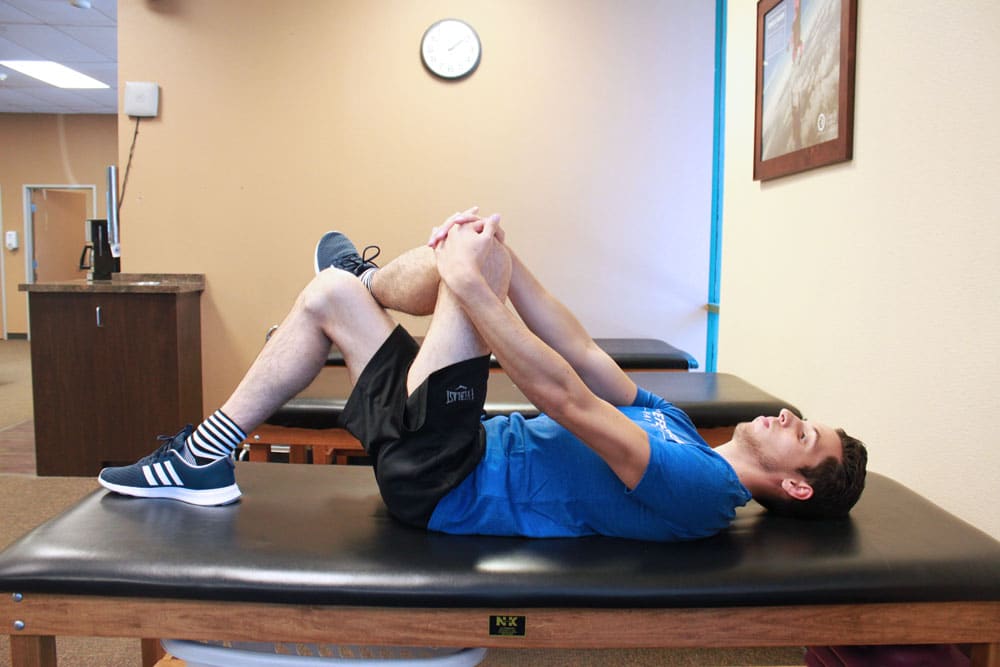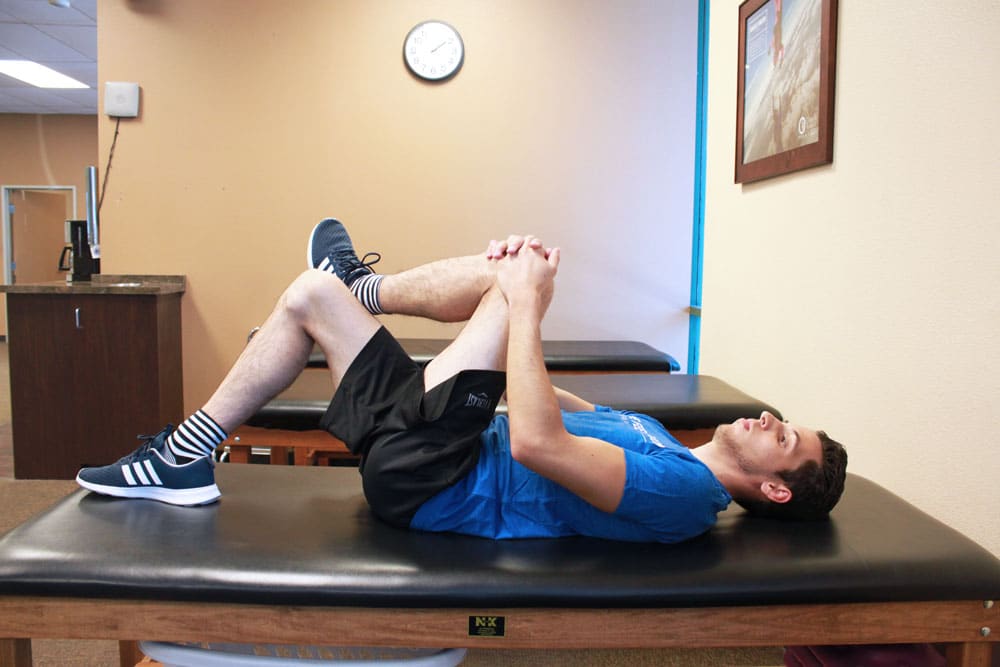 LOWER EXTREMITY
Try making the following additions to your exercise plan to improve glute strength and hip mobility.
Bridges
While lying on your back with knees flexed, begin exercise by pressing down into surface with your heels and squeezing your glutes raise your hips off the surface to a tolerable height that avoids excessive low back extension.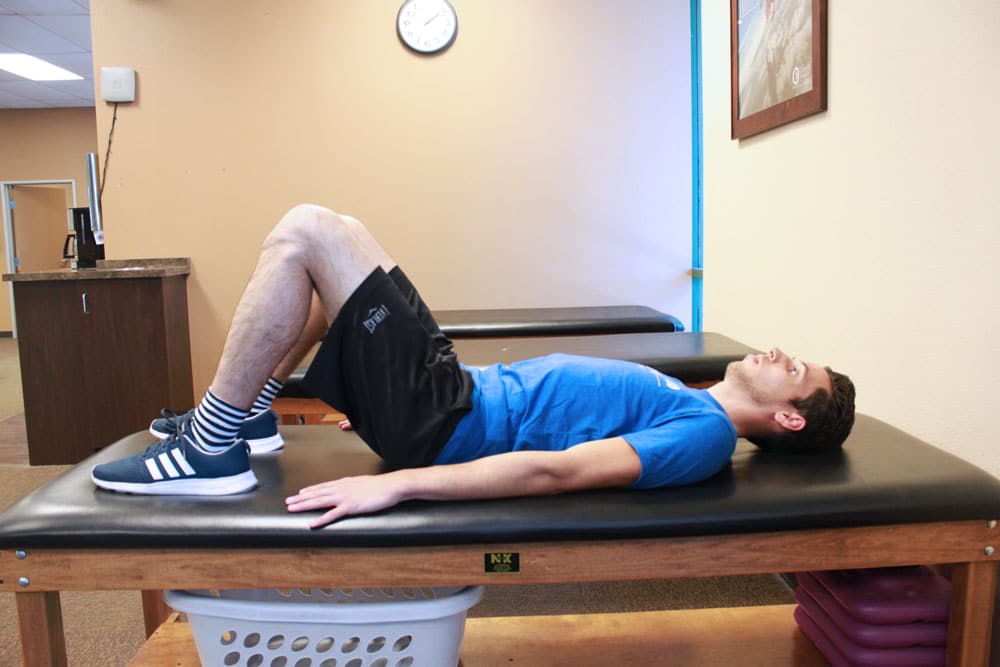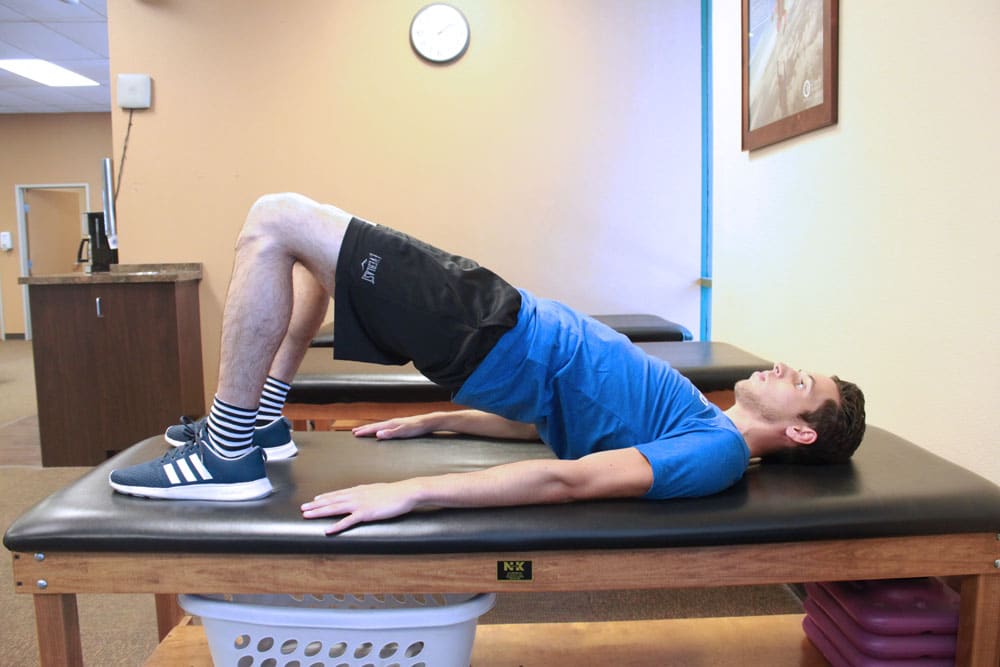 Hip Flexor Stretch
Begin in the half-kneeling position. Squeeze your glutes to stabilize pelvis and to prevent excessive low back extension.
Then slowly weight-shift onto forward leg to experience increased tension into the trailing leg.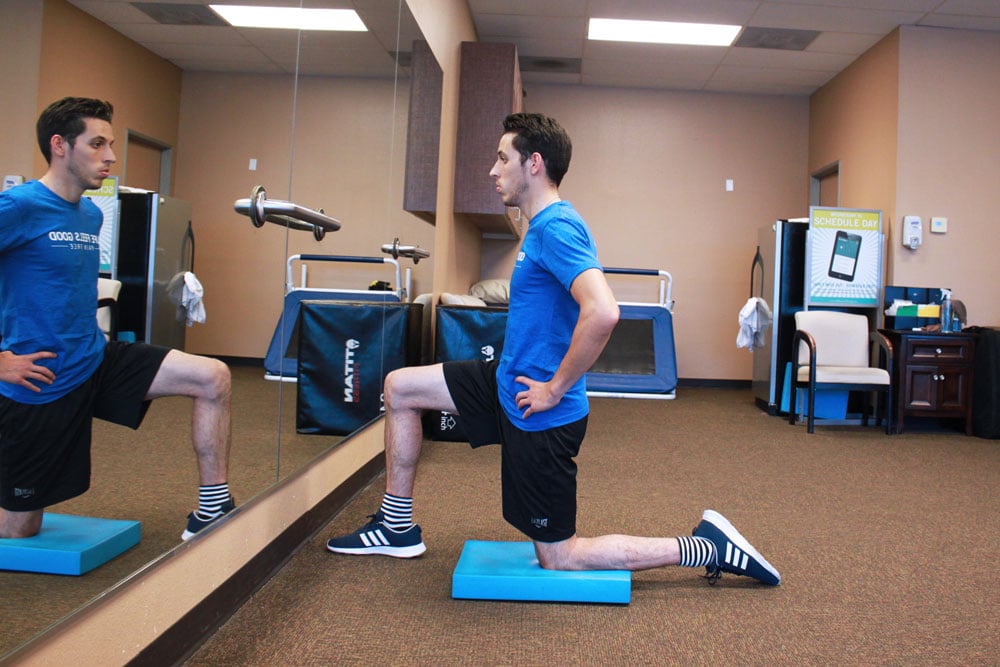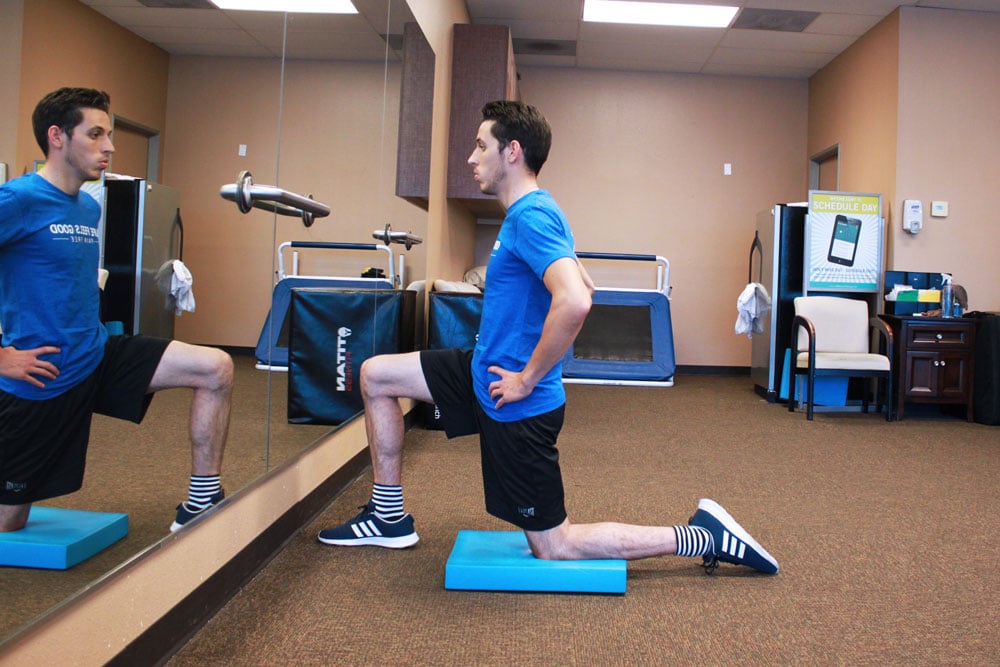 HAVE A CYCLING PAIN OR INJURY?
Sign up for a free assessment with one of our physical therapists to assess your neck, low back, knees, ankles, and wrists!
WANT MORE FREE FITNESS & EXERCISE TIPS?
Sign up for LIFE+ TODAY to have these practical tips sent straight to your inbox!
Reader Interactions