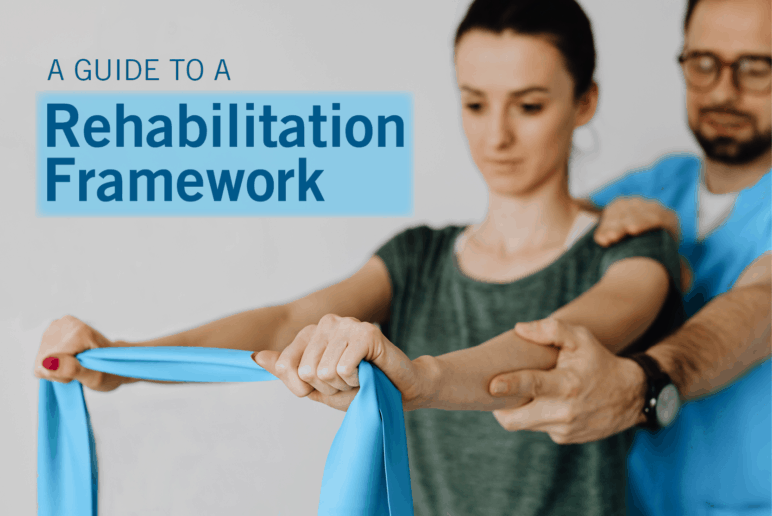 A Guide to a Rehabilitation Framework
June 17, 2021
Following any injury, one of the most common questions is "when can I get back to doing my favorite activity again?"
While recovery times depend on numerous factors such as age, nature of the injury, or prior activity level, each person's return to physical function may follow similar stages in the road to recovery.1 We will provide a guide to rehabilitation therapy, this is just one approach and break it down into five parts:
1. Tissue Healing
The first step of any rehabilitation process is to heal the affected tissues including bones, muscles, nerves, vasculature, tendons, or ligaments.
With the help of your healthcare team, a physical therapist may recommend immobilizing or unloading the joint, meaning, use a brace or cane to ease pain and pressure on the area that is experiencing pain. A Physical Therapist may also use manual therapies or prescribe simple exercises to decrease pain and swelling. This can also improve blood flow of the affected area.
2. Mobility
As body parts begin to heal, the next step is to gain and maintain range of motion.
Physical therapists use soft tissue and joint mobilizations, in addition to gentle exercises to get joints moving and the muscles looser and more flexible. Efficient body mechanics also play a role in the proper movement, which is a Physical Therapist's specialty!
3. Muscle Initiation: Endurance, Stability, and Motor Control
As the affected area begins to reach its full range of motion, the next focus is to learn to activate and build up the muscles.
This allows those muscles to move and stabilize the joints. At this point, the goal is to increase the endurance and improve motor control of muscles. This will support improvements in range of motion to the area that is experiencing pain.
4. Performance Improvement
With performance improvement, we begin to transition into functional movements, and a rehabilitation program will feature both single joint and multi-joint exercises. Gains in strength, power, and endurance are hallmark goals in this phase to help return to activities of daily living, work, or other sports & recreational activities.
5. Advance Coordination: Agility, Skills, and Plyometrics
Advanced coordination refers to skills that may be required in high-level activities such as sports. A physical therapist may prescribe specialized, complex exercises of high intensity that simulate the demands that challenge an individual in unique environments.
The steps above are not mutually exclusive, but moving on to the next step requires the previous step to be complete. For muscle initiation, tissues must be healed; for performance improvement, mobility must be full. This is one framework physical therapists may use as a guide to rehabilitation therapy.
Where are you on the rehabilitation continuum? Schedule an appointment at CBPT to get started on a personalized rehabilitation plan.
Schedule An Appointment
Talk to our physical therapists about building your own rehabilitation framework. Contact us at 714-256-5074 to schedule an appointment or fill out the form below! A representative will contact you shortly.
Reader Interactions