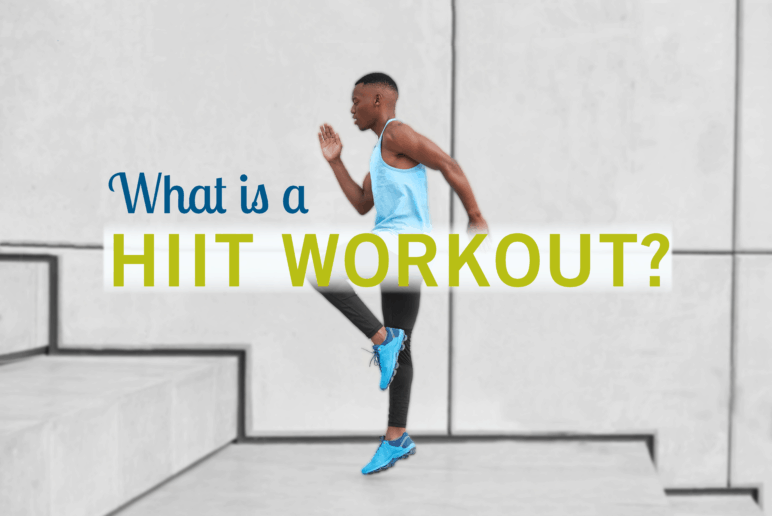 What is a HIIT Workout?
August 10, 2021
What is a HIIT workout?
HIIT stands for High-Intensity Interval Training. I first tried a HIIT workout without knowing it as part of my training early on during my lacrosse career. But ever since, I have been hooked and it has become a staple of my workout routine!
What Qualifies As Being A HIIT?
HIIT generally is composed of high-intensity bouts of exercise, interspersed with recovery periods.
These exercise bouts can range from under 45 seconds or up to 2-4 minutes in length depending on your goal, followed by a rest period slightly less than the work ratio or equal to 1:1.
An example of an appropriate work-to-rest ratio for long interval training would be working out for 2-3 minutes and rest for 1-2 minutes.
An example of short work periods with quicker transitions can be a 30 second of workout and 30 seconds of rest. These ON-OFF cycles are repeated for several rounds.
Why Is HIIT So Important?
HIIT emphasizes high work intensities, coupled with training your ability to recover and to maximize your effort and time without slacking off. This gives adequate stimulus to multiple systems, in a short period. It's also more time-efficient than running several miles on a treadmill which may take you longer than 30 minutes. HIIT can train the cardiovascular system to:
Handle greater loads.
Recover quicker to baseline.
Burn fat and calories efficiently.
Gain muscle and strength.
Reduce resting HR and blood pressure.
Improve your ability to sustain higher intensities for longer periods (endurance).
Improve bone density.
Reduce blood sugar.
How To Create Your Own HIIT Workout
Choose the total length of the workout such as 12 minutes.
Determine your work-to-rest ratio, it should be 1:1, such as 30 seconds on- 30 seconds off.
Evaluate what space or equipment you have access to such as a yoga mat in the garage or two heavy laundry detergent bottles.
Choose exercises such as jump lunges, mountain climbers, push-ups, and bent over rows.
Clear the area and set up with only needed equipment to minimize the risk of getting injured.
Set a timer and GO GO GO!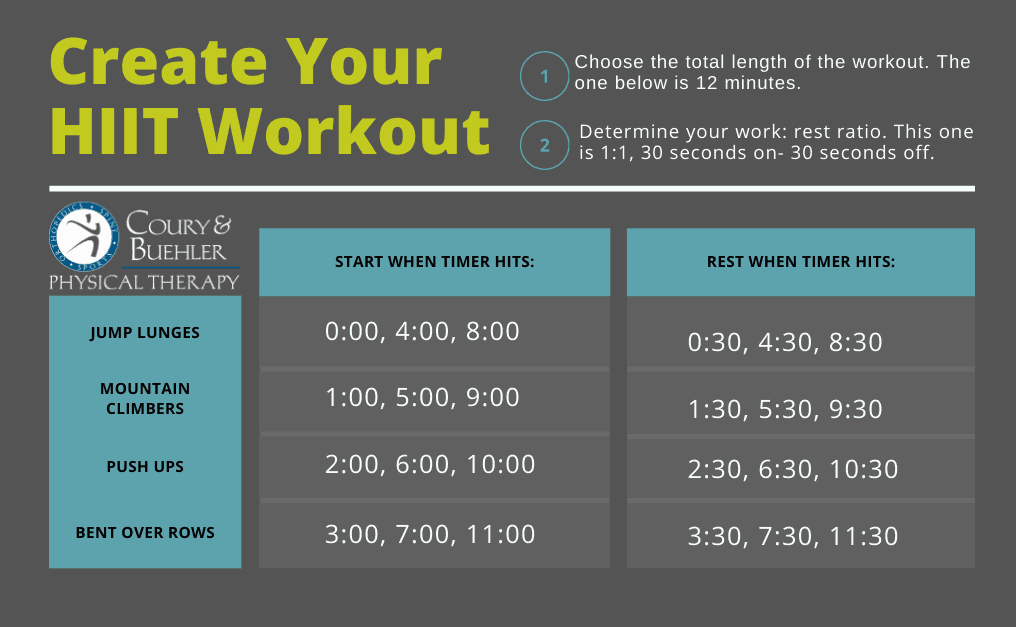 The emphasis is going hard, close to all-out, then allowing yourself time to recover and using the rest time as optimally as possible without falling off the pace. This can be done with multiple exercises or even just one on repeat. HIIT can be whatever you make of it, whether it's quarantine style with stuff around home, or in a gym with barbell lifts and cardio equipment. As you progress, you can try out more complex exercises. But as weight and complexity increase, so does risk. You must exercise with proper mechanics while fatigued to maintain your health. That is where physical therapy at Coury & Buehler Physical Therapy comes in.
At Coury & Buehler Physical Therapy, you can learn what kind of HIIT workouts, movements, and frequencies are best for you. Our team is full of movement and exercise specialists with knowledge and training in advanced sports and conditioning training.
If you have pain that is limiting you from beginning your HIIT workout journey, contact us at 714-256-5074 to schedule an appointment or fill out the form below! A representative will contact you shortly.
Reader Interactions