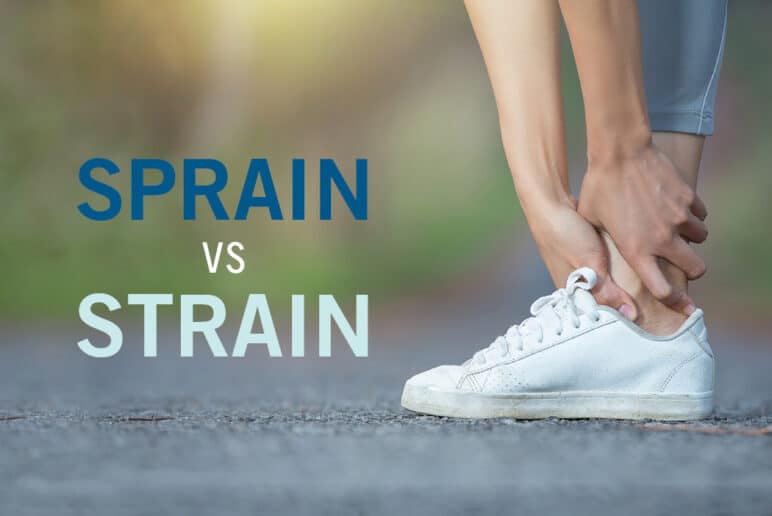 Sprain vs Strain
October 11, 2021
If you've ever rolled your ankle or pulled a muscle, you're not alone. These two injuries are some of the most common injuries experienced by weekend warriors to athletes alike. Sprains and strains are similar in name but may have different mechanisms of injury, presentation, and approach to rehabilitation. This article will review how these two injuries happen, what they may look or feel like, and what a typical rehabilitation plan might entail.
Strains and sprains refer to overstretching or tearing of tissues: the main difference between the two diagnoses comes down to the structures involved. Strains refer to muscular injury; sprains refer to ligamentous injury. Muscles and ligaments provide two separate functions, so the two injuries will manifest and be rehabilitated differently.
WHAT IS A SPRAIN?
Ligaments are passive structures that connect bone to bone, and they provide passive support throughout the body, the spine, around our big joints (think shoulder and hip), and along with our fingers and toes.
When these structures are stretched or bent beyond their limit, tearing of the ligament results in a sprain. Sprains may or may not have bruising but will typically develop swelling, tenderness to the touch, and feel weak or unstable in the first few weeks.
Immediately after a sprain, individuals should PRICE: protect, rest (in a shortened position), ice, compress, and elevate. Poor vascularization of these structures results in longer healing times. Although you might feel better within a month, remodeling can take up to a year! Rehabilitation will focus on stabilizing the joint by strengthening the local musculature.
WHAT IS A STRAIN?
Strains occur in muscles, and the cause is similar to sprains. Strains happen when our muscles are overworked. Too much speed or resistance in a short time ("too much, too soon") results in a muscular strain. Similar to sprains, there may be bruising following a strain.
Characteristics to strains are high pain levels with moving or using the muscle. Our muscles are highly vascularized, resulting in strains healing much faster than sprains. Rehabilitation will focus on gradually increasing the muscle length and, to avoid future injuries, the different types of contractions of muscles (isometric, concentric, and eccentric).
Are you currently dealing with a strain or sprain? Can't tell if you have one or the other?
If you are looking for a personalized rehabilitation plan, our Physical Therapists can help you! Fill out this form and we will contact you to schedule an appointment.
Reader Interactions