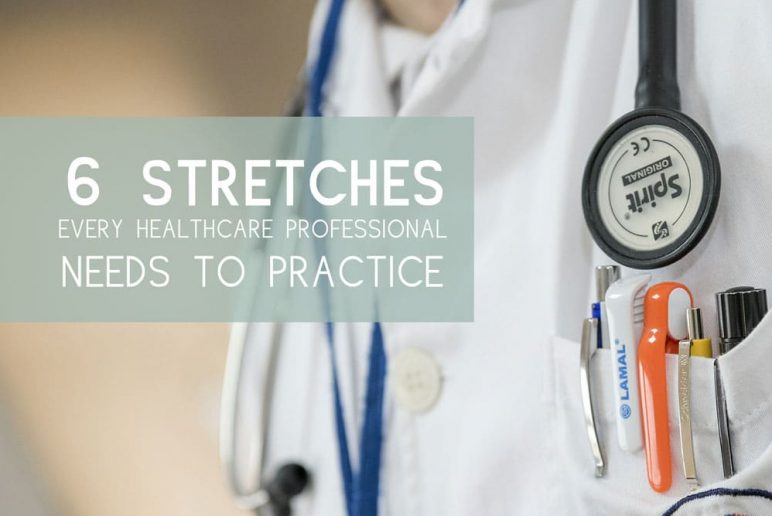 Six Stretches Every Healthcare Professional Needs to Practice
March 29, 2016
Calling all healthcare workers. Doctor's PTs, Dentists, Surgeons… You work hard to keep us healthy and feeling good, but are you taking care of yourselves? Do you stand all day for work? Do you fall victim to the "Do as I say, not as I do" practice of healthcare? I know I did. I, like many of you sit or stand in static postures all day when treating patients. This can have serious negative effects on our bodies. The worst part is we know it is bad for us, but what are we doing about it. Most likely, nothing. The most common complaints I hear when treating healthcare professionals are foot, knee, back, hip, and shoulder and neck pain. My goal is to give simple ways to alleviate some of your pain throughout the day.
The human body was designed to move. The joints, muscles, nerves and global systems work more effectively when moving. Static postures increased the demand in the muscles to hold the body up against gravity. Those forces are constant, and your body will eventually break down. Where we experience pain will depend on your posture, strength and history of previous injury or insult to the musculoskeletal system. Gravity always wins! If you are having constant or severe pain, you should think about getting a comprehensive evaluation. In the meantime, here are some tips to help decrease stress and tension and eventually pain in your body as you go through the day.
Your standing, sitting and working postures will determine where you feel stress and eventually pain. Here are some easy things that I do to fight back.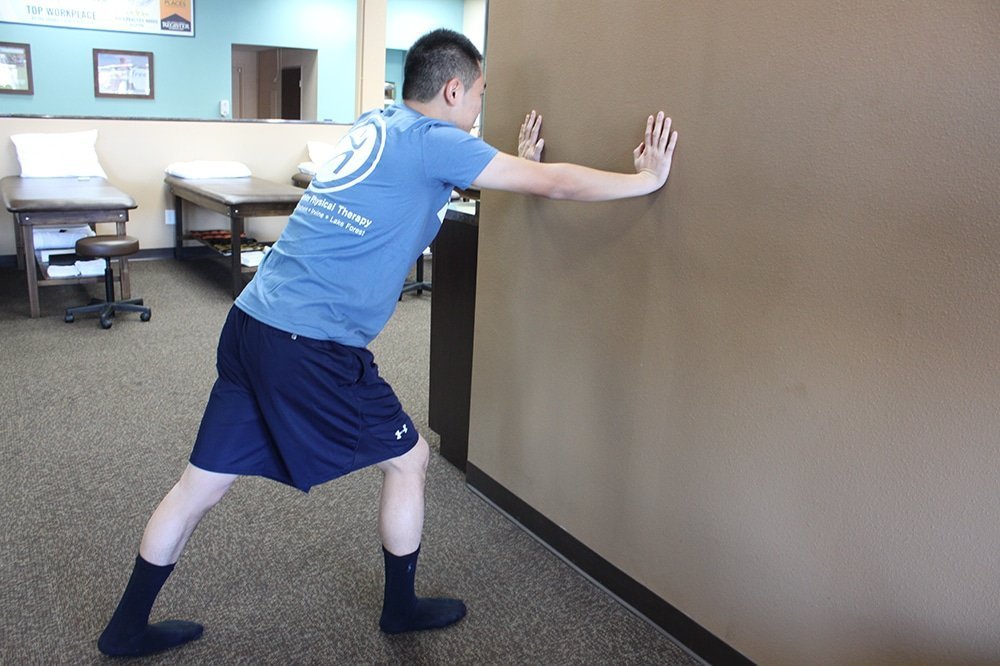 Calf Stretch
What to do:
While standing and leaning against a wall, place one foot back behind you and bend the front knee until a gentle stretch is on the back of the lower leg.
Your back knee should be straight the entire time.
Perform once an hour.
How it helps:
Your calves are holding you up all day and getting tighter by the minute. Improved mobility here will reduce stress on plantar arching feet, ankles, and knees.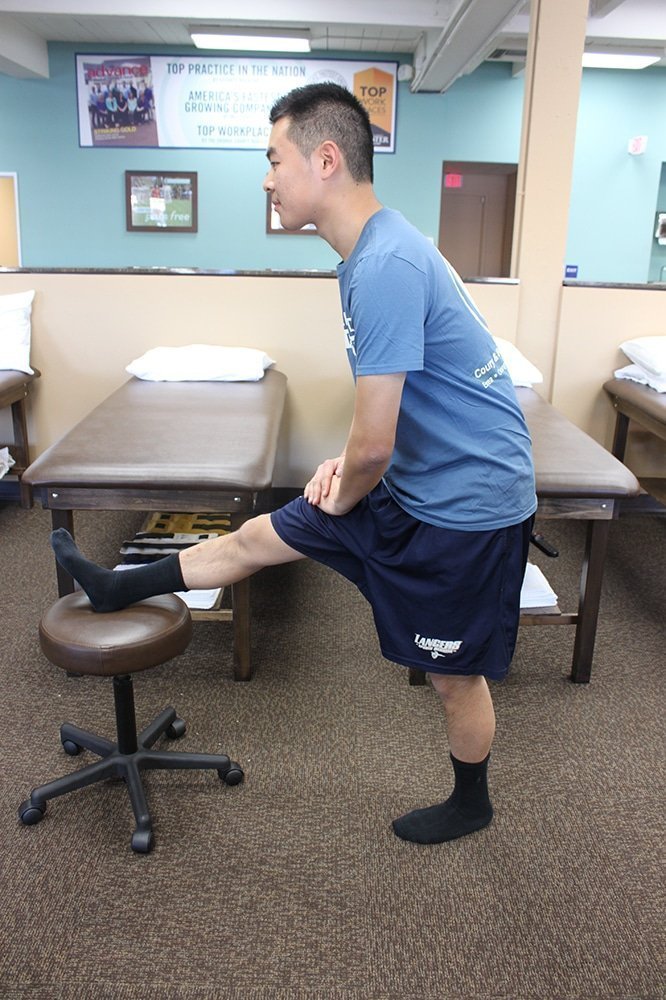 Hamstring and Quad Stretch
What to do:
While standing, place foot on stool or elevated surface.
Keep the foot of the leg that is being stretched in an upward facing direction and the hip in a neutral position.
Gently lean forward at the hip while keeping the spine in a neutral position.
Keeping the hip in a neutral position stretches the hamstrings globally while placing the hip in an externally rotated position stretches the medial hamstrings and an internally rotated position stretches the lateral hamstring.
Perform this once an hour.
How it helps:
Tight hamstrings and quads will cause stress in low back, hips, and knees.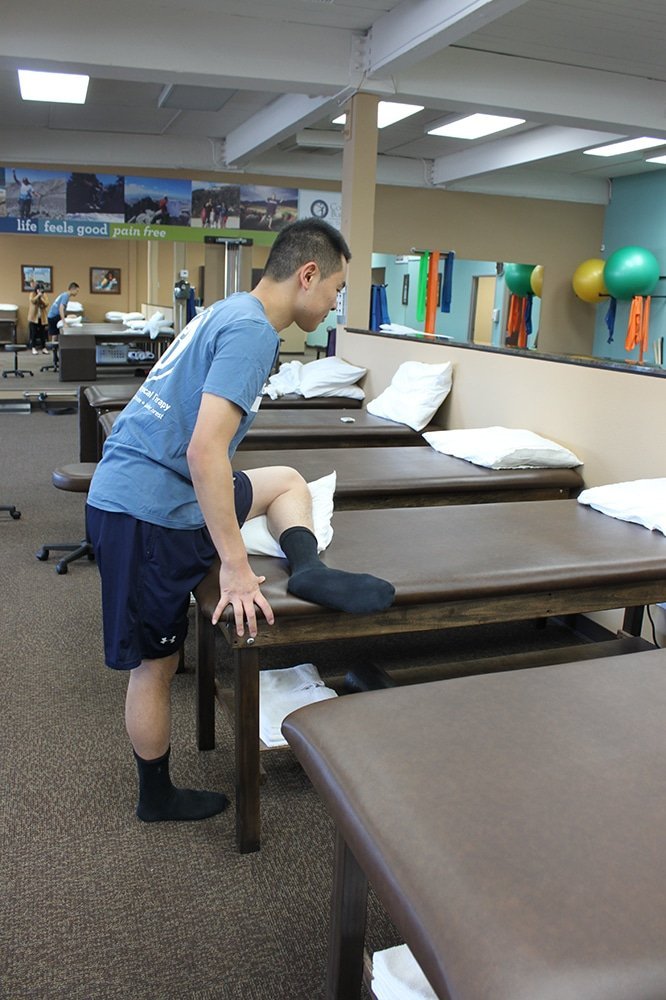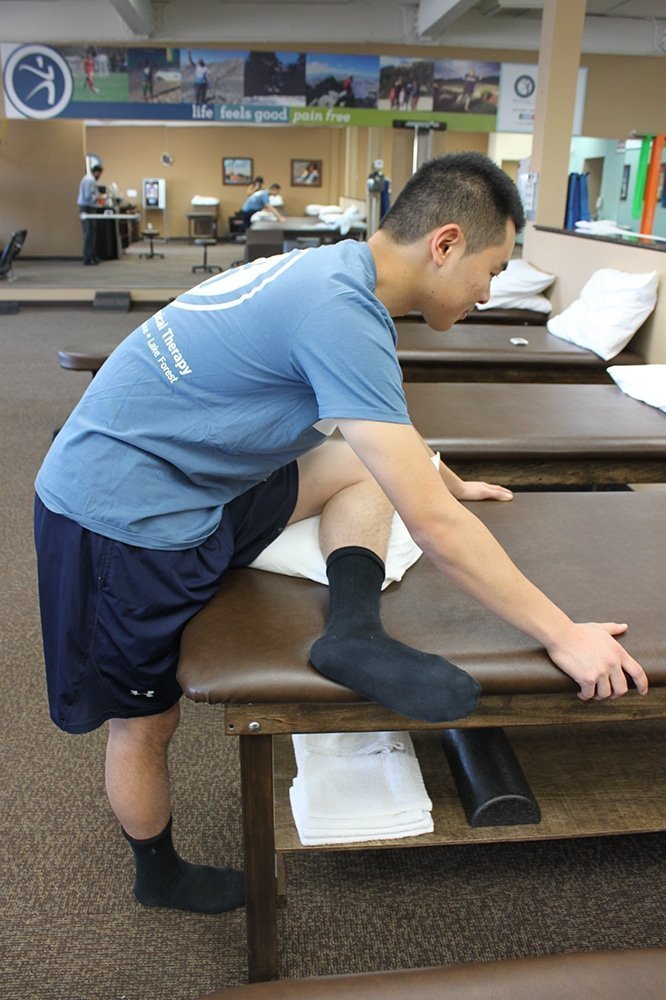 Standing Hip Capsule and Piriformis Stretch
What to do:
Place your leg on top of a table top as shown.
If a stretch in your buttock is not felt you can lean forward to increase the stretch.
Perform once an hour.
How it helps:
These muscles are also directly linked to back and hip pain when dysfunctional.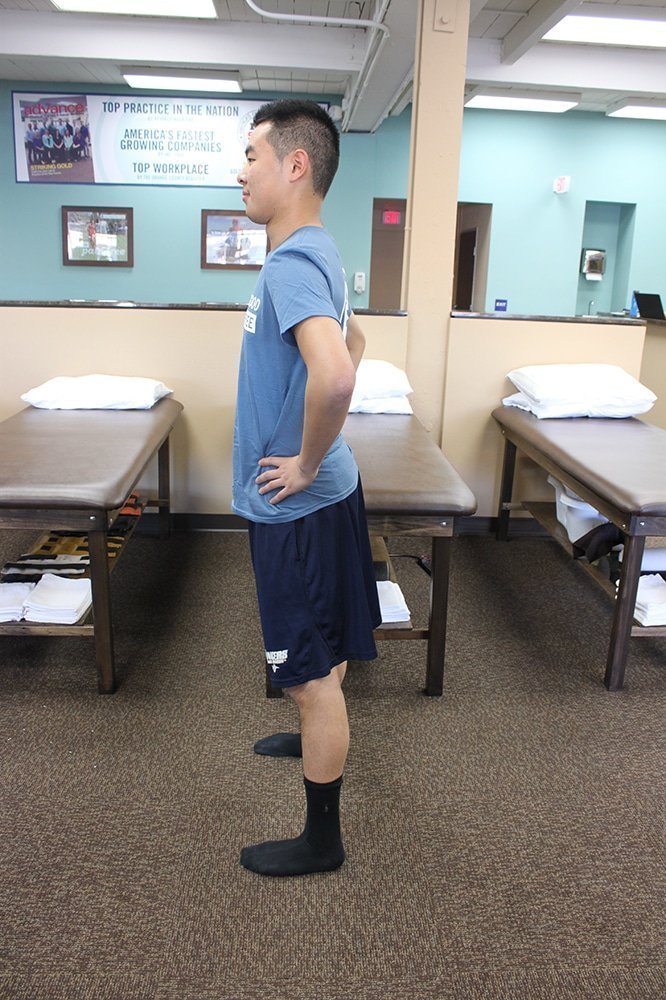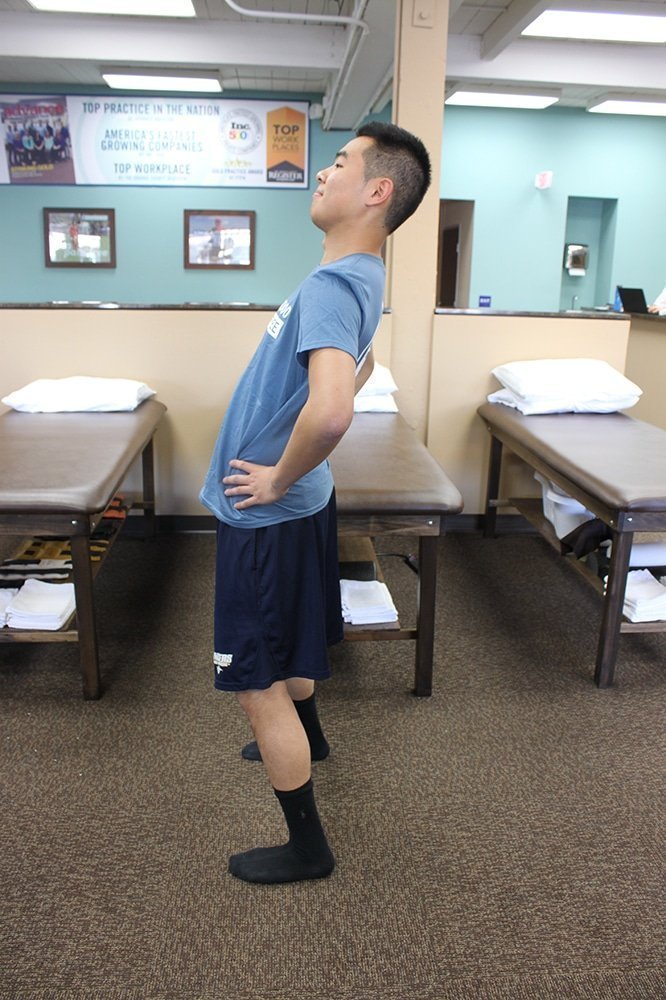 Back Extensions
What to do:
While standing, place your hands on your hips.
Lean back to arch your back.
Perform this every 20-10 minutes.
How it helps:
If you are leaning forward all day, these will help mobilize your lumbar spine.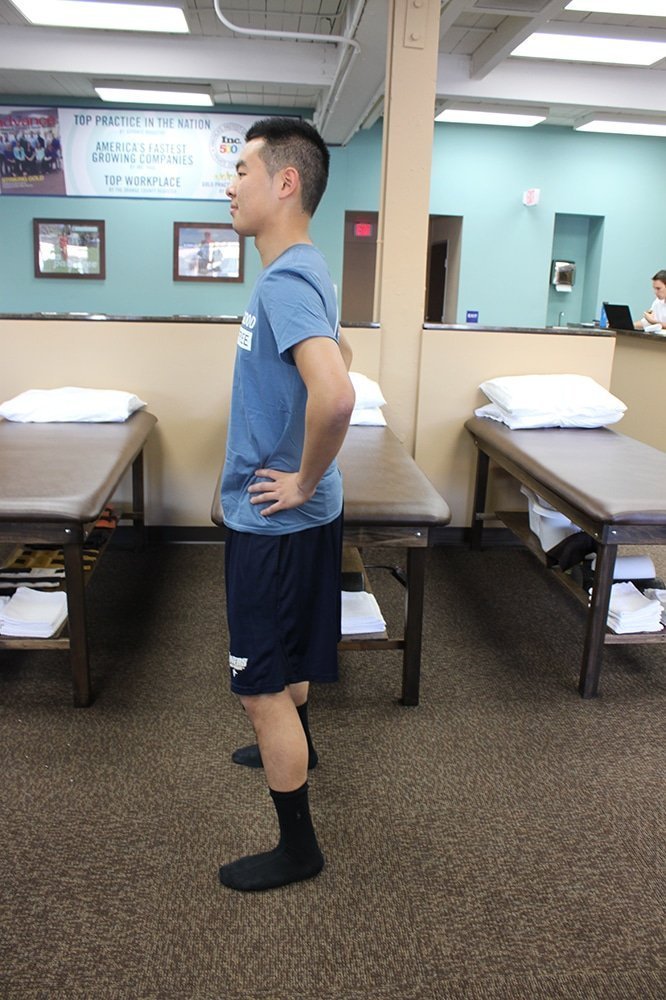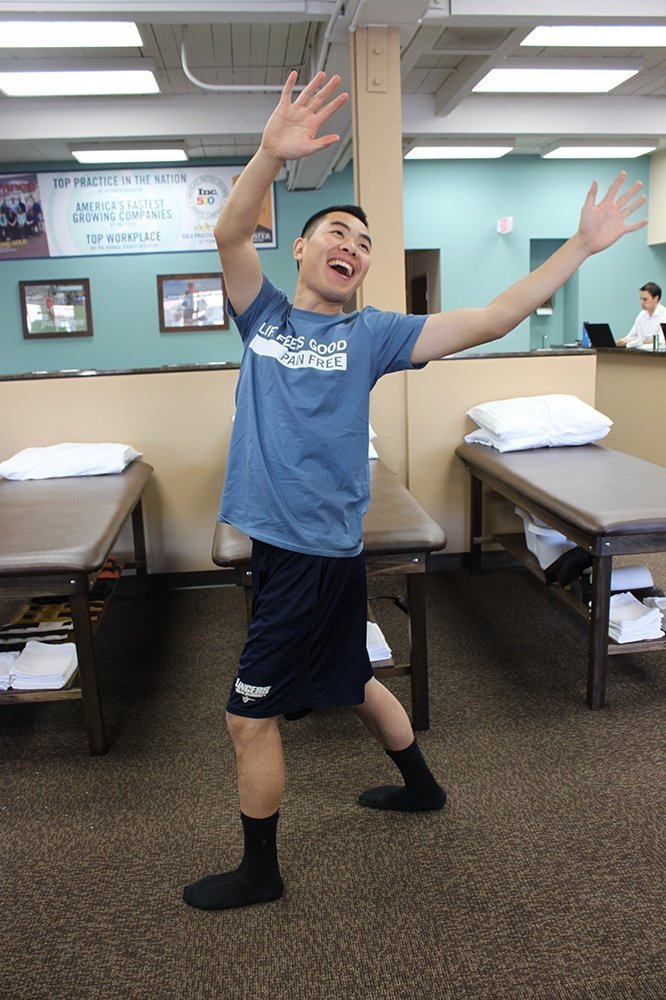 Transverse Reaches
What to do:
Stand with one foot forward like you are taking a stride.
Reach upward.
Turn trunk and arms towards forward leg and behind you.
Be sure to reach as far as you can without pain.
How it helps:
Global mobility for your ankles, hips, back, and shoulders.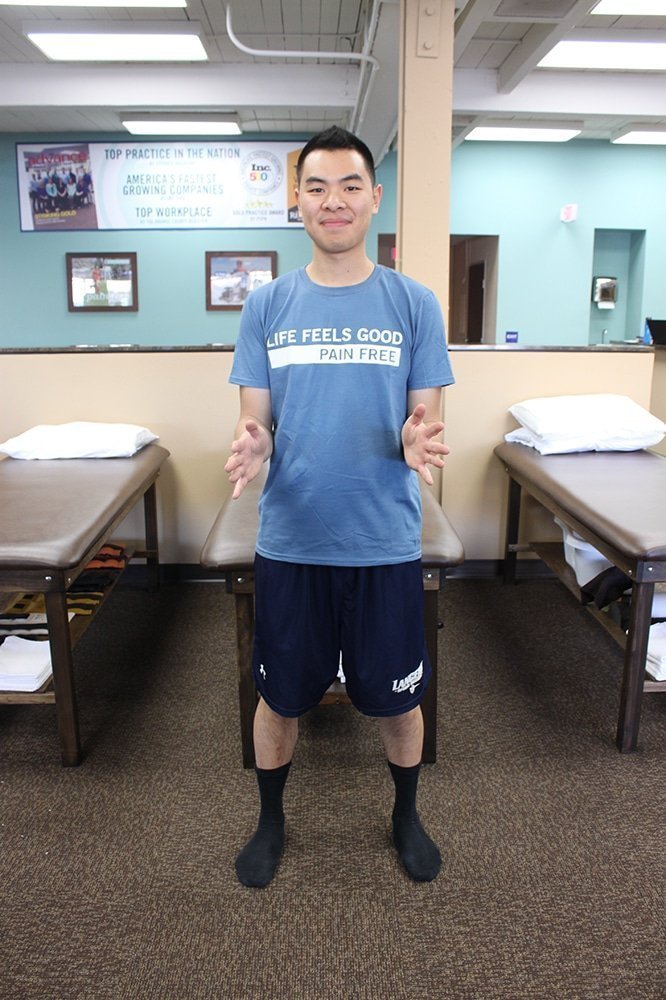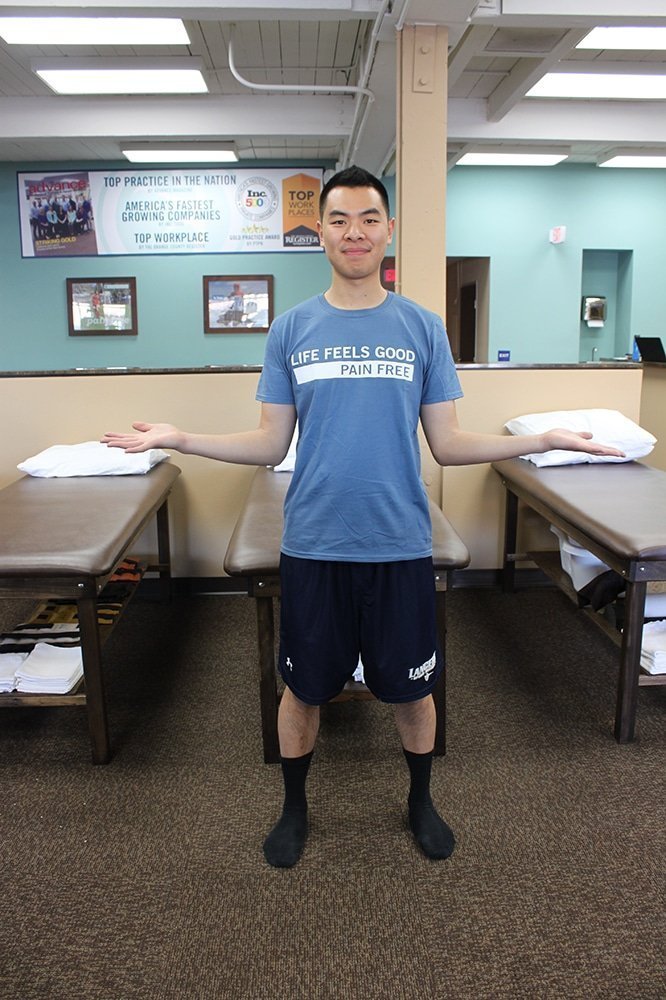 Waiter Tips
What to do:
Start by having your elbows bent at 90 degrees and pressed against your sides. Your fingers should be spread apart with thumbs pointed towards the ceiling.
While keeping your elbows at your side, move your hands away from each other.
While moving your hands away from each other, flatten your hands so that your palms are facing the ceiling.
Then return back to the starting position.
How it helps:
Stretches the front of your chest and strengthens postural muscles in your upper back.
Do you have any pain or injury?
Remember to take care of yourself as you take care of others.
Let us help you live (and work) pain-free.
Sign up for a FREE Assessment!
Reader Interactions