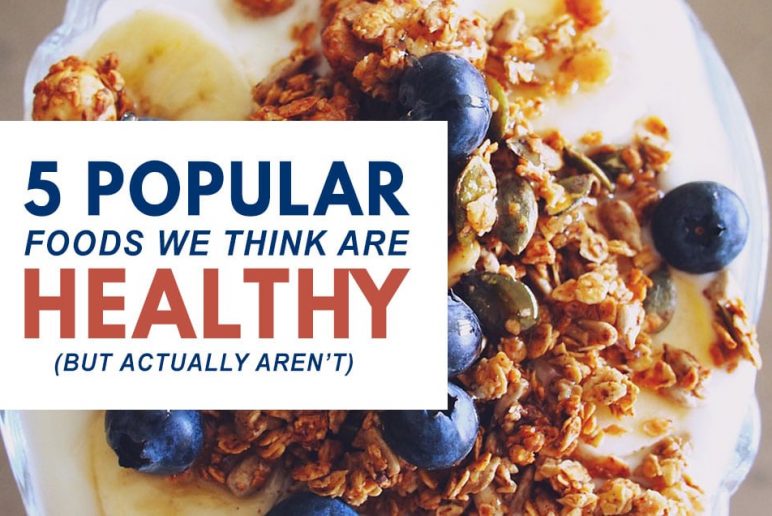 5 Popular Foods We Think Are Healthy But Actually Aren't
March 08, 2018
Nowadays, many people assume by eating certain foods, that they are "healthy". There are many diets which incorporate "healthy foods" which many people follow. However, some people notice they end up gaining weight or feeling more sluggish when following these diets.
Listed below are a few food items many people believe to be healthy, but in reality can have consequences on your health:
1. Salads
This varies based on what is mixed into the salad. Do not assume by ordering a salad instead of a pizza, that you are being healthy. Avoid dressings, cheeses, and other toppings with high saturated fats, excessive sodium, or high caloric intake. Try substituting thick creamy dressings such as ranch or caesar for a more low calorie vinaigrette and add lean protein such as salmon, beans, or chicken breast to keep you full for longer periods
2. Frozen yogurt
AKA 'froyo', has been trending as a "healthy dessert". While there are some forms that can be considered much healthier than standard ice cream, the add-ons and large portions have a tendency to remove their categorization of healthy. If you are a topping-lover, avoid high caloric items such as cookies, candies, and caramel sauce and substitute for fresh fruit instead. Also watch your portion size instead of filling your froyo bowl to the very top.
3. Smoothies
Some smoothie chains add in flavored syrups and ice cream, which in addition to the high amounts of fruit can add significant amounts of sugar and calories to the drink. Also, many stores have larger portion sizes which can add over 600+ calories to a drink.
4. Granola
The basis of granola is generally healthy consisted of rolled oats and dried fruits. However, with the added sugars, the term 'healthy' for this food can slowly stop applying.
5. Soups
The types of soups to avoid are canned/packaged soups, which contain high amounts of sodium. Also avoid heavy cream based soups such as clam-chowders and cheesy-broccoli. The best types are those made from scratch at home as well as light sodium and broth-based soups.
Everything is generally fine to eat in moderation. Do not deprive yourself of a food you love because it is "unhealthy", if you will just crave it more later on. Just make sure to limit yourself with the frequency which you consume foods as well as your portion size.
Make small modifications to your meals in order to incorporate a more healthy meal/snack!
Schedule a FREE assessment with Corinne today!
Want more free health tips sent straight to your inbox?
Sign up for Life+!
Reader Interactions