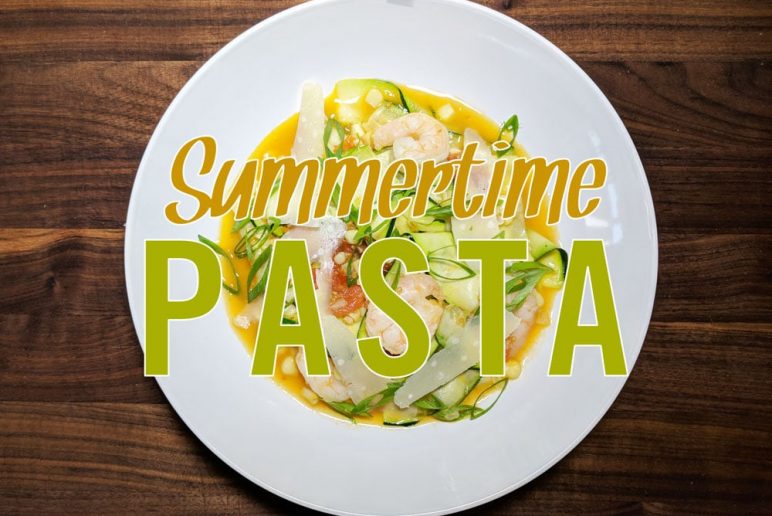 Summertime Corn, Tomato & Shrimp Zucchini Pasta
July 05, 2018
Summertime has finally arrived! I know this not just because the weather is getting hotter, but because of the new vegetables that are now in season. When I walk around farmer's markets and start seeing zucchini, tomatoes, and corn, I know its summertime. These 3 vegetables are the epitome of summer and I am going to show you an awesome recipe that utilizes these summer bounties.
What I like about this recipe is that everything is fresh and light and this is perfect for those hot summer days. This dish doesn't take long to make and it's low on carbs as well. When I make this recipe I generally use fresh pappardelle or tagliatelle pasta but I decided to use zucchini this time since it is in season and so I can add more vegetables into my diet. You can always substitute the zucchini for pasta, or even keep both the zucchini and pasta in. A lot of times people use a spiralizer to make zucchini noodles, or "zoodles", but I don't have one so i just use a vegetable peeler to get long and wide strips of zucchini. I like these long strips because it's similar in shape to the pasta I usually use.
I like adding shrimp into this recipe because I wanted to keep this a light dish and the shrimp pairs well with the sweetness of the corn and tomatoes. You can make this dish vegetarian by omitting the shrimp and using vegetable stock instead of chicken stock.
Ingredients
3/4 lb shrimp, peeled and deveined
4 zucchini, sliced lengthwise with a peeler (avoid the seeds in the middle)
1 pint cherry tomatoes (or about 12oz)
2 ears of corn, shucked and kernels removed
2 cups low sodium chicken stock
3 garlic cloves, minced
Parmesan cheese
1 bunch green onions, thinly sliced
Crushed red pepper (optional)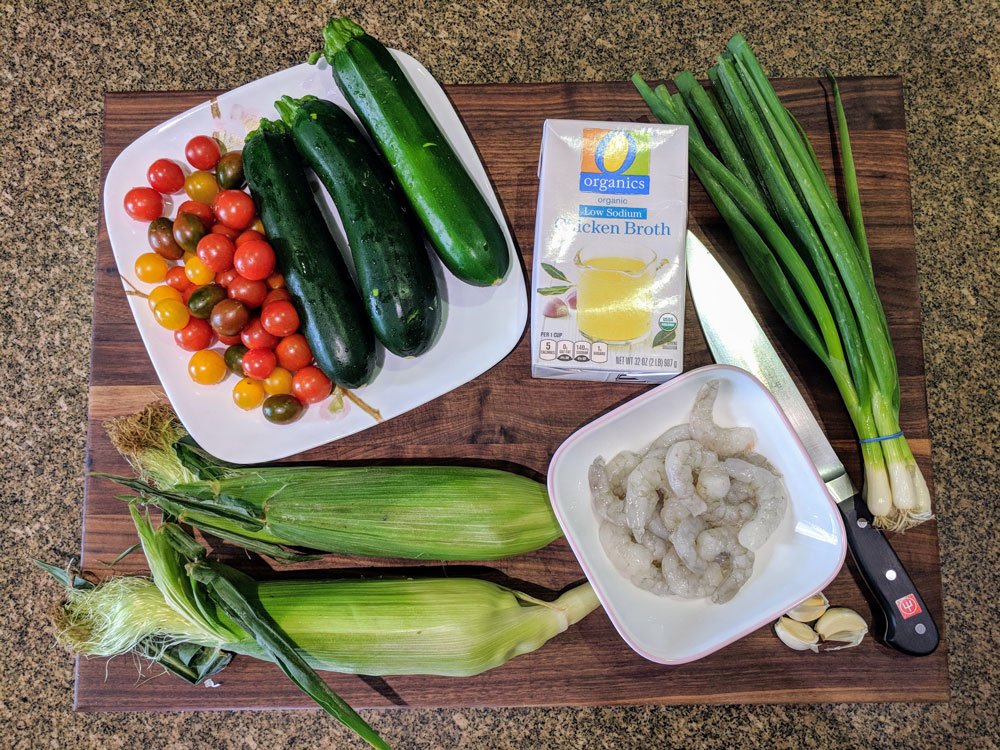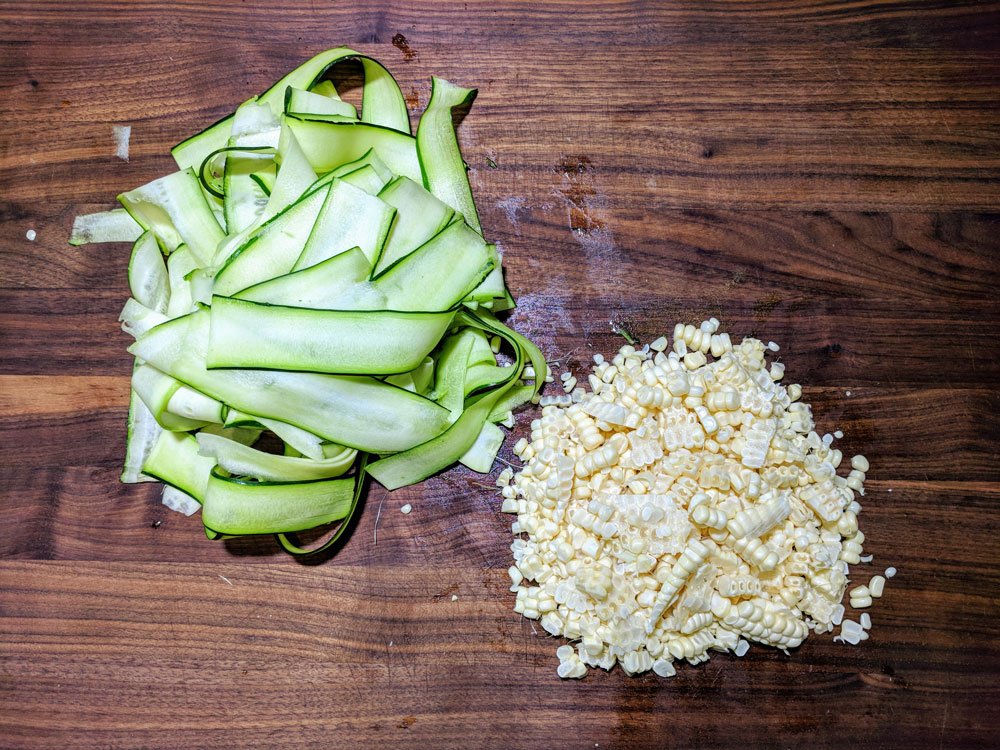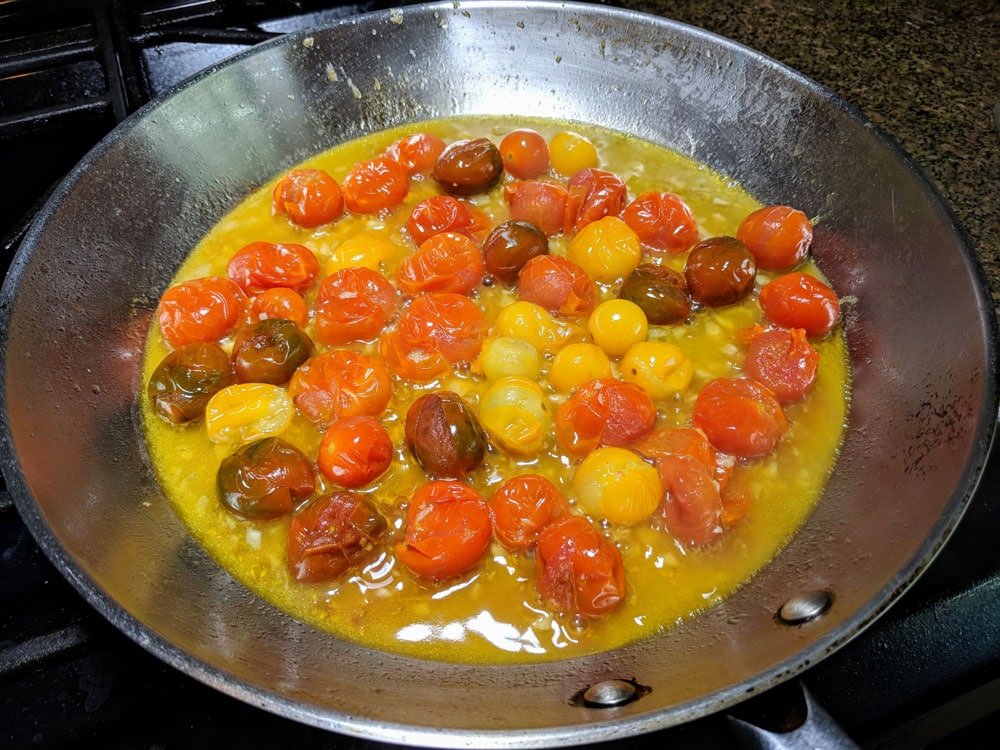 Instructions
Add a good amount of olive oil into a large saute pan and add the cherry tomatoes, a pinch of salt, a pinch of crushed red pepper, and minced garlic and saute for about 2 min, be careful not to let the garlic burn
Add 1 cup of the chicken stock and cook for about 10 min until the tomatoes start to burst and release their juices. If the tomatoes are not bursting, you can either cook them a little longer or lightly crush them with a fork.
Add in corn, shrimp, a big pinch of salt, and the rest of the chicken stock and cook for 5 min to allow the corn and shrimp to cook and the liquid to reduce.
Toss in zucchini pasta, mix everything around, and cook for 1 more minute
Shave some parmesan on top and garnish with green onions
Print a Copy of this Recipe
Enter your information below and we'll send you a free copy of this recipe to download & print:
Want more free diet & nutrition tips?
Sign up for LIFE+ TODAY to have these practical tips sent straight to your inbox!
Reader Interactions