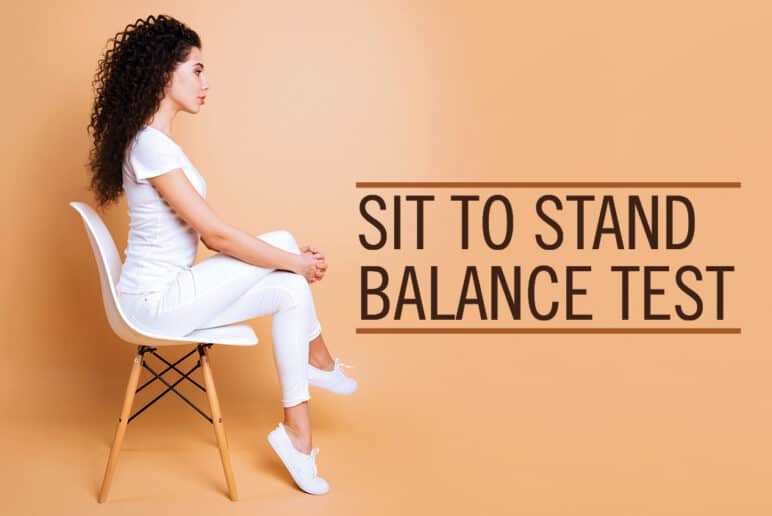 Sit-to-Stand Balance Test
August 05, 2021
Sit to stand, it may sound simple, but it is so very important to maintaining your independence.
What is the first thing you do in the morning? You probably stand up and get out of bed. What is the last thing you do during the day? You probably sit down and go back to bed. Grown adults are constantly standing up and sitting down throughout the day. The average, healthy senior citizen living on their own performs a sit-to-stand transfer over 70 times a day. How an individual stands up and sits down can tell you (and us!) a lot about their health status and balance.
Most Common Way of Performing Sit-to-Stand
Each individual performs the sit-to-stand transfer differently, but the most common technique involves slightly leaning forward from the trunk during lift-off and smoothly transitioning into an upright position that is seen by straightening out of the back and legs at the same time.
Test Your Sit To Stand Speed
Multiple tests look at a person's "functional strength." Functional strength is the strength you need to perform activities of everyday life (i.e. standing up from a chair, walking within the home, getting into/out of the shower, etc). One test, in particular, is the "Five Times Sit to Stand." It measures how quickly and safely an individual can fully stand up and sit down from an average-height chair without the use of their arms. Most healthy adults can complete this task in less than 10 seconds. An individual unable to complete this task in less than 13 seconds may be at increased risk for falls, have balance issues, or have decreased strength to perform the tasks they want to within the home.
Are you feeling competitive? Test how long it takes you to stand up and sit down 5 times. Does a friend or a loved one you know to struggle with getting up from a chair, such as requiring the use of their arms to get themselves up from a seated position? Talk to one of our physical therapists today! We can help. Physical therapists are skilled at evaluating an individual's technique, offering recommendations for alternate strategies, and prescribing exercises that can improve one's strength and balance in activities of everyday life.
If you were not able to pass the sit to stand test, talk to a physical therapist about strategies and techniques, contact us at 714-256-5074 to schedule an appointment or fill out the form below! A representative will contact you shortly.
WANT MORE TIPS? SIGN UP FOR LIFE+!
Reader Interactions