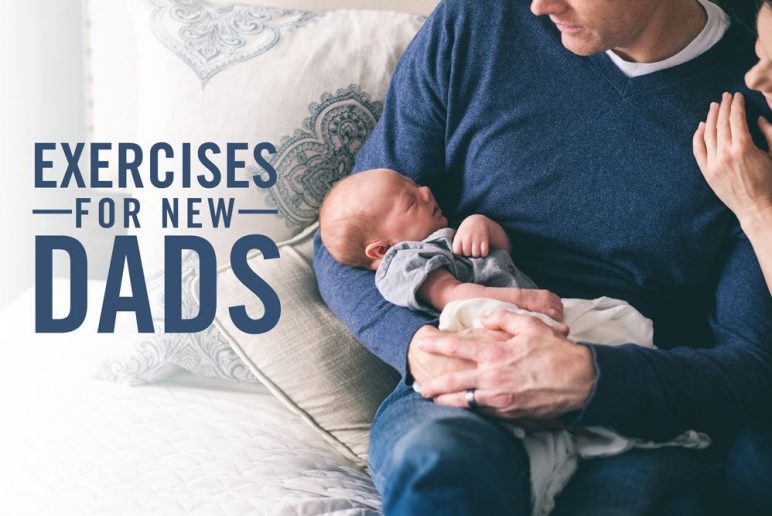 Exercises For New Dads
June 15, 2017
As a new dad I find it really difficult to make it to the gym.
Once I'm off of work I just want to hurry home to spend time with my family and exercising usually falls by the wayside. Over the last couple months, I have found a few exercises that challenge the whole body and help me stay active all the while making sure not to neglect that important bonding time with my son.
Push-Ups
Lie baby on their back on the floor. Get into push-up position and slowly lower yourself toward your baby and return to starting position.
Don't forget to smile at your baby. I would start with this exercise so as to not sweat on your child!
Baby-Squats with Push-Jerk
Hold baby with hands, perform squat, as you return to standing position raise baby overhead. If your baby does not have head control hold baby close to your chest and only perform squat portion.
Crabwalks with Baby Presses
Hold baby in hands and slightly away from your chest, stand in ¼ squat position with feet hip width distance apart.
Step with your right foot and push your baby away from you, then step with your left foot and bring your baby back to starting position.
Repeat this in both directions. If your baby does not have head control, hold your baby close to your chest and only perform crabwalk portion.
Walking Lunges with Baby Rotations
Hold baby in hands with baby at shoulder level and elbows slightly bent
Perform ¼-1/2 lunge hold the bottom position and rotate your trunk to the side of the front leg. If your baby does not have head control, hold your baby against your chest and continue with rotations.
Baby Russian Twists
Lie flat on your back with knees bent and feet on the floor. Keep baby on your chest and lift your trunk off the floor.
Keeping your feet on the floor, slowly turn your trunk to the left and then the right.
Repeat for 30 seconds. To increase degree of difficulty hold baby farther away from you.
Bent-Over Baby Carrier Rows
Place baby in carrier and stand with staggered stance.
Hinge at the hips and pick up carrier off the floor slightly pull your hand to just underneath your chest while squeezing your shoulder blade toward your spine.
Return arm slowly to starting position.
Have a great workout, Dads! And Happy Father's Day!
Want more free health tips sent straight to your inbox?
Sign up for Life+!
Is pain or injury preventing you from holding your newborn?
Sign up for a free assessment with CBPT!
Reader Interactions