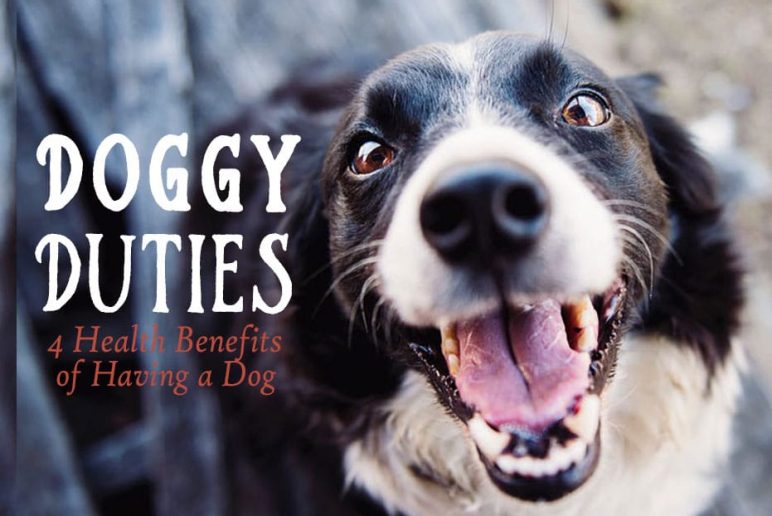 Doggy Duties: 4 Health Benefits of Having a Dog
January 03, 2018
Do you have a furry friend in mind you'd love to make your own? Do you notice yourself smiling and your heart melting just thinking about the thought of having one? Do you have a hard time convincing yourself, your significant other, or even your mom on getting that adorable dog?
Well you're in luck, because I'm going to give you a few ideas to help you convince them that you SHOULD!
1. Cardiovascular Health
When you feel like skipping your workout for the day, your dog will keep you on track to walk around the block. You'll walk and exercise more because your furry friend is standing by the door waiting for you to get up, and go on that walk!
Note: The American Heart Association (AHA) recommends at least 30 minutes of moderate-intensity aerobic activity 5 days per week for a total of 150 to improve overall cardiovascular health.
2. De-stress
Research has shown that petting your dog, playing with your dog, or simply watching your dog can reduce stress. It can lower anxiety, blood pressure, and increase hormones that help to calm you down when your stress levels may seem high!
3. Social Life
People are more likely to stop and talk to you when you're walking a dog, either at the dog park, in your neighborhood, and even the coffee shop that you love! You'll find strangers approaching to strike a conversation about your dog and maybe something more. ?
4. Mental Health
Pet owners may feel a sense of unconditional love, companionship, and purpose and it is a great way to battle depression. Time spent with your friend will be happy and joyful memories that will lift your overall mood.
If you think you're able to provide the care that your furry friend needs, think of these reasons when you're on the fence about getting a pet. Your furry friends will help improve your physical and mental health while boosting your social life! Feel free to share your story with me in the comments below!
Want to know more ways your furry friend can help you be healthy?
Schedule a FREE Assessment with Libbie today!
Get more wellness tips sent straight to your inbox!
Sign up for Life+!
Reader Interactions