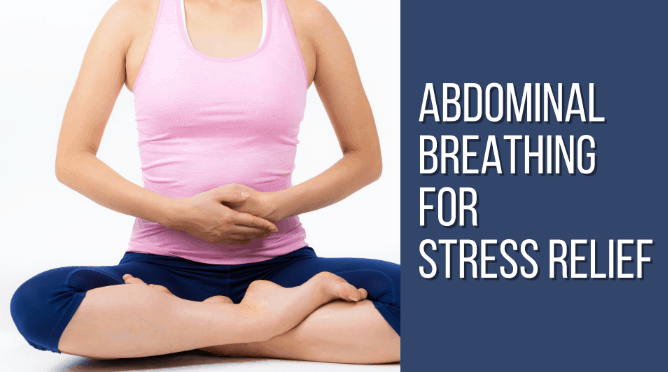 Abdominal Breathing for Reducing Stress
July 22, 2021
Stress is something that we all have to deal with. If you have ever been stuck in rush hour traffic on the 405 freeway, then you know all too well the effects that stress has on your body. Your heart rate and blood pressure elevate, your shoulders and arms tense up, and your breathing becomes shallow. You will also notice, not only does your breathing become shallow but you begin to breathe more with your chest. All of these changes are due to the fact that your body is switching from your parasympathetic nervous system to being controlled by your sympathetic nervous system. In order to further understand this, we will take a closer look at what the parasympathetic and sympathetic nervous systems are.
Parasympathetic Nervous System vs. Sympathetic Nervous System
The parasympathetic nervous system and the sympathetic nervous system are both subsets of the autonomic nervous system. This system works automatically and controls the internal organs.
Sympathetic
The sympathetic nervous system is also known as the fight or flight system and is the system that responds to stressful stimuli. When this system is fired it results in increased sweat production, short rapid breathing increased muscle tightness in large muscle groups (typically leading to neck pain or headaches.), and increased heart rate (McCorry L. K. (2007)).
Parasympathetic
The other subset of the autonomic nervous system is the parasympathetic nervous system, also known as the rest and digest system. This system, when engaged will decrease breathing rate and heart rate, increase digestion, cause the muscle to relax, and releases epinephrine and norepinephrine. Essentially the parasympathetic system causes the body and mind of an individual to enter a more relaxed state (McCorry L. K. (2007)).
Is it possible to control one's autonomic nervous system in order to assist it? Is it possible to switch from a flight and fright state to a rest and digest state? Not only is it possible to perform, but it is also actually quite practical and easy to perform. The secret? Abdominal breathing.
Abdominal Breathing
Abdominal breathing is simply the act of breathing deeply through one's stomach. Ideally, this should be performed for 15-20 minutes. Although, health benefits can be found in as little as 5-10 minutes. This can be performed anywhere, from sitting in bumper-to-bumper traffic, sitting in a stressful meeting at work, or sitting in a dark cool room.
Benefits of Abdominal Breathing
By practicing deep abdominal breathing daily there are several things that will occur:
It will become easier to break into and stay in a parasympathetic state (relaxed state).
From being in a parasympathetic state, an individual will notice that it is easier to stay relaxed and it will become easier to relax in stressful situations.
Quick How-to Practice for Abdominal Breathing:
Lay on your back or sit down with your hands on your stomach.
Slowly breathe in through your nose making sure that your stomach fills your hands completely.
Breathe completely out through your mouth.
Repeat at a slow and controlled pace.
Practicing abdominal breathing every day is a great scientifically-backed way to tap into one's nervous system and help control the daily stresses on our bodies.
REQUEST A FREE CONSULTATION
Is pain or an injury causing you stress? Contact us at (714) 256-5074 or fill out this form and our representatives will contact you to schedule a free consultation appointment as soon as possible!
Reader Interactions