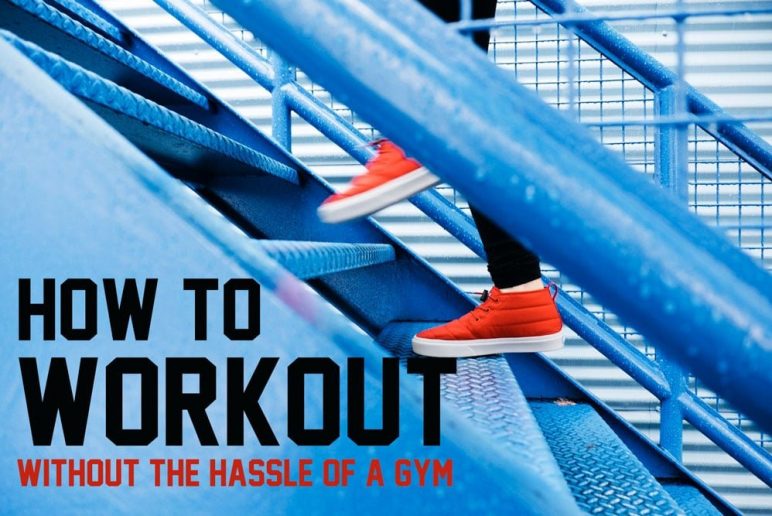 How To Workout Without The Hassle Of The Gym
January 26, 2017
I have struggled with staying fit and exercising with a hectic work schedule and no time to get ready for the gym.
By the time I fight traffic and get home, all I want to do is eat a quick dinner and "veg" out in front of my favorite Netflix shows. My New Year resolution like 80% of all other people is to improve my health, exercise more, and lose weight. I have dealt with the people at the gym trying to sign you up at the "specialized rate", and it is more hassle than performing a full workout routine!
In the past few months, I have found that just using my own body weight and different movements are all I need to get a sweat and give my muscles a challenge to improve my strength and fitness. Below are some ideas that we can all take into the new year to live up to our resolutions for improved health and wellness, without breaking the bank and dealing with the hassle of going to a crowded gym now that the "resolutioners" flock.
Warm-up:
Start with 10-15 minutes of dynamic and static stretching as this will prepare your muscles and joints for dynamic exercises.
Muscles To Target:
Hamstrings (back of thighs)
Quadriceps (front of thighs)
Hip adductors (inside of thighs)
Pectoralis group (chest)
Posterior rotator cuff and scapulohumeral muscles (back of shoulders)
Cardio Ideas:
Set aside at least 15-40 minutes depending on your goals!
Jogging or Walking (2-3 miles)

Combining both will keep your heart rate elevated and the calories burning!

Stair Running (5-6 times)

I live close to the beach so for me jogging up and down the stairs has me saying cardi-no more, please!!

Biking (15 minutes)

This method of cardio minimizes the impact of gravity and ground reaction forces that your joints will go through if running or jogging.
*If you own a bicycle or stationary bike, try riding at a resistance setting that is not too hard to maintain. I find it easier to not worry about my distance, but more about how I can adjust my resistance and incline/decline to give me the best workout in the amount of time that I can allow myself.
Resistance exercises
Set aside 20-40 minutes total depending on goals!
Clear out the garage or find a space in your living room where sweat is welcome because here we go!
Squats/Lunges: side lunges, walking lunges, backward lunges. Add weight by holding a household item like a watermelon, clothes hamper, or for ladies a full purse will do just fine
Step ups on your stairs to the 2nd floor or entering your house, or a curb outside your home.
Push-ups: add an incline or decline to these to target different muscle fibers using your couch or a chair that is sturdy
Double or single leg heel raises: can perform in place or with heels hanging off of a step.
Planks on your elbows and knees or if advanced elbows and toes: try this on your side as well for added oblique strengthening.
Bicep curls using milk or water jug for resistance: I have also been known to grab the back of a light chair and curl it when weights are unavailable
Overhead shoulder press with clothes hamper or other slightly heavy object for resistance
Bent over single arm rows with milk jug
With these resistance exercises, I am not a huge fan of a standard amount of repetitions. Instead, perform 3-4 sets of the exercise until you feel the muscles fatigue or therapeutic value from it.
This may take some time and adjustments due to delayed onset muscle soreness. "DOMS" is likely to occur and may last for 48 hours or so.
This reaction is completely normal because your muscles need to repair from the workout; however, it can be painful.
Keep that in mind as you perform that extra set as it may limit your next day activities if you are too sore.
Again these are some basic ideas to get 2017 started off on the right foot. You can make any tweaks with more resistance or weight and/or different movements as you see fit for your fitness and exercise goals.
Set aside 45-60 minutes and try to perform some of these exercises 4-5 days a week, and you will see improvements in energy levels, strength, and a sense of accomplishment. Here is to a LEAN 2017!!!
Don't Let Pain Stop You From Fulfilling Your New Years Resolution!
Reader Interactions