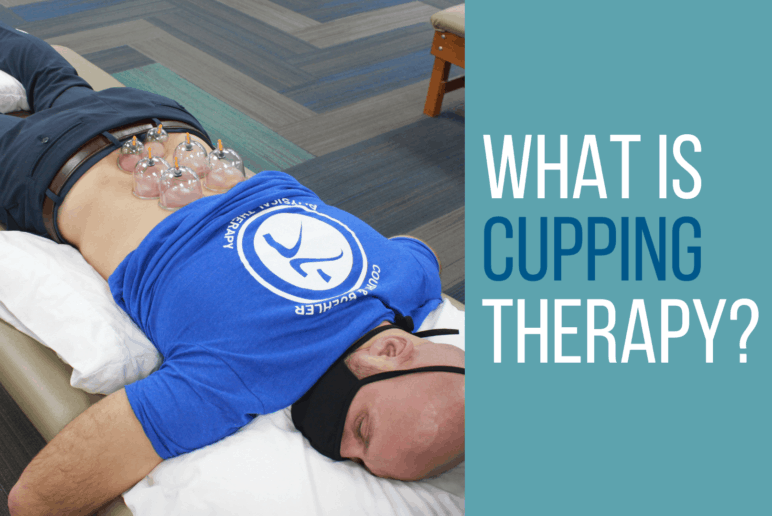 What Is Cupping Therapy (Myofascial Decompression)?
June 23, 2021
I remember watching Michael Phelps swim in the 2016 Olympics in Rio De Janeiro, Brazil. While of course, I was super amazed by how fast he can swim, I couldn't help but look at his back, shoulders, and arms. He was covered in perfect circles that were purple, red, and white. Immediately intrigued, I did some research and found that those perfect circles were due to cupping therapy, also known as "myofascial decompression therapy". Since 2016, the idea of using cupping has boomed, and often time it can be found in most medical offices and used by a variety of health care professionals.
But what is cupping therapy? What are its benefits? And how does this apply to physical therapy?
What Is Cupping Therapy?
At a basic level cupping therapy is an ancient treatment technique that utilizes suction by placing the cups on the skin and pulling the air out of the cup.
Honestly, there are so many different theories as to how and why cupping works but one of the most accepted theories has to do with the idea of separating all the layers of tissue starting with your skin. Over time, the skin, fascia, and other layers below the skin's surface can become stuck together. When they are all compressed, it doesn't allow for good nutrients to reach all the layers and it doesn't allow for all the toxins within the layers to be removed. So the suction created with cupping helps physically separate the layers, and in turn, helps flush out the toxins and increase the number of good nutrients and blood flow within the layers.

What Are the Benefits of Using Cupping Therapy?
According to the study, "The Medical Perspective of Cupping Therapy: Effects and Mechanisms of Action" published in 2019, the proposed benefits of cupping therapy include but aren't limited to:
Reducing pain.
Relieving muscle tension/spasms.
Increasing blood circulation to the area.
Reducing inflammation.
Promoting cellular repair and healing.
Helping remove toxins and waste from the body.
How Do Physical Therapists Use This With Patients?
AT CBPT, we use cupping almost every day to help get rid of pain and help fix those stubborn muscle spasms. We use it on a variety of body parts ranging from neck, low back, knee, calves, and shoulders. We can use it on patients while they perform movements like squats or lifting their arms overhead. We can use it on patients while they are performing stretches or while they get a soft tissue massage. Cupping can be used in so many different ways it's incredible! But it is important to know that cupping therapy isn't the end all be all to fix all problems. It is just another tool that physical therapists use, in addition to soft tissue massage, stretching, mobilizations, and exercise to help you return to living a pain-free life!
If you are interested in trying cupping therapy to relieve your pain, please come in for a FREE ASSESSMENT to see how physical therapy at Coury & Buehler Physical Therapy can help you!
Contact us at 714-256-5074 for a free consultation or fill out the form below! A representative will contact you shortly.
Reader Interactions