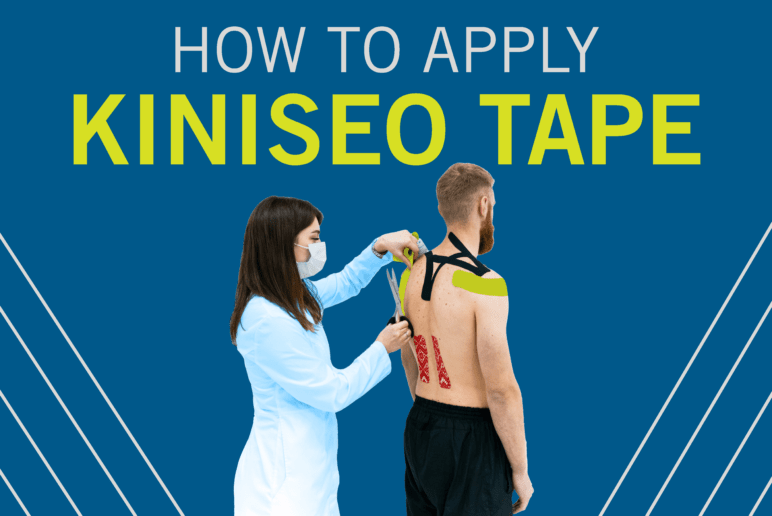 How To Apply Kinesio Tape
December 09, 2021
My back hurts! My knee hurts! My wrist hurts! When something hurts, you are willing to try anything and everything to make it feel better. You have tried everything you can think of and still no relief. You already have an appointment scheduled with your favorite Physical Therapist but you need something now! Have you ever thought about trying athletic taping or more commonly called Kinesotaping? There is new research that shows that taping has the ability to reduce pain. But how should you apply and wear the tape? Well, here are the top 2 taping techniques for pain reduction.
Before getting started on the techniques, there are a few things that everyone needs to know:
Always place a small tester piece on a different body part and leave for 5 minutes to see if you have a reaction. If you do have a small irritation, then please stop and do NOT proceed with taping.
If in doubt on application and/or removal technique DON'T do it! Instead, schedule a visit to see a Physical Therapist and have them show you how to perform the techniques.
For removal, don't just pull! Peel skin away from tape, NOT tape from the skin! This helps reduce the chances of peeling off your skin.
Now that we got the important stuff out of the way, below are the 2 most common taping techniques for pain relief: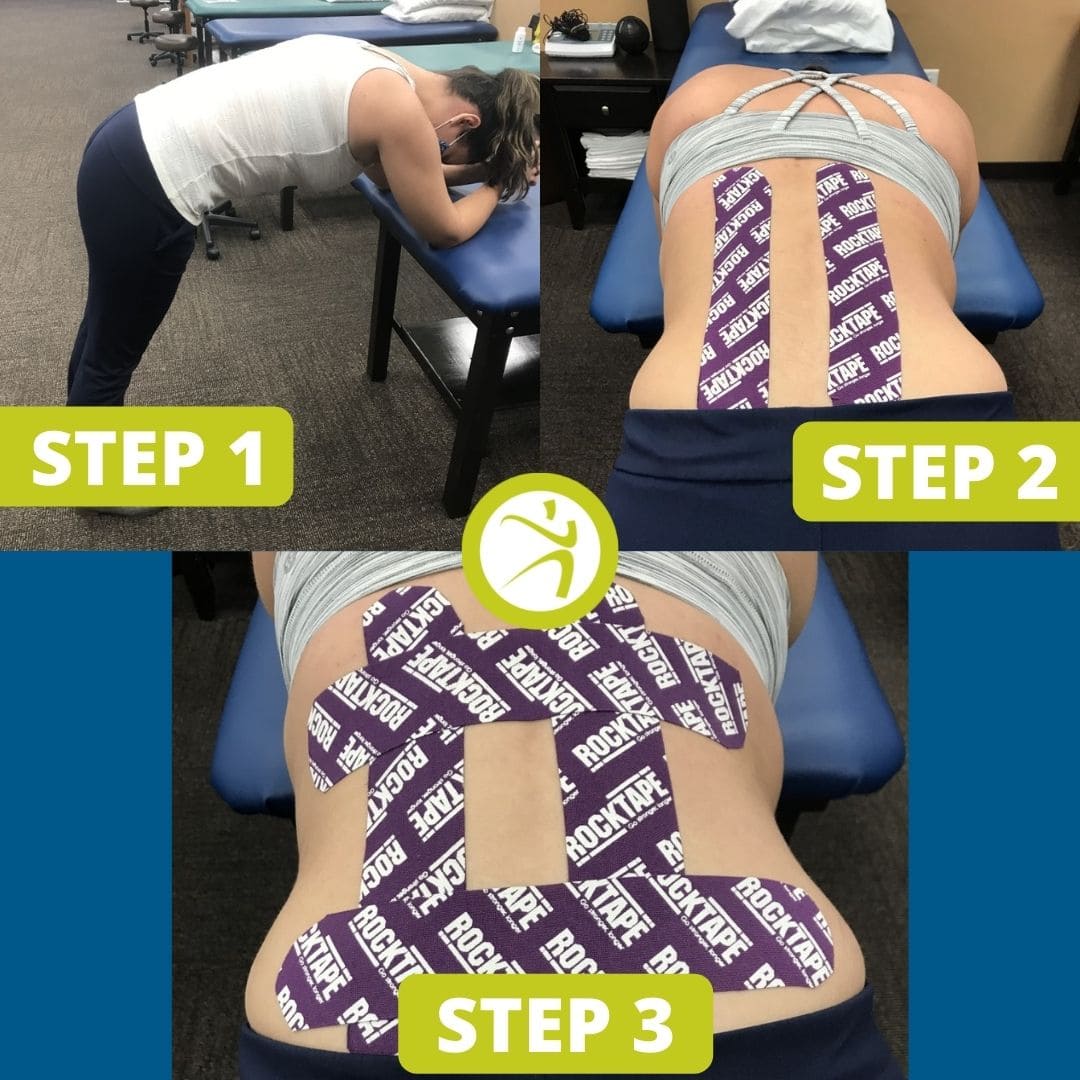 Technique 1: The Cross
Supplies: 2-3 strips of your favorite tape with rounded edges that are large enough to cover the area that is in pain.
Steps:
Stretch the skin – perform any movement that makes the skin on the area you want to tape tight. For example: if you want to tape your low back, you would bend forward.
Apply stabilization strips – place 1-2 vertical strips that surround your area of pain, but aren't on your area of pain. These strips act as the anchor for the piece of tape that we use for pain.
Apply pain strip – apply a horizontal or oblique strip across the stabilization strip that is EXACTLY on your area of pain. Apply the tape with 50% of stretch.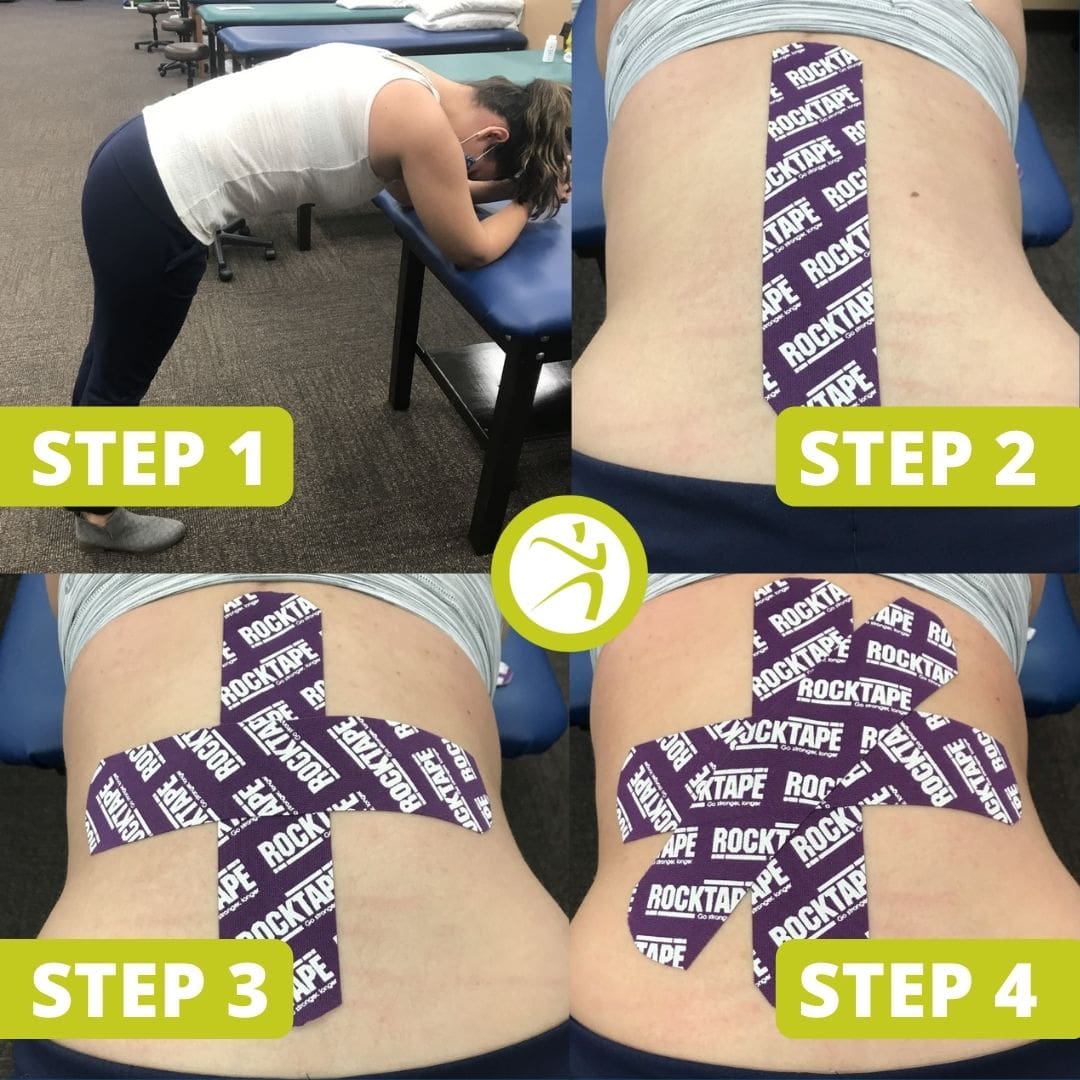 Technique 2: The Star
Supplies: 4 pieces of tape that are long enough to cover the area in pain with rounded edges
Steps:
With no stretch placed on the tape place, the first piece of tape is vertical making sure the center of the tape is exactly where your pain is.
Place the next piece of tape horizontal making sure the center of the tape is where your pain is.
Place the next two pieces of tape at the oblique angles creating a star pattern, with the epicenter of all the tape where the pain is.
Now, these are just the two most commonly used techniques for pain, but there are many others too! Also, athletic taping isn't just used for pain, in fact here at Coury & Buehler Physical Therapy we also use it to help improve posture and reduce swelling. Athletic taping doesn't solve all pain, but rather is good when used in conjunction with other physical therapy techniques such as soft tissue, joint mobilization, and exercises. If you aren't attending physical therapy yet, but have pain and are interesting in learning more about athletic taping, schedule an appointment to see how Coury & Buehler Physical Therapy can help you get back to doing what you love to do – pain-free!
For more application techniques or if you need more physical therapy to relieve your pain, make an appointment! Contact us at 714-256-5074 or fill out the form below! A representative will contact you shortly.
WANT MORE TIPS? SIGN UP FOR LIFE+!
Reader Interactions