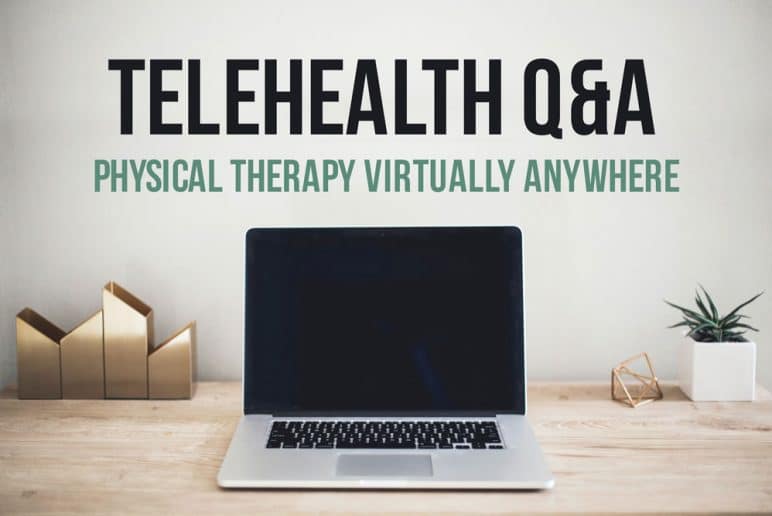 Telehealth Q&A: Physical Therapy Virtually Anywhere
April 21, 2020
We hope everyone is doing well and staying healthy during this unprecedented health crisis. We know a lot of you are not getting the care you need during this time, which is why we're excited to offer Telehealth physical therapy visits! Telehealth is a secure video call where your physical therapist will conduct a virtual treatment session 1-2 times per week.
HOW DOES IT WORK?
Telehealth is a confidential video call between you and your physical therapist for 20-30 minutes. They will discuss your current symptoms, watch you move and perform certain activities, and provide specific treatment to address the problem(s) identified. Through video, your physical therapist will demonstrate prescriptive exercises and creative self-treatment strategies.
WHAT EQUIPMENT DO I NEED?
You only need the following below. It's very simple with no apps or downloads needed!
Internet Access
A device with a camera (computer, phone, tablet) that can access email
Some space to move and exercise
If exercise equipment is needed, we can find substitutes around the house, or prepare a home exercise program kit for pick-up.
HOW CAN YOU HELP ME THROUGH VIDEO?
The reality is that hands-on care is a big component of physical therapy. However, so is optimal movement and exercise. Your physical therapist will still be able to assess your movements and virtually coach you through self-treatments and exercises that will help you feel better! We've found there are many strategies that can make up for the missing hands-on care. If appropriate, your physical therapist can recommend a face-to-face (or mask-to-mask) visit.
HOW IS THIS PAID FOR?
Due to COVID-19 crisis, most insurance companies will pay for Telehealth visits the same as if it were an in-clinic visit.
Contact us at 714-256-5074 to take advantage of this or fill out the form below! A representative will contact you shortly.
Reader Interactions