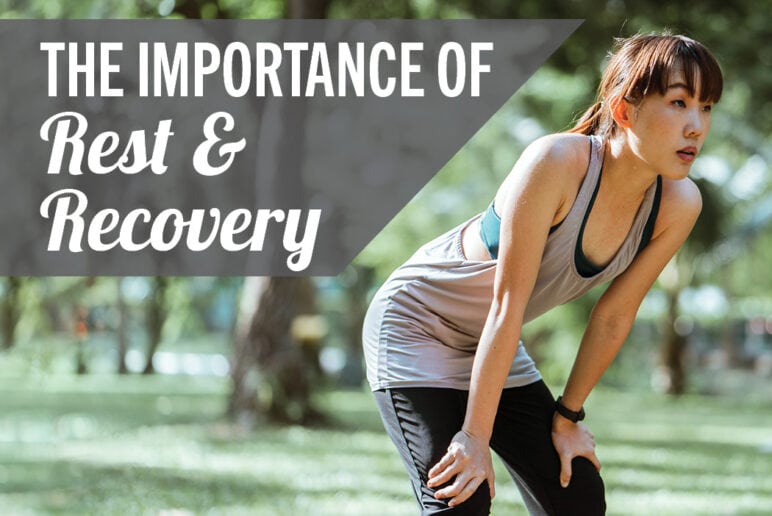 Importance of Rest & Recovery
September 01, 2022
One aspect of an exercise routine that is often overlooked is recovery! We all know exercise has some incredible benefits to your overall health and longevity, but does that mean that more is always better?
Exercise is a short-term physiological stressor to your body, which can be great in moderation. Overtraining and not giving your body enough time to rest and recover might lead to negative effects. Some short-term overtraining changes in the body can include muscle damage, tissue inflammation, increased perceived fatigue, and delayed onset muscle soreness (DOMS). These symptoms should take care of themselves and go away within a few days after your workout. Chronic lack of rest and recovery in between exercises can eventually lead to long-term adverse effects such as reduced force of muscle contraction, altered joint position sense, and even higher risk for injury.
The most optimal exercise routines are ones that prioritize an adequate balance of training and sufficient recovery. Here are a few methods that have been proven to boost post-exercise recovery and get us ready to jump back into our next workout!
Massage - Massage improves blood flow to the affected area and helps reduce muscle edema (fluid retention). There are several tools you can utilize to self-massage different parts of your body including:

Or ask a friend to help you!

Compression garments - These garments reduce the space available for swelling and edema due to the compression placed on the limb and help improve the return of blood back to the heart (venous return).
Coldwater bath - Exposure to 11-15 degrees Celsius over 11-15 minutes are the optimum parameters for cold water immersion, which helps reduce muscle damage and inflammation.
Try fitting these methods of rest and recovery into your regular exercise routine, and see how they affect your performance!
If you are having difficulty bouncing back from the effects of overtraining, schedule an appointment with our physical therapists to see how Coury & Buehler Physical Therapy can help you!
References:
https://journals.lww.com/acsm-msse/Fulltext/2013/01000/Prevention,_Diagnosis,_and_Treatment_of_the.27.aspx
https://www.ncbi.nlm.nih.gov/pmc/articles/PMC5541747/
https://www.ncbi.nlm.nih.gov/pmc/articles/PMC5932411/
If you are having pain during your rest and recovery periods, contact us! Our Physical Therapists are here to help. Fill out this form and we will contact you to schedule an appointment.
Reader Interactions