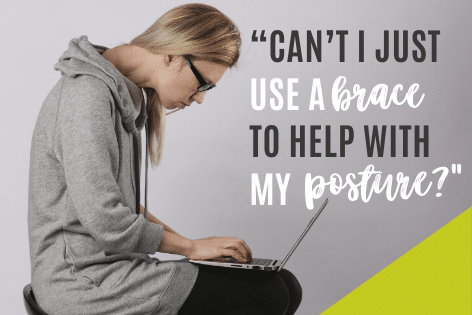 "Can't I just use a brace to help with my posture?"
October 23, 2019
Much of the population will claim that they have poor posture. I am one of those people. I never listened to my mom as she consistently told me to fix my posture when I was a teenager, and now I must work even harder in order to maintain acceptable posture.
Why?
There are many postural braces or supports out there that can assist with correcting posture. However, the worry with using these types of supports, is that you never address the true problem that leads to poor posture. That is the under-utilization of our body's natural muscular supports.
Our body is designed to keep us upright, and we have all the muscles we need in order to do that. If you use a brace to get that posture, then you will never put in the effort to develop these muscles to make them effective and useful in the long-term.
Alternative Options
I understand the appeal of buying an item in order to "fix" the problem instead of putting in the work. However, that will only be a temporary fix. I have patients ask me about this topic all the time, and I start by giving them the tools to develop their postural muscles. Although, some people still want some form of device to help keep them accountable. I would suggest a device that helps correct your posture without the use of a brace.
There are postural corrector devices that send you a signal either through your phone or with a gentle vibration that reminds you to correct your posture when you begin to slouch. Some devices adhere directly to your skin while others can be attached to clothing via a magnet. These devices are very beneficial, because they send a reminder for you to pay attention to what type of posture you're in throughout the day.
REQUEST A FREE CONSULTATION
We will contact you to confirm your appointment.
Reader Interactions