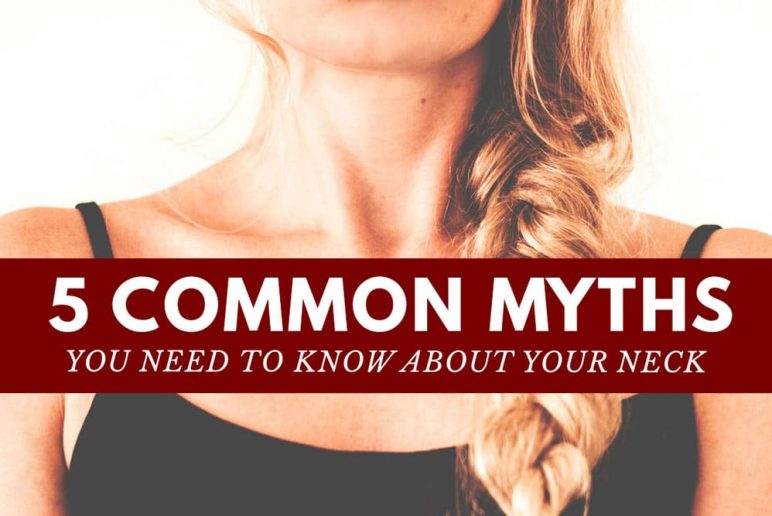 5 Common Myths You Need To Know About Your Neck
February 22, 2018
There are many common beliefs and misconceptions people have about the neck. Many of these have to do with pain and how it relates to the neck, however; they are not necessarily true. Here are some of the common (and surprising) myths regarding the neck!
MYTH #1: Neck pain is normal
TRUTH: Pain is actually a sign that your body thinks there is something wrong (though this does NOT always mean some harm is being done to the body!). This can be anything from your body signaling you to move after being in one position too long, or a response to protect the healing tissues after a car accident.
MYTH #2: A standing desk will fix my neck pain at work
TRUTH: Not necessarily! Often, people think that sitting down is bad for the body and, especially, the neck. This is not true…the lack of movement is actually what the body doesn't like! A standing desk won't solve the problem by itself, as now you will just stand in one spot all day. Look to take frequent stretching and walking breaks to help prevent pain, regardless of your type of desk setup.
MYTH #3: The neck can't cause pain/problems in other areas
TRUTH: Dysfunction in the neck can cause pain that radiates to the upper back, shoulder, headaches, dizziness/vertigo, or even shooting pains and tingling/numbness sensations down the arm. A doctor or physical therapist can help you find out if this is the case for you.
MYTH #4: Neck pain doesn't go away
TRUTH: Even if you've had pain in the neck for years, it can always be improved! It's important to find the underlying cause of your pain in order to make long-term improvements, but it is definitely possible.
BONUS MYTH: Giraffes have more vertebrae in their necks than humans
TRUTH: Nope! Both giraffes and humans have exactly 7 cervical vertebrae. Giraffes' vertebrae are just shaped differently from ours, probably in part to help them withstand the stresses from the intense neck fights they have been known to have. Their vertebrae are also just a bit larger, to say the least!
Are there any other myths regarding the neck that you have heard, or would like to have answered? Let me know in the comments below!
Want to know more about addressing your pain?
Schedule a FREE Assessment with us today!
Get more wellness tips sent straight to your inbox!
Sign up for Life+!
Reader Interactions