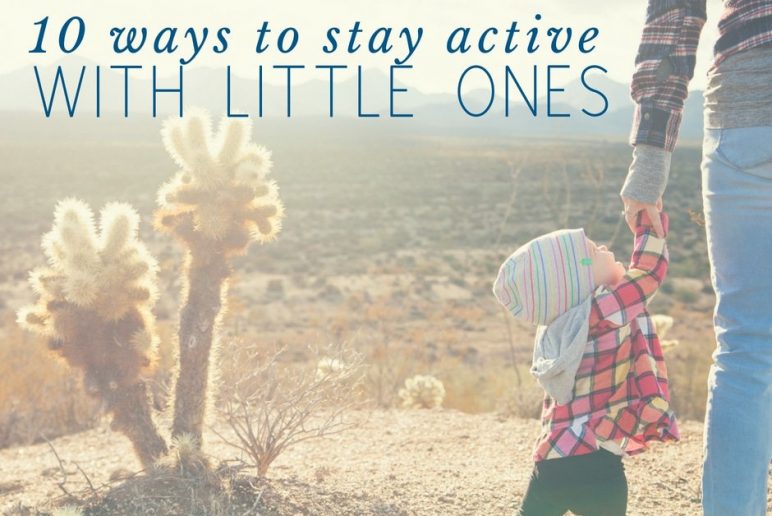 10 Ways to Stay Active with Little Ones
June 05, 2018
Have you ever wanted to be more active but feel like your ability to get out to the gym or other regular exercise routine is hindered by having little ones?
Here are a few practical solutions to help keep you active with your kids.
Walks
Lately we have been going on walks around our neighborhood. My little one likes to see the different animals, statues, yard decorations and other fun things around the neighborhood.
Scavenger Hunt
A good way to get out and walking around the neighborhood is a scavenger hunt. Depending on their age you can play around with this idea from having them see how many of a certain thing they can find like flags, birds, cats, dogs, etc. to solving little riddles for your older ones.
Park
Chasing your little one around the park, climbing up and down the playground, or even doing your own body weight workout (push-ups, pull-ups, squats, lunges, etc.) while they play can be a great way to stay active.
Hide and Seek
This will keep you moving as you search for your little one and can even promote some good squatting, crouching, getting up and down from the floor to help with your flexibility and strength as you try to find a good place to hide from your little one.
Tag
Tag can be a great workout playing any of its varieties. Freeze tag, tunnel tag, etc.
Playground
If your little one is anything like mine then they'll want you to climb, slide, and run around the playground while being sure to run full speed to pet every dog that comes walking by.
Sports
Kicking or throwing a ball around can help your kid(s) develop good coordination while keeping you up and moving around
Jogging
I highly recommend a jogging stroller if this is something you want to get involved in. It's a great way to get some good cardio in especially in conjunction with a trip to a nearby playground, park, or store.
Swimming
This is my summertime favorite when a jog to the park seems unbearable especially during a heat wave. Teaching your little one to swim and splashing around with them in the pool is a great way to stay active. Look into different floatation devices depending on their age and swimming experience to help keep them safe
Bike Riding
Teaching your kids to ride a bike is sure to keep you running along side them and as they get big enough to ride on their own a family bike ride can be a fun and enjoyable way to stay active while spending quality time with your little one.
Sign up for a FREE Assessment with CBPT!
Don't let pain limit you from doing daily activities. Schedule a FREE assessment with CBPT today!
Want more free fitness & exercise tips?
Sign up for LIFE+ TODAY to have these practical tips sent straight to your inbox!
Reader Interactions