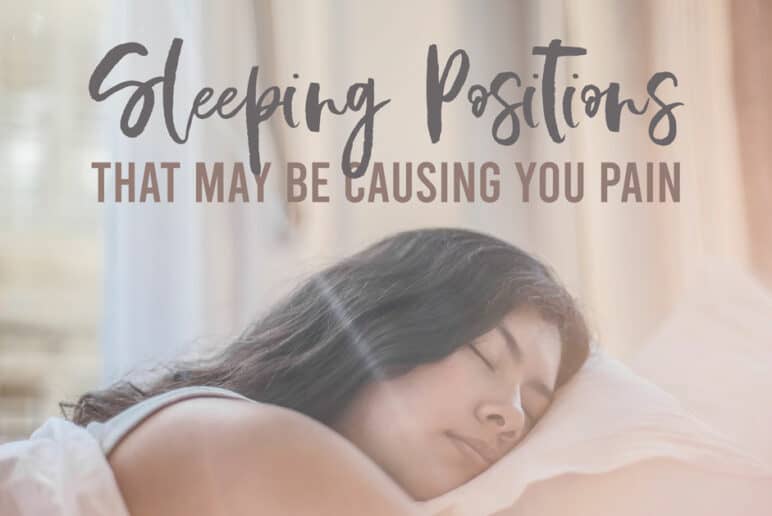 Sleeping Positions that May Be Causing You Pain
December 08, 2020
Most of us spend approximately 1/3 of our day sleeping! Disregarding some mild tossing and turning, this means that for 1/3 of our day, we spend it in the same position. Which is why it is so important to consider your sleeping position if you are waking up each morning with pain. Here are a few common sleeping positions that physical therapists often see as a contributor to these aches and pains:
Stomach Sleeping
Sleeping on your stomach causes you to significantly rotate your neck while asleep. This not only puts the neck in a prolonged stretched position but can also lead to a partial occlusion of one of the vertebral arteries which is responsible for bringing blood from the heart to the brain. If possible, it is encouraged to avoid sleeping on your stomach for this reason.
Stomach sleeping can also be hard on those with chronic back pain because it increases the arch and stress on the low back.
Back Sleeping
Back-sleepers who sleep with too high of a pillow often complain of neck pain as well. I have even gone as far as to recommend several patients with chronic migraines to trial sleeping with only a small towel roll under the curvature of the neck. Though this is not ideal for everyone, it works for some because it decreases the forward bending of the neck and maintains the natural curve.
Sleeping on your back with your legs flat can also increase stress on the back. Sleeping with the legs or knees elevated is a quick trick to decrease this force.
Side Sleeping
Sleeping directly on your shoulder sometimes contributes to pain consistent with shoulder impingement. A few tips to avoid this direct compression is to bring the bottom shoulder forward so that the force is concentrated on the shoulder blade rather than the shoulder joint itself. Also, be sure that the pillow under your head stays under your neck/head only and not under your shoulder.
Furthermore, if you are experiencing back pain while sleeping on your side, place a thick pillow between your knees to prevent excessive lumbar rotation and perhaps even try bending your legs up a little more.
We hope that these tips will help you get a better night of sleep! If you are experiencing any pain don't be shy about scheduling a FREE consult with any of our physical therapists to determine how we can help you.
Free Consultations for Sleeping Positions
Contact us at 714-256-5074 to take advantage of our free consultations or fill out the form below! A representative will contact you shortly.
Reader Interactions