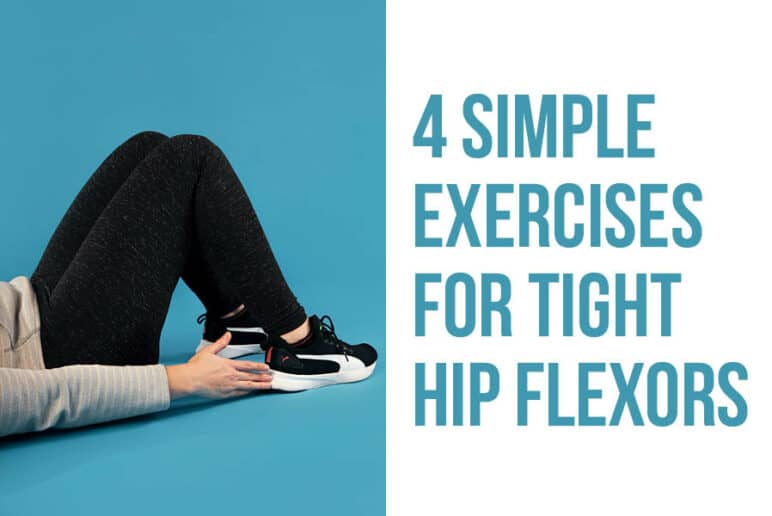 4 Simple Exercises for Tight Hip Flexors
February 04, 2021
What causes tightness in the hip area?
The main muscles in the front of the hip that allow your hip to flex can get tight from many different things. The most common case of tightness comes from constant sitting. Surprisingly everyday movements can contribute to tightness in this area.
Simple activities such as driving, working at your desk or even sleeping in a flexed position, cause hip flexor muscles to constantly be in a shortened position where they become tight. Additionally, overtime the tightness in this area can lead to a pull on your back muscles as well, due to the origin of the back muscle affecting your gait and standing posture. People who have tight hips can display an increased lordosis, curve in their back when they stand. This posture can create a forward hinge at the hips, putting additional stress on the lower back. This is one example of how tight hips may lead to increased demands on other parts of the body.
Below, we have included some simple exercises that you can try at home that can help reduce stress in the hips and lumbar spine.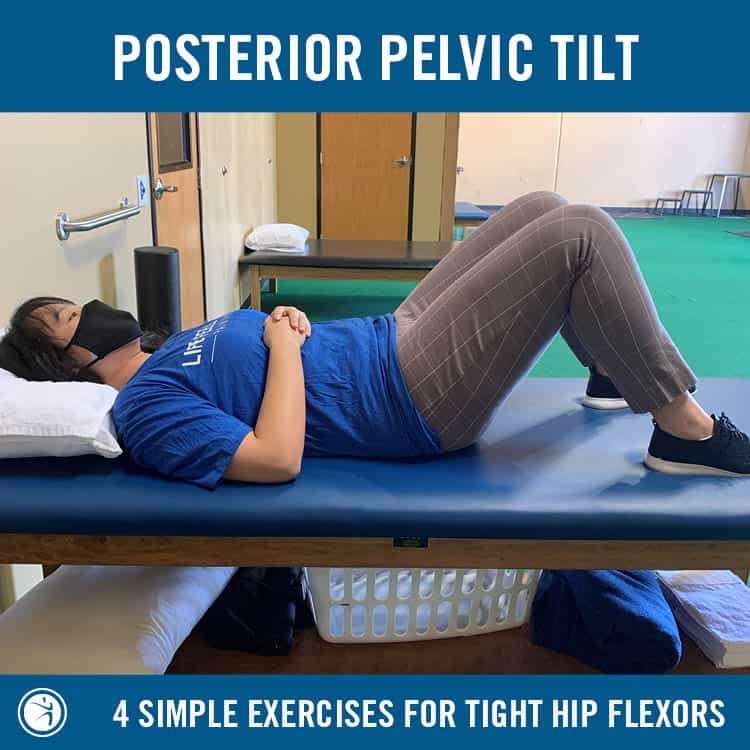 Posterior Pelvic Tilt
Lie supine (on your back), on the mat with knees bent
Start by tucking your hips under by pulling your belly button towards your spine to flatten your back engaging core muscles
Perform 2 sets of 10 repetitions holding for 2 seconds each side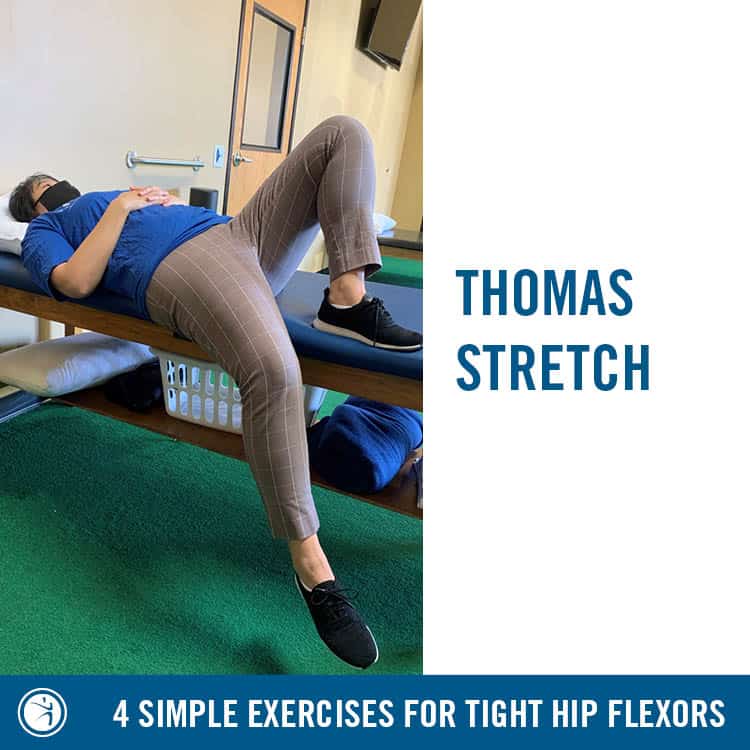 Thomas Stretch
Slide over so one leg is able to hang off the table without falling off
Bring your belly button towards your spine to elongate your back flat onto the mat as you feel the stretch in the front of the hip
Perform 2 sets holding for 30 seconds each side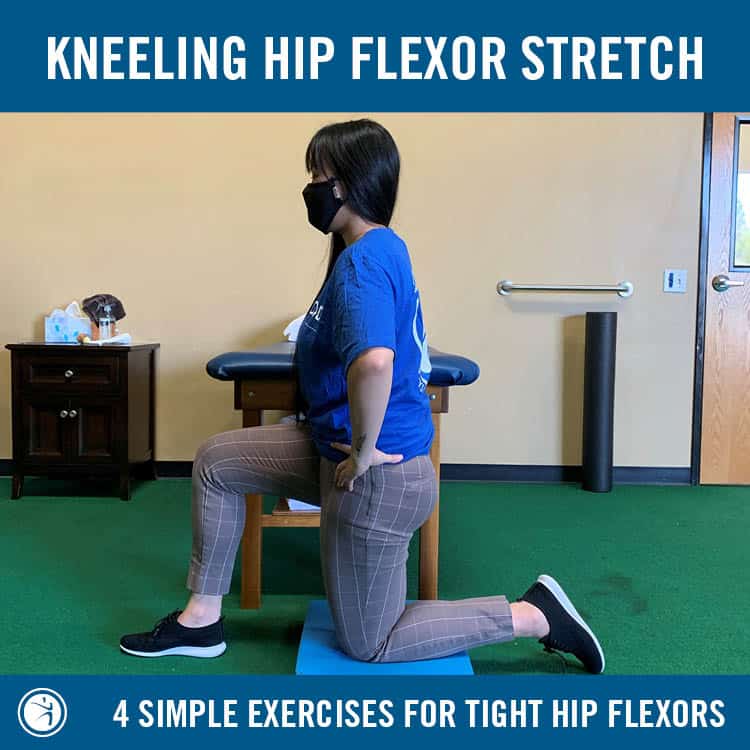 Kneeling Hip Flexor Stretch
Place a pad or some protection for your knee on the floor prior to beginning the stretch
Your knee in front should be in line with your ankle
Initiate the stretch by performing a slight posterior pelvic tilt while maintaining a neutral spine. Allowing the stretch to be felt in the front of the leg
Perform 2 sets holding for 30 seconds each side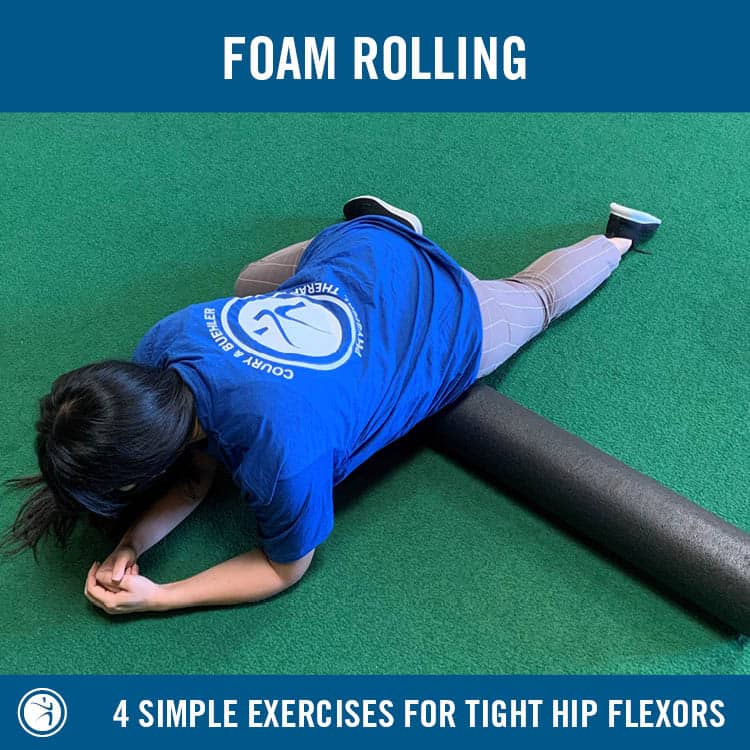 Foam Rolling
Place the foam roll onto the desired hip, while the other leg is bent at 90 degrees
Shift your weight forward and back to loosen any myofascial restrictions in the hip flexor region
Perform 2 sets for 30 seconds each side
These are simple exercises that you can perform once a day at the gym or in the convenience of your own home.
Hips can get tight from sitting for long periods at a time or remaining in certain positions for too long, if you find this may be the case, or that you are recognizing your hips getting tight, make sure to take breaks throughout the day. Small breaks will allow these muscles to stay loose and increase blood flow to tissues.
If you begin to notice an increase of hip discomfort that doesn't seem to feel better with rest, it would be best to seek treatment from a physical therapist. A therapist would be able to provide you with appropriate tips on posture, help educate you on your home/work set up to make it most ergonomically suitable for you and can provide you with individualized treatment that may allow you to sit for longer hours without increased discomfort. Seeking treatment can help you towards being pain free and allow you to return to doing things that you enjoy participating in.
If you're experiencing any pain or discomfort in your hips, contact us at 714-256-5074 for a free consultation or fill out the form below! A representative will contact you shortly.
WANT MORE TIPS? SIGN UP FOR LIFE+!
Reader Interactions