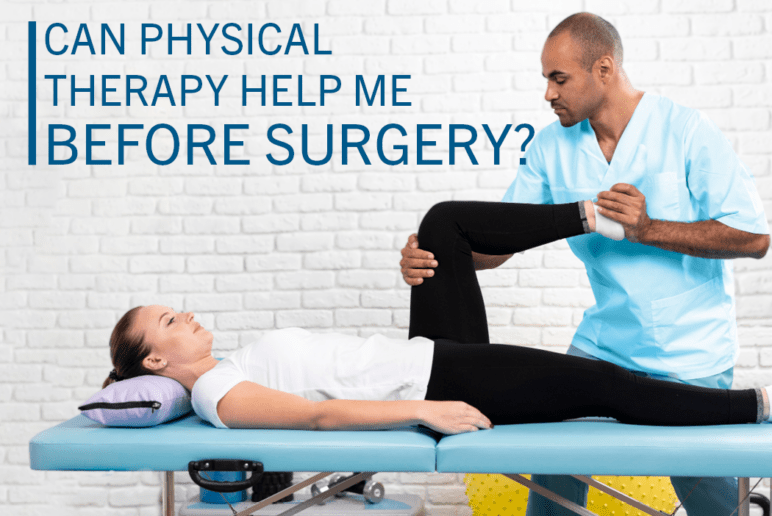 Can Physical Therapy Help Me Before Surgery?
September 19, 2022
There are many known benefits of rehabilitation after injury or surgery, but what about treatment before surgery?
Patients who have had an injury and are scheduled to have surgery generally have increased pain, swelling, decreased range of motion, and decreased strength. All of these conditions can be significantly increased after their surgery. By decreasing pain and swelling and increasing range of motion, strength, and function before the surgery post-surgical issues with these factors be lessened.
What Is Prehab?
Prehab is an exercise program designed to prepare patients both physically and mentally for surgery to optimize the chances of a successful outcome and a quick recovery. Generally, the more fit and active a person is before surgery the more likely they are to retain a higher level of function after surgery and rehabilitate more quickly.
What Are The Benefits Of Prehab?
One of the biggest benefits of a pre-surgical prehab strengthening and conditioning program is that it enhances the effects of post-surgical rehab by training muscles in advance for the exercises to be performed postoperatively. This can help rehab exercises to be more efficient and effective post-operatively. Studies have shown that people doing prehab regain full function after their surgeries.
After the surgery is complete, people that have gone through prehab will:
Return to daily activities quicker
Achieve a prior level of physical function
Compete in sports more easily
Less post-operative pain
Fewer complications
Shorter hospital stays
Before your surgery, a carefully planned & individually tailored program can help to:
Increase mobility
Increase strength
Increase range of motion
Decrease pain
Decrease stress on the body part & entire body
These benefits will limit the amount of pain, swelling, and tightness that may occur after surgery.
Is Prehab Right For Me?
There are many surgeries that can benefit from prehab, especially for orthopedic conditions including ACL reconstruction, total knee replacement, and total hip replacement procedures.
Most people scheduling surgery can benefit from prehab. A medical doctor will refer a patient to a physical therapist who will evaluate the patient and prescribe an individualized pre-operative exercise program. A typical program involves a warm-up, cardiovascular activity, resistance training, range of motion, flexibility exercises, and practice using assistive walking devices after surgery.
At Coury and Buehler Physical Therapy we can not only rehabilitate you after your surgery, but we can also get you in better condition before surgery to maximize your outcome!
Contact us! Our Physical Therapists are here to help. Fill out this form and we will contact you to schedule an appointment.
Reader Interactions