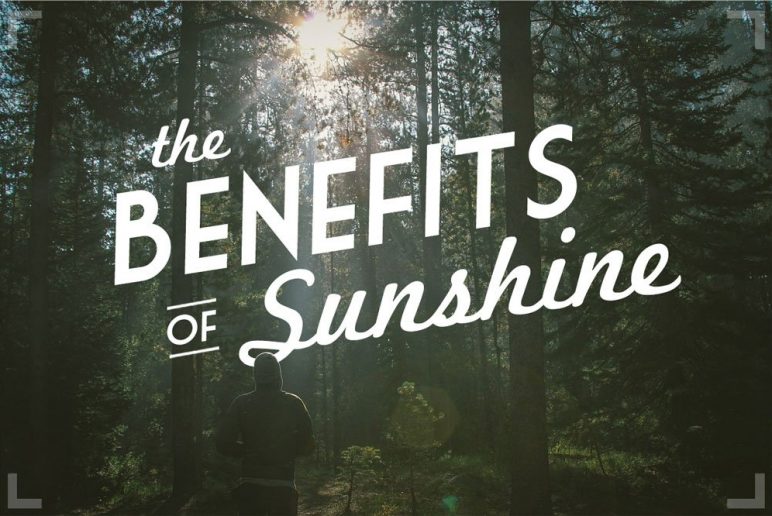 The Benefits of Sunshine: Why You Should Spend Time Outside
September 08, 2015
Sunlight & Health
Anything in moderation can be good for you. Take the sun for instance; there are so many benefits for even the slightest bit of time in the sun.
The government's dietary recommendations are 200 IUs of vitamin D a day for ages 0 to 50. This can be obtained by spending just as little as 5-8 minutes in the sun without sunscreen to give you your daily dose
The sun may have a bad wrap for causing cancer from prolonged exposure, but the truth is a little sunlight has quite a few benefits.
Skin
Sunlight can kill bacteria:
Historically, sunlight has been used to disinfect and heal wounds.
Sunlight can be beneficial in preventing cancer:
Connections have been made between deficiency in vitamin D and cancer. Through a complex process, our bodies convert sunlight into life-giving vitamin D.
Sunlight has a beneficial effect on skin disorders
Such as psoriasis, acne, eczema, and fungal infections of the skin.
Natural Healing Properties
Sunlight can lower cholesterol
By converting high cholesterol into steroid hormones and sex hormones. In the absence of sunlight the reverse happens and substance is converted into cholesterol.
Sunlight exposure can improve bone health
Vitamin D stimulates the absorption of bone strengthening calcium.
Sunlight can help build up your immune system
Exposure to sunlight can increase white blood cells levels. These white blood cells or lymphocytes play a major role in defending the body against infection
Quality of Life
Sunlight can cure depression
Exposure to sunlight increases the levels of natural antidepressants in the brain.
Sunlight exposure can aid in sleep quality
Exposure to sunlight during the day increases the production of melatonin in the brain. This melatonin is the hormone that helps you sleep at night. Low melatonin levels have been linked to poor quality of sleep.
Sunlight naturally can aid in decreasing stress and improve mood
Research has shown that serotonin (a neurotransmitter that regulates appetite, sleep, memory, and mood) is higher in the summer than in the winter.
Blood Health
Sunlight rays can lower blood pressure
Without having to use pharmaceutical drugs or suffering from the side effects of using medication.
Sunlight can cleanse the blood and blood vessels
Some medial literature in Europe has shown improvement in individuals with atherosclerosis (hardened arteries) after sun exposure.
Sunlight increases the oxygen content in blood
Sunlight exposure enhances the body's capacity to deliver oxygen to tissue much like the effects of exercise. This can improve stamina, fitness, and muscular development.

Ways to Get Your Sunlight Fix
If you are like me, finding enough time to get your sunlight fix is easy. However if it's a bit harder for you to plan some times to catch some rays, here are some tips to get your daily dose in: Go for a walk at lunch, take a chair out of the office and sit, or simply just park further away from the store or office and take a few extra minutes to walk in. Small changes in your daily routine can benefit your life in the long run!
Take the Next Step
Sign Up For More Healthy Lifestyle Tips!
Reader Interactions