Red Quinoa Salad with Roasted Broccoli & Cauliflower
July 21, 2016
One of my go-to lunches is this red quinoa salad with roasted broccoli and cauliflower.
It's a meal that is easy to prepare, refreshing for a hot day, and a healthy party appetizer.
The recipe makes about 4-6 servings, so it's great for families or leftovers!
You can also add your choice of 4 oz. of lean protein on the side to round out the meal.
Vinaigrette Ingredients
7 tbsp extra-virgin olive oil
3 tbsp fresh-squeezed lemon juice
2 tbsp unseasoned rice vinegar
1/4 cup shallot (diced)
Vinaigrette Directions
Whisk extra-virgin olive oil, lemon juice, vinegar, and shallot in a small bowl.
Season to taste with salt and pepper.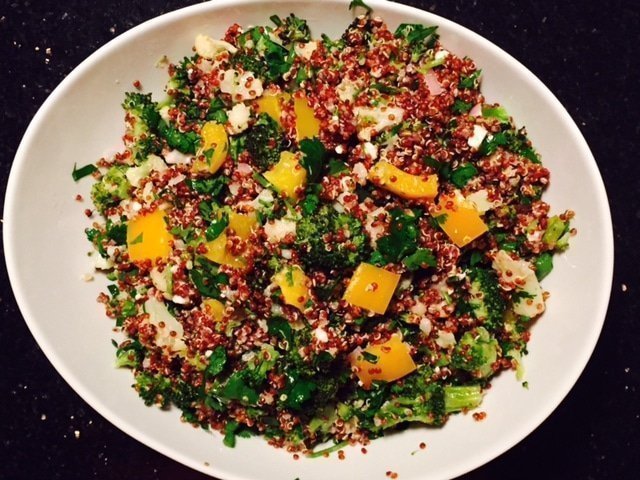 Salad Ingredients
1 1/2 cups red quinoa (rinsed and drained)
1/2 lb broccoli crowns (trimmed and cut into small pieces)
1/2 head cauliflower (coarsely chopped)
1 medium bell pepper (yellow or orange)
4 oz. low fat feta cheese (cut into small cubes)
1/2 cup flat leaf parsley (coarsely chopped)
1/2 cup cilantro (coarsely chopped)
2 tbsp extra-virgin olive oil
Salad Directions
Preheat oven to 450o.
Bring 4 cups of salted water to a boil.
Add rinsed red quinoa.
Cover and reduce heat to a simmer for 15 minutes.
Drain liquid and return quinoa to pot.
Let sit for another 5 minutes.
Fluff quinoa with a fork and transfer to a large bowl to cool.
While quinoa is cooking, toss broccoli and cauliflower with 2 tbsp of extra-virgin olive oil on a baking sheet.
Season with salt and pepper and toss again to evenly coat.
Roast for 15 minutes (or until slightly brown).
Remove from oven and let cool.
Add cooled broccoli and cauliflower to quinoa.
Add bell pepper, cilantro, parsley, and feta cheese.
Pour vinaigrette over salad and mix well.
Enjoy!
Get a Printable Copy of This Recipe!
Hungry for more healthy recipes?
Sign up for Life+!
Reader Interactions